"I literally cannot take my eyes off you. You look so beautiful."
In the seventh episode of Desi Rascals 2, Jasmin Walia tries on wedding dresses in anticipation for her £1 million dream wedding.
Plans for the big day include a horse-drawn carriage, white doves, and a love-heart tree with messages engraved for eternity! How cute?!
Since joining the cast of Desi Rascals for Series 2, Jasmin Walia and her beau Ross Worswick have been riding the relationship rollercoaster.
But have the peaks and troughs settled down now? It certainly looks like it. The ex-TOWIE star is busy making marriage preparations.
In tonight's episode of Desi Rascals, which airs tonight at 8pm on Sky 1, Jasmin is trying on wedding dresses in the exclusive bridal boutique, The Bespoke Wardrobe in Essex.
As she twirls in her dress, Jasmin looks like a princess! Rita says: "Oh my god you look amazing!
"I literally cannot take my eyes off you. You look so beautiful."
Watch the exclusive Desi Rascals clip here: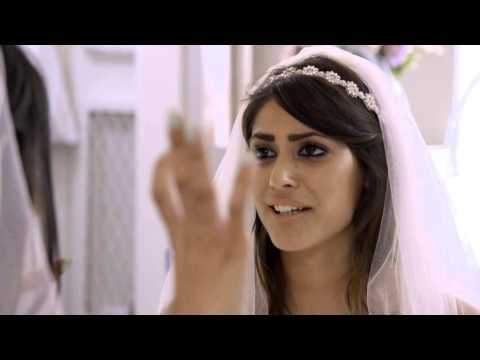 Clearly on an emotional high, Jasmin describes in full-detail, her dream wedding.
She says: "I'm literally thinking about a wedding, no expense spared. I'm thinking £500,000, £1 million wedding, like no budget.
"Like a big, massive castle mansion. I'd expect to walk in…with a carriage and two horses. And then I'd have two doves."
She continues: "I'd have a tree and I'd have like love hearts so everyone can write messages…So I can keep the messages for ever."
Looking down at her dress, Jasmin says: "This is good! I just need a ring."
Yes, that would help, Jasmin! But is Ross ready to get down on one knee and put a ring on your finger?
Catch Desi Rascals tonight at 8pm on Sky 1, or the repeats on Thursday at 8pm and Sunday at 9pm.