"A lot changes in a year. You might meet someone else."
In the fourth episode of Desi Rascals 2, Jasmin Walia unveils her dream of moving to India to become a Bollywood actress.
At a barbecue party hosted by the Shahs, Jasmin speaks to her buff beau Ross about moving to Mumbai to pursue a Bollywood acting course.
But Lancastrian Ross does not seem all that impressed and the couple find themselves in yet another heated argument.
The ex-TOWIE star explains: "It's an acting course with all, like, the top directors, and everything. And it is a fantastic way to get into it."
She adds: "The experience out there, the people we can meet, and my contacts. It will be like an excuse to meet them whilst I'm out there.
"The only thing I would say is, I don't know what course I'd be doing.
"Because you can either choose three months, six months, twelve months. But you could come out there with me."
Watch the teaser clip from episode 4 of Desi Rascals 2: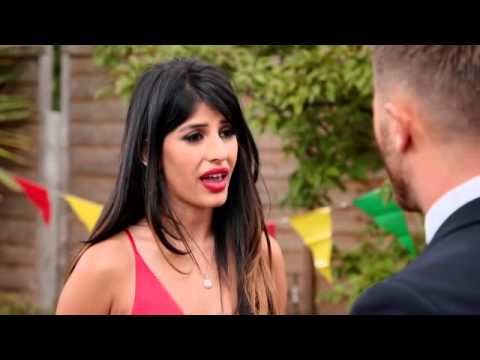 The ex-racing driver tries to be supportive, but is clearly not happy with the idea, saying: "Well I can't, because I've got my business here.
"But I just think three months, yeah that's cool. Six months [makes awkward face], twelve months, it ain't cool."
Concerned about their rocky relationship, he adds: "A lot changes in a year. You might feel totally different. You might meet someone else.
"What am I going to do? Sit at home?"
Though Jasmin protests she wants to move to India 'for my career, not because I want to break up with you', Ross does not seem convinced.
Find out more in the fourth episode of Desi Rascals Series 2 which airs tonight at 8pm on Sky 1.
Catch the repeats on Thursday (August 13) at 8pm and Sunday (August 16) at 9pm.