Arguably the funniest scene of the film, a drunk Veeru threatens to kill himself.
Sholay (1975) is indisputably the most beloved Bollywood movie of all time.
The film has redefined Indian cinema and turned it into the multi-million pound industry that it is today.
The best thing about Sholay? It combines the perfect amount of action, drama, comedy and romance to please any palate.
Now the iconic classic reaches another milestone by celebrating its 40th anniversary since its initial release way back on August 15, 1975.
The story tells of a retired police officer, who, seeking vengeance for his slaughtered family, hires two misfit thieves to capture the villainous dacoit Gabbar Singh.
What plays out is a captivating bromance between Jai, played by Amitabh Bachchan and Veeru, played by Dharmendra.
Add the mesmerising barbarity of Amjad Khan as the chilling bandit Gabbar Singh, with the feisty Basanti played by Hema Malini, and it's no wonder the film has stood the test of time.
DESIblitz takes a look at the 10 most loved scenes from director Ramesh Sippy's spaghetti 'masala' western, Sholay.
*** SPOILER ALERT *** 
Please be aware the following video scenes give away key storylines!
1. Kaalia and Gabbar
The most iconic scene in Bollywood history sees an angry Gabbar Singh, out to make an example of his three failed goons who came back empty handed after having been beaten by only two men.
It includes one of the most memorable dialogues to have emerged from Indian cinema, and even those who haven't watched Sholay will know of the classic line:
"Kitne aadmi the?" (How many men were there?)
2. Veeru wanting to Commit 'Sucaayide'
Arguably the funniest scene of the film, a drunk Veeru threatens to kill himself if he can't be with his beloved Basanti:
"In jail, budia chukki pissing, and pissing, and pissing." (In jail the old lady will labour the grindstone.)
3. Thakur Loses his Arms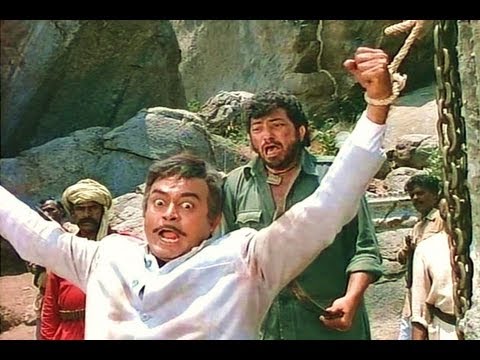 Intense performances from Khan and Kumar as we learn that Gabbar chopped Thaukur's arms off years ago, explaining why he didn't pick up the rifle to help Jai and Veeru in the Holi gunfight:
"Ye haath humko dede Thakur." (Give us these hands, Thakur.)
4. Jai asking Mausi for her approval of Veeru's marriage to Basanti
Mausi easily sees past Jai's attempts to hide Veeru's many character faults:
"Bichara Veeru, na jaane kya karega." (I feel sorry for Veeru, who knows what he will do now.)
5. Veeru teaches Basanti how to Shoot for Aams (Mangoes)
This classic comedy scene not only highlights the off-screen romance between Dharmendra and his soon-to-be-wife Hema Malini, but showcases Jai's dry sarcastic humour brilliantly executed throughout the film:
"Are is ki to adaat hai buk buk karne ki." (He has a habit of talking gibberish.)
6. Love blossoms between Jai and Radha
Jaya Badhuri's amazing acting performance is often overlooked due to more iconic scenes, however the chemistry between her and Amitabh Bachchan is as natural for all to see.
The storyline of a widow finding love for a second time remains a controversial and taboo subject in India to this day. And it is a bold move by Sippy to explore it in this big budget mainstream movie:
"Agar yeh rang na ho, to kaisi berang lagegi yeh duniya?" (Without these colours what a dreary place the world would be!)
Sippy cleverly contrasts the energy of this line that shows a vibrant Holi powder-covered Radha, and cuts straight to her dressed in a plain white sari to signify her new status as a widow and 'untouchable'. It is a powerful scene still asking Indian society very important questions.
7. Jailer Scene
Asrani brings plenty of much loved humour as the bumbling new Hitler-esque jailer, with an ironic Anglo-Indian accent, trying to establish his authority over his prisoners:
"Hum Angrezo Ke Zamaane Ke Jailer Hai." (I'm a jailer from the time of the British rule.)
8. Basanti is Chased by Gabbar's Gang
Basanti makes a run for it, being cornered at the lake by Gabbar's men. Her trusty horse Dhanno is at hand to begin the getaway:
"Chal Dhanno, aaj teri Basanti ki izaat ki sawal hai." (Go Dhanno, this is a quest for your Basanti's honour.)
9. Classic Train Fight with Thakur, Jai and Veeru
This is a classic Sholay action scene featuring our heroes battle with a gang of dacoits.
As Thakur shoots the metal handcuffs to unshackle Jai and Veeru, he ultimately pledges his trust in them and momentarily relinquishes the cop and robber relationship dividing them:
"Mujhe to sab policewalo ki surate ek jaise lagti hai." (All policemen look the same to me.)
10. Jai's Death
Jai's death scene still brings a tear to many grown men in what ends any hope of the two friends' dream to 'go-straight' and settle down.
What is poignant is how Veeru learns of Jai's deceptive coin trick to ensure all their 'chance' decisions go his way:
"Jab tu mere saath hai Veeru, to mein kyu gabrane laga?" (If you're with me Veeru, then I've no need to be scared.)
Narrowing down our list to just 10 scenes was a challenge, as there are so many iconic scenes from Sholay to choose from.
The truth is, where thousands of movies have struggled to create one magical moment, almost every scene in Sholay is a contender, which is why it is still celebrated four decades after its release.
Happy 40th Anniversary to all Sholay-lovers across the globe!