"Love the song Jasmin! Nice to hear you singing in Hindi too!"
Former TV reality star Jasmin Walia releases a new single and sultry new music video for 'Temple'. She looks amazing as she shows off her sensational figure.
Her racy music video for 'Temple' is shot in Greece, Mykonos. Picturesque locations include a beach, roof-top pool, cliffs and a balcony.
Latest single 'Temple' features an upbeat tempo with a beautifully sung blend of English and Hindi lyrics.
Fans have reacted positively to the catchy tune, standing a great chance to break into the charts.
Mahid Ahmed on twitter says: "got your single on repeat." Alisha (@Alisha7819) says, "Loving @jasminwalia's new single #Temple her voice is lit."

Some YouTube reactions comment on Jasmin's ability to sing in Hindi. They say, "Love the song Jasmin! Nice to hear you singing in Hindi too" and "Wow. She should really sing more Hindi songs."
The music video for 'Temple' is directed by Zack Knight, produced by DJ Upside Down and the lyrics are by Zack Knight and Jasmin Walia.
The 26-year-old is a vision of beauty in her latest music video and shows off Jasmin's phenomenal figure.
The outfit choices for her music video look gorgeous on her. The sassy songstress wears white and mustard coloured dresses that make a stunning contrast to the beautiful sunset. The ruffles, dipped hem and cut-away details create a sexy twist.
Her pink dress with a trail looks striking against the exquisite rooftop pool views. The frill details and flounced skirt give it a romantic feel.
Her vibrant bejewelled top shows off her impeccably toned abs and adds to the tropical vibes. Her style for the 'Temple' music video is as exotic and romantic as the beach location.
She paired her looks with some silver platform heels and some statement drop earrings.
Ex-TOWIE star has recently concentrated on her music rather than acting. Jasmin left the ITVBe series in 2015.
As well as TOWIE, Jasmin is also known for her appearances in Sky1's series two of Desi Rascals.
Before turning to reality television, Jasmin previously auditioned for The X Factor back in 2014 but failed to get through the audition round.
However, Jasmin signed to Asian music label T-Series and certainly looks like a pop princess in her new music video 'Temple'.
Watch the Jasmin Walia 'Temple' music video below: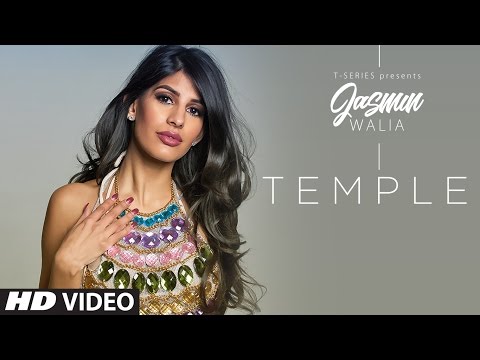 Other singles include, 'Girl Like Me' and 'Dum De Dum' with British-Asian singer Zack Knight. Both songs also have sexy music videos which were released in November 2016.
We look forward Jasmin Walia's future releases.