"I feel lucky because dance has given me the opportunity to step in other people's shoes."
British Asian dance choreographer Aakash Odedra has created a successful, well-established career for himself.
Born in Birmingham, the dancer-turned-choreographer is an expert in Kathak and Bharatanatyam.
He formed the Aakash Odedra Company in 2011 to develop his choreography work.
Since then, he has created outstanding shows such as I Imagine. With upcoming tours and new shows on the horizon, the choreographer will soon turn into a household name.
In addition to his numerous productions, Aakash also acts as an associate artist at dance studio Curve. Based in Leicester, Curve aims to motivate and encourage the next generation of dancers and potential choreographers.
In an exclusive interview with DESIblitz, Aakash Odedra talks openly about his career beginnings, various productions and inspiring the next generation.
How did you get started as a dancer and why did you later move into choreography?
I have been dancing since before I knew my own Identity.  I learnt to walk on my toes so my family said 'he will be a dancer'.
We speak many languages at home and change language to be able to articulate phrases, to convey more of an accurate expression for what we are trying to say.
In the same manner, dance was and is another language that I used as a child and still continue to use to express emotions that can't be spoken.
So when I was 8, I started Indian classical dance, training with my gurus Nilima Devi and Chitralekha Bolar. There was no looking back – call me a fish in water, I was most in my element when dancing!
Choreography for me has come at a point in time where the dance has to exist beyond myself. For me, creating on other dancers allows room for the art form (which is bigger than the self) to grow. There is a difference between being a solo performer and being a choreographer.
Sharing experiences of people's lives fascinates me because it's the collective experience that creates the choreography for me. There is a stage in life for everything – like a child being captivated by a toy then, 10 years later, the toy doesn't hold the same value. With the growth of the child comes new experiences they long to experience.
It was the same with me, I never wanted to be comfortable, I was always trying to push myself a little out of my zone, to a place that is unknown in the hope of discovering new beauty.
Choreography is my new playground or university where I can learn and grow.
Who or what influences your work the most?
I love animals and nature, so I feel as an artist I am influenced by the environment around me.
Changes in the political climate or environmental change influence my work and thought processes.
As a child, I was mesmerised by mythical stories. Now it's changed to human stories. I move to be moved….
What has been the highlight of your dance and choreography career so far?
It's been the opportunity to connect with people from every walk of life. It's only when you cross countries and borders that you start to see life from their perspective.
I feel lucky because dance has given me the opportunity to step in other people's shoes, not just to digest what the media feeds us. it has helped me realise that we humans share the same faults and have similar desires.
Dancing for my gurus and the ones who have seen me grow is another highlight. I have also been lucky enough to take part in events like the United Nations' Global Issues conferences and meet people who are fully part of making a change in this world.
I have been inspired by events like TedGlobal where I performed and spoke to some of the world's greatest minds after the show. There are many highlights but the biggest is when I look back and see that the boy from Sparkbrook, Birmingham has gone places I'd only have thought to see on TV.
Can you talk us through the process of choreographing Ravi Shankar's posthumous world premiere opera, Sukanya?
It is a great honour to be a part of this process. We haven't yet started the choreography but have had many meeting to talk about ideas and how we can best bring a mythological story to the 21st century.
The dancers that are a part of the process are phenomenal soloists and I am very much looking forward to spending time with them.
What makes Sukanya special, and why should audiences come and see it?
Well, Ravi Shankar Ji has to be thanked for a lot of things that we today take for granted.
He was a pioneer in introducing world music to the west, he always tried to break boundaries. This opera could be another change, a new trend.
Audiences have always borne witness to the magic he created and I think would feel privileged to be witness to the last opera Ravi Shankar created before he passed away.
For the production, #Jesuis, your research interests have centred around the refugee crisis. Why did you want to work on this particular project?
As an artist, I find it extremely hard to ignore my environment. The title 'Jesuis' literally means 'I am', but to me, it also means 'I count'.
We have a humanitarian crisis on our doorstep and I want to say through this project that the refugees do count, they do matter.
As an artist, I want to do everything in my power to bring light to the reality that they face on a daily basis.
Can you tell us a bit more about I Imagine and the music it is set to?
"I Imagine is a work about immigration and three generations of migrants and their different perspectives on what life means to them. I have made the work in a consciously theatrical and humorous way, able to convey a serious message through laughter."
The music is very soulful and touching, created by Nikki Wells, a composer I love to work with. She has a way of moving me with her brand of musicality and that in turn transmits to the audience.
She uses her knowledge and training in both Indian and Western classical music to bridge gaps and make it accessible to all kinds of people, no matter where in the world they come from.
Besides all the work you do as a choreographer, you are also an associate artist at Curve, Leicester. How do you find a balance between the two?
Balance is something I struggle with generally but that's a part of life. Curve is like family to me. They help me find a balance and allow me enough freedom to spread my wings and fly.
I have responsibilities towards Leicester, the place that I call home and the people I love so much. So Curve is not just a theatre for us,  it's our home.
What advice would you give someone considering dance or choreography as a profession?
Get ready for an unpredictable life, sleepless nights and a never-ending journey!
Immerse yourself in the art and you will find a world that creates magic that lives longer than you or I will.
As I said to myself, never sit on your rocking chair and wonder "what if I became a dancer". Trying and failing is never as bad as wondering WHAT IF….so go for it!
What lies ahead for Aakash Odedra and your company?
I want our company to grow and to make more people part of our dance family, I want to be able to help people hands on.
Together we want to be a part of change not just through dance but in our connections with people, on and off stage.
Watch a trailer of Aakash Odedra's Echoes and I Imagine here: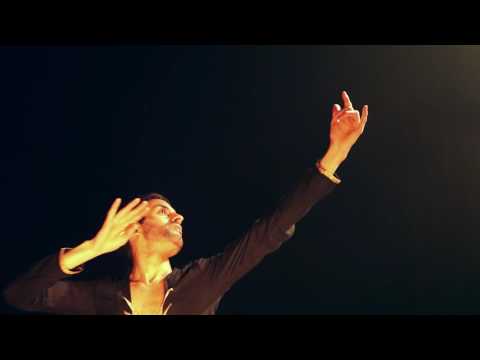 Aakash Odedra shows how people can reach their dreams and gain achievements. However, it does require a huge amount of time and passion behind it.
For the choreographer, dance is more than a career. It is his life.
Aakash's double bill Echoes and I Imagine opens at Sadler's Wells/Lilian Baylis on Thursday 9th March.
For more details, or to book tickets, please visit the Sadler's Wells website here.