"I've always wanted to do music, but never really believed in myself"
British Indian singer-songwriter, Jash, has been making waves in the UK music industry with his club-inspired tracks.
His latest single, 'Now You're Gone', welcomes a deep house influence, making it a perfect addition to your playlist. The young artist, who is known for his strong boy band pop sound mixed with dance, proves his versatility as an artist by taking a new direction with his music.
For the track, Jash teamed up with Robbie McDade and Karl Michael of Empty Pockets. The production/songwriting duo have previously worked with the likes of James Arthur, The Chainsmokers and The Vamps.
Jash's progression into music was very much a natural one, as he has always had a strong passion for singing. Some of the Brit-Asian's previous hit songs include 'Always On My Mind', 'Parachute', and 'Summer Time Love'.
'Parachute', in particular, has seen immense success. It was even picked up by Sony's sub-label, The Groove Society, in 2016.
In an exclusive interview with DESIblitz, Jash tells us more about his musical inspirations and his versatility as a singer-songwriter.
1. When did you first feel music is what you want to do?
I'd say I've always wanted to do music, but never really believed in myself.
I used to constantly worry about what people would think, but I didn't want to look back later on in life with regret having not tried at all.
2. Tell us how your song 'Now You're Gone' happened?
So, I wound up working with Karl and Robbie, aka Empty Pockets (the Vamps, the Chainsmokers, Dappy, to name a few) and we got together in the studio and literally jammed for 3 days straight.
We messed about with chords and freestyled and, before we knew it, we had a concept in our hands. It was then a case of tailoring the track to fit our own, personal stories of loss.
3. How is Jash different to other artists?
One thing I would say is, I don't care about making money from music.
What I care about is making sure I'm happy and that my fans are happy. It's never been about the girls or the money; for me, it's all about making people feel good.
4. How supportive are family and friends?
My family and friends have been so supportive during the entire process. My parents are always asking about the music and looking to lend a hand in any way they can.
Friends have also helped a lot with handing out flyers for the new song, as well as sharing my links when they go live. They even came along for the school's tour, which was really nice of them to do.
To take time off work to travel the UK with me was a big ask, so I'll forever be thankful for their support of my dream.
5. What are the biggest barriers for an artist like you?
I think it's really difficult being an Indian artist in this industry, especially creating the music I do.
"People always paint me as a rapper or RnB kind of guy. But I like being one of the few Indians out there doing the whole deep house/boy band pop blend."
6. Who would you love to work with?
I would love to work with the likes of Taylor Swift, Drake, Calvin Harris and Jonas Blue.
7. Is new music getting the recognition it should?
Because of the rise in streaming over recent years, I think it's started to get out there more. But, for an unsigned artist and as an independent release, it's hard.
There are so many people that will take your money in this game, so it makes me glad to have the right team of people behind me – and it seems to be going pretty well so far!
8. Who inspires you?
I would say Kygo and Calvin Harris have been major influences in my music, alongside The Weeknd.
I'd also say that day to day, I draw inspiration from the idea of making a positive difference to people's lives in whatever form that may take.
9. What instruments do you play? How did you learn to sing?
I play the guitar. I actually started off making acoustic songs, with the first song I learned being Jimmy Page but I can put a few cords together.
10. What do you want to achieve with your music?
My main aim would be to break onto the festival circuit. I'd also love to eventually find my way into the charts so that I can see my name amongst some of my favourite artists.
Finally, I'd say getting to work regularly with amazing and talented artists would be a dream come true.
Watch Jash's 'Now You're Gone' music video here: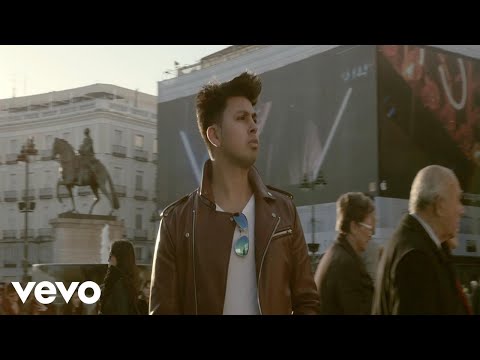 The music video for 'Now You're Gone' was shot in sunny Madrid, and is a perfect backdrop to the house hit.
Jash adds that all proceeds to the track will be donated to the victims of the terror attacks in London and Manchester.
With infectious dance beats and smooth vocals, we're positive that we'll be hearing a lot more of Jash and his catchy house-inspired tracks in the coming future.
You can listen to the house hit, 'Now You're Gone' and more on Jash's website here.