"It's an original song that Diplo is mixing with a Hindi singer in LA."
Jab Harry Met Sejal is the film which is on everybody's lips at the moment. But 'Phurr' is the track from the film which everybody is desperate to hear.
The hot, new track from Jab Harry Met Sejal unites the Bollywood King, Shah Rukh Khan, with International DJ, Diplo.
Excitement for the song is rising after both Diplo and Shahrukh posted pictures of themselves together in Los Angeles, USA.
Diplo's post shows the two stars casually leaning against a shiny white Ferrari, along with the caption: "With the legend."
Shahrukh's tweet, meanwhile, explains that he's got himself a starring role in the music video.
Diplo – 'Phurr'
Despite Shahrukh's role in the video, 'Phurr' is actually about Anushka Sharma's character in the film.
Speaking at the launch of 'Hawayein', Shahrukh says:
"It's basically a song about Anushka's character flying free, coming of age, and realising that there is more to life than she has experienced."
The title of the hugely anticipated track, 'Phurr', even symbolises the sound of flight.
Thomas Wesley Pentz, more commonly known as Diplo, is an award-winning International musician, DJ, and producer.
He is the artist behind the massive tracks 'Lean On', 'Cold Water', and 'Where Are U Now'.
But the Grammy Award winner will now be hoping for similar success with 'Phurr', which will be a part of the huge upcoming movie, Jab Harry Met Sejal.
If worldwide excitement is anything to go by, 'Phurr' Diplo should be a smash hit. Nahesh says: "The Jab Harry Met Sejal album is rocking and we still have Diplo's 'Phurr' to come! I'm so excited."
Diplo's work for 'Phurr' in Jab Harry Met Sejal continues the trend of International artists in Bollywood and Indian cinema. And you can watch the official music video to 'Phurr', here: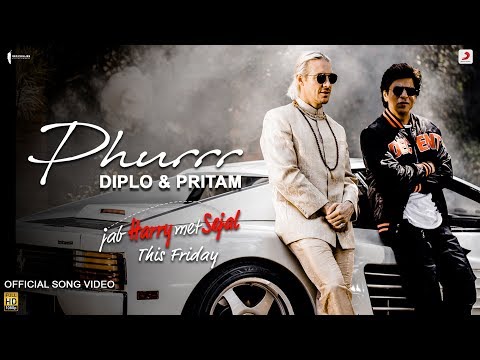 The American DJ, of course, follows on from Snoop Dogg's appearance in Singh is Kinng (2008). Kylie Minogue also featured in Blue (2009), while Akon was a part of Ra.One (2011).
Diplo also worked closely with the British Asian artist M.I.A. on her first projects as an artist. Together, they created the Grammy nominated track, 'Paper Planes' (2007).
M.I.A.'s most recent song, 'Freedun', features another British Asian artist, Zayn Malik.
Jab Harry Met Sejal
The latest Bollywood Rom-Com stars Shahrukh Khan and Anushka Sharma in their third collaboration together. The duo have previously worked together in Rab Ne Bana Di Jodi (2008) and Jab Tak Hai Jaan (2012).
Ahead of its release, why not follow the link to relive 12 of the best Shahrukh Khan films? Or, you can also check out 5 awesome Anushka Sharma performances.
However, as we all know, Shahrukh Khan isn't just the king of romance. Follow the link to remember some of his best villainous roles.
For more updates on 'Phurr' or Jab Harry Met Sejal, you can follow Diplo and Shahrukh on Twitter.