Ujjwala Raut is regarded as one of India's biggest supermodels.
The modelling industry in South Asia continues to flourish, featuring amazing and stunning Indian models. Showing off their gorgeous looks and beautiful figures, they tantalise fans with their photoshoots.
Many usually begin their careers in beauty pageants such as Miss India, soon landing outstanding success.
From walking Lakmé Fashion Week to gracing celebrated magazine covers such as Vogue India or GQ India, these models transform into household names. With the potential to bag phenomenal careers in Bollywood.
Modelling opens the doors for many of them to transcend towards cinema, especially Bollywood, and television.
Did you know the likes of Aishwarya Rai, Deepika Padukone and Katrina Kaif began first as models? We wonder if the entries on our list will achieve the same success?
DESIblitz presents you with the 10 hottest Indian models that look totally amazing!
Urvashi Rautela
Date of Birth: 25/02/1994
Statistics: 34:25:35
Despite her young age of 23, Urvashi Rautela hails as one of India's most successful models. She entered the industry whilst studying college and soon turned heads.
Her first appearance was at Wills Lifestyle Indian Fashion Week in 2011. Urvashi also walked down the runway for Lakmé Fashion Week in the same year.
With her measurements at 34:25:35, the model has won many accolades in beauty pageants. In 2009, she won Miss Teen India, guided by her mentor Diana Hayden, Miss World 1997 winner.
Urvashi also won Miss Asian Super World in 2011 and represented India for the Miss Universe pageant in 2015.
The model has landed a rising career in Bollywood, debuting in Singh Saab The Great (2013), starring opposite Sunny Deol. Since then, she's featured in Sanam Re (2014) and Great Grand Masti (2016).
Natasha Suri
Date of Birth: 15/05/1984
Statistics: 36:23:36
Natasha Suri is another of our Indian models who achieved great success in beauty contests. Her first win came in 2002 when she won Navy Girl.
Throughout her career, she landed the crown of Miss India 2006 and also became a Miss World semi-finalist in the same year. A popular entry, the competition witnessed her win Best Designer Gown.

Her most famous asset is her hourglass waist, measured at a jaw-dropping 23 inches!
While she is a regular at international fashion shows, Natasha has graced the covers of several magazines. These include Cosmopolitan, Maxim and Elle.
Nidhi Sunil
Date of Birth: 30/03/1993
Statistics: 32:24:35
Nidhi Sunil has become a household name as her modelling career goes from strength to strength. But did you know she originally planned to pursue law? During education, Nidhi was actually a law student, eager to become a lawyer!
In Bangalore, she did production work for a model hunt where she was spotted by beauty pageant organisers. They offered her a spot in their contest; while she didn't win, this marked the beginning of a new, successful path for Nidhi.
She has appeared on a range of popular magazines, such as GQ India, Vogue India and Harper Bazaar. With her measurements at 32:24:35, she is another model who oozes beauty and sex appeal.
The starlet has also spoken out on topical issues, such as fair skin. In January 2018, she revealed how online trolls mocked her dusky complexion and said: "When I started modelling in India, it was definitely a problem to be my skin tone.
"You can't do print or TV commercials [if you're dark]—you basically couldn't work with brands because the way you look would never sell anything. There's definitely not as much representation internationally for us, as there is for the fair-skinned."
Liz Mittra
Statistics: 32:22:34
Liz Mittra, real name Apoorav Elizbeth Mittra, is an Indian model that hails from Chennai. Winning multiple beauty pageants, she's also walked the runway for top designers such as Rohit Bal and Chaitanya Rao.
With her enchanting looks and slim figure, sporting a 22′ waist and 34′ hips, Liz always captivates her fans in photoshoots.
No wonder then she has found great success in America. She moved to Los Angeles and continues to model, particularly appearing in music videos. This even includes The Weeknd and NAV's collaborative video 'Some Way'.
As her career grows to new heights, perhaps we could even see Liz pursue acting? We reckon she would make a great choice for a Hollywood, or even Bollywood, movie!
Mariette Valsan
Statistics: 32:25:37
Mariette's career began in 2011 when she was spotted by designer James Ferreira. She soon walked for him down the catwalk at the Kochi Fashion Week 2011 and from there, her popularity grew.
She featured on the programme Hunt for the Kingfisher Calendar Girl 2012, where she was placed in the top six. An aspiring actress, the model has also appeared in an array of commercials, for brands such as The Bombay Times and Grey's Anatomy for the Star World.
Maxim, Haute Brides, Femina and more have featured her on their magazine covers. Her body measurements stand at 32:25:37, giving her a luscious, voluptuous figure.
With determination and passion, she truly enjoys modelling, telling BeBoldPeople:
"I think it gets hard because one is required to look a certain way every single day. Of course I've had my days where I question my sanity, but then I remind myself of why I am doing this."
Ishit Yamini
Statistics: 34:26:33
Ishit Yamini is a model who enchants fans with her captivating looks and stunning poses. With a 26′ waist, 34′ bust and 36′ hips, she commands the camera's attention and dazzles with her beauty.
The Bihar star has found fantastic success in beauty pageants. She won the crown for Miss Bihar 2013 and became a finalist for the Campus Princess 2014 contest. In addition, she was runner-up for KS Miss Maxim 2015.
During her career, Ishit has walked the ramp for Kingfisher Ultra Indore Fashion Week 2016 and Kingfisher Ultra Chandigarh Style Week 2016. At these events, she showed off pieces created by Hari Anand, Nazia Syed and Mumtaz Khan.
The model also oozes sex appeal in magazine photoshoots, her most notable being Creme Magazine, Fashion Zone and Inner Secrets Magazine.
Zoya Afroz
Date of Birth: 10/01/1994
Statistics: 32:24:33
Zoya Afroz gained fame when she appeared in Pond's Femina Miss India Indore 2013, eventually winning the crown. In the same year, she entered the Miss India competition but came runner-up to Rochelle Maria Rao.
However, she later won the Bharat Ratna Dr Ambedkar Beauty Queen Award of the Year Award, telling reporters:
"This award has given a huge boost to my confidence and has encouraged me to give my best to whatever I do."
With her measurements at 32:24:33, she had all the right curves to give mesmerising photoshoots.
Prior to her journey as a model, Zoya worked as a child star and appeared in various television dramas.
She pursued acting as an adult and has featured in multiple films, within different cinemas. Her filmography includes The Xposé (2014) and Sweetie Weds NRI (2017).
Dayana Erappa
Statistics: 32:26:36
Dayana Erappa always looks elegant and dazzling in her photoshoots, mesmerising her fans with her 32′ bust, 26′ waist and 36′ hips. However, she only pursued modelling after her college principal suggested it.
Yet, she went onto became a finalist for the Miss India pageant in 2011; a dream of hers since childhood.
This elevated her career and she featured on the Kingfisher Calendar 2015 and 2017. She has also walked for the runway in various shows, including Lakmé Fashion Week.
The model has acknowledged the struggles of the industry, and gave this advice to Rediff:
"There's a lot of hard work. People say there's nothing, that it's easy. But people just see what's happening. It's better to finish your graduation and pursue modelling later."
Ujjwala Raut
Date of Birth: 11/06/1978
Statistics: 34:26:35
Ujjwala Raut is regarded as one of India's biggest supermodels and no list would be complete without her! She found fame in the 1990s when she won 'Femina Best Look of the Year' at the Miss India 1996 contest.
Her enchanting features, such as her gorgeous 26′ waist and 35′ hips, made her hugely popular with Indian and international audiences. She had graced the covers of top magazines such as Elle India, Cosmopolitan India and Vogue India.
Ujjwala has walked for a variety of well-known designers such as Dolce & Gabbana, Yves Saint-Laurent and Hugo Boss. She even went on the runway with the likes of Naomi Campbell – truly cementing her status as a supermodel.
However, her personal life has also hit the headlines – particularly her ugly divorce with Craig Maxwell Sterry in 2009.
Nicole Faria
Date of Birth: 09/02/1990
Statistics: 34:25:34
Nicole Faria made history in the world of Indian modelling. First landing the crown of Miss India 2010, she went onto becoming the first Indian Miss Earth winner!
During the contest, many were in awe of her fantastic dancing skills. She performed a delightful belly dance, captivating the audience and won Miss Talent, beating her fellow 17 semifinalists.
Since then, Nicole's career has flourished, witnessing her walk for Lakmé Fashion Week in 2010 and 2011. She has also sizzled in photoshoots for GQ India, Cosmopolitan and Vogue.
She also hails as a keen social activist and campaigned for several movements. These include the Mumbai Cyclathon, Save the Tigers and Save the Elephants.
Watch our video of these 10 sexy Indian models: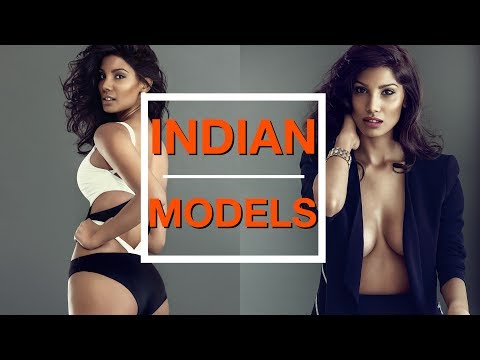 There you have 10 of the top Indian models that always look fabulous and ooze sex appeal. These starlets never fail to amaze and stun their fans with their hot, sexy photoshoots.
From rising fashionistas to celebrated supermodels, they will undoubtedly continue to take our breaths away. Perhaps they may follow the footsteps of Aishwarya and Deepika by becoming successful Bollywood actresses?
Until then, we can't wait to see what lies in store for the glamorous women!
If you're still keen to learn more about India's beautiful models, why not check out these Miss World winners? Or take a look at female bodybuilders and fitness models.