As she breathes out smoke from the cigarette, Kangana cuts a truly phenomenal pose.
Over the years, GQ India shoots have presented jaw-dropping videos.
Delighting the eyes of many, they offer Bollywood actresses a chance to show a playful, sexy side to themselves. One that many fans don't get the chance to see.
Famous faces ooze sex appeal with their flawless looks and model poses. Combine this with fantastic locations and the stars wearing sizzling lingerie and bikinis, these shoots become iconic and captivating.
No wonder then, many Bollywood actresses turn to GQ India to create a sultry shoot.
With big names such as Deepika Padukone and Katrina Kaif featured, the magazine has become the place to shoot such tantalising videos.
Let's look at 11 GQ India shoots; those that ooze smoking sex appeal and show a new, exciting side to our starlets.
Aditi Rao Hydari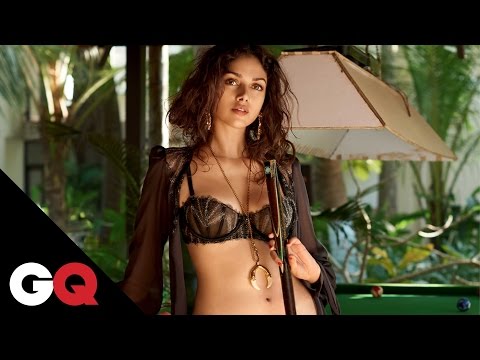 Throughout Aditi Rao Hydari's career, she's appeared in many thrillers such as Bhoomi (2017) and Wazir (2016). But this shoot shows a different side to the beautiful starlet as she stuns in lacy, black lingerie.
The video begins with a range of sultry close-ups by the star herself. She tantalises the viewer by lounging on a lavish sofa and relaxing under the warm weather, arms outstretched to show off her outfit. Playing with her hair and gliding her fingers across her cheek, Aditi gazes into the camera sensually.
GQ India adds an element of attitude in this shoot; depicting Aditi with a drinking glass whilst holding a snooker cue. Wearing an unbuttoned, black shirt, she reveals her lingerie.
Finally, she creates serious holiday goals as she struts across a captivating beach; complete with a crystal sea. Donning a jade swimsuit with a low V-neck, Aditi reveals her slim figure and stunning legs.
Katrina Kaif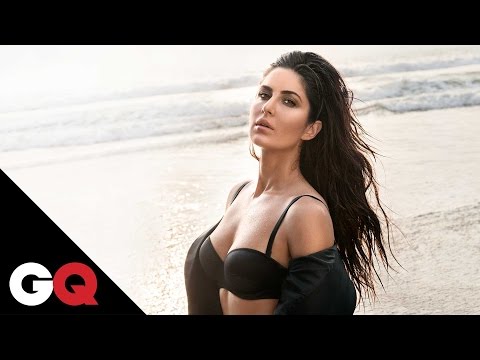 GQ India describe Katrina Kaif as "the hottest woman in Bollywood" for this shoot and we can't help but agree. Set against the sunny backdrop of a gorgeous beach, the starlet sizzles with an array of stunning looks.
Throughout the video, the actress shows off her 'sexy business executive' side. Wearing a blazer and trouser co-ord, along with a seductive, black bra. Next, she oozes sex appeal by donning a crisp, white shirt with a few buttons undone, revealing lacy lingerie.
She follows this with only wearing a long, royal blue blazer. Buttoned up, yet it highlights Katrina's beautiful legs. With her raven hair cascading down, a soft breeze creates luxurious waves.
We've seen the actress wow with exciting roles in Ek Tha Tiger (2012) and Dhoom 3 (2013). But this shoot shows an element of power and strength to Katrina Kaif.
Kangana Ranaut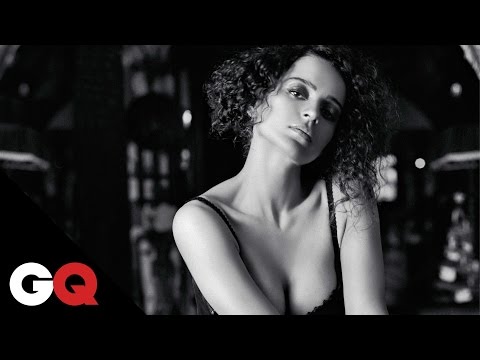 In her film career, Kangana Ranaut has opted away from appearing in stereotypical lingerie and bikini scenes. But she oozes sex appeal in this edgy shoot, showing the starlet in an empowering light.
Alternating between colour and black-and-white scenes, Kangana shows suggestive cards with the titles of "Taste", "Touch", "Secret" and "Desire".
In between these cards, she wears a variety of sexy outfits. From lacy, black lingerie to a backless dress, she delivers seductive poses to the camera.
She also ramps up the video's edginess by smoking a cigarette and holding a glass of red wine. Showing her defiance of perceptions of Bollywood stars. As she breathes out smoke from the cigarette, Kangana cuts a truly phenomenal figure.
Nargis Fakhri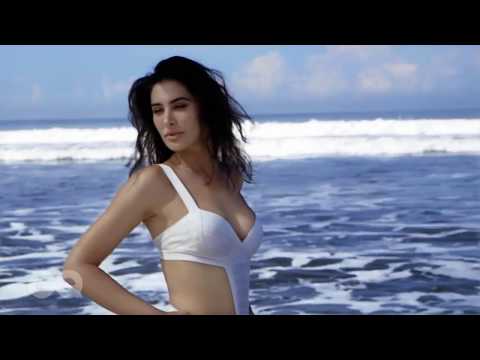 First starting her career as a model, Nargis Fakhri is used to pulling amazing poses for photo shoots. But for GQ India, she appears as the ultimate beach babe as she wears a range of outstanding swimsuits and bikinis.
The shoot starts off with Nargis donning a seductive, white bikini that reveals her figure with various cut-out panels. Standing against the backdrop of a glorious beach and azure sky, the starlet truly sizzles with sex appeal.
Throughout the video, the actress tantalises viewers with seductive looks as she leans back on a recliner and immerses herself in the ocean's crystal waves. Next, she swims in a lavish pool as she dons a gold bikini, accessorising it with multiple gold necklaces.
As Nargis Fakhri gazes into the camera, with her sexy attire and wet hair, the starlet appears as a sultry siren.
Deepika Padukone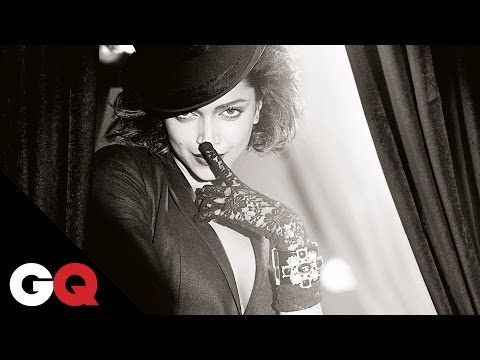 How could you not have a GQ shoot without Deepika Padukone as the centrepiece! This star has risen to the top of her game, nominated as 'Woman of the Year' by GQ India in 2012. For the achievement, they created an incredibly sexy shoot with the star.
Recreating 1920s glamour, Deepika sits atop of a vintage dressing table and wears a decorative outfit. With its bodice fringed with tassels and the star's shoulder adorned with bejewelled chains, Deepika looks every inch a stylish showgirl!
Next, she dons another dazzling creation; a black, tasselled dress that reveals her stunning legs. With her famously long hair styled into short, volumised curls, Deepika shows us you don't need lingerie or bikinis to ooze smoking sex appeal.
Shruti Hasan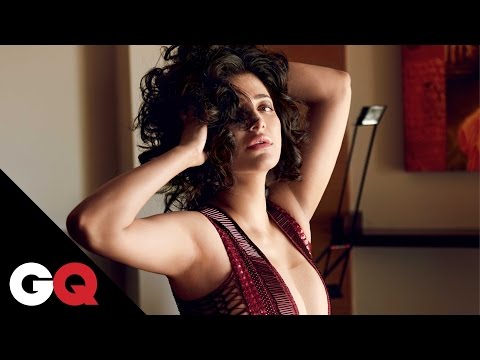 GQ India takes a different spin with this collaboration with Shruti Hasan. Entitling the shoot as "Sexy or Not", the star sizzles in a tight, PVC, red dress. We're sure all her fans would agree Shruti looks incredibly phenomenal!
During the video, the star changes into a black leather skirt, along with an eye-catching, nude bra. Resting against a luxury bed with an electric guitar nearby, Shruti's look presents a sexy take on rock chic.
But we love her final look; showcasing her voluptuous curves in a captivating red dress, her hair in loose curls. With a red lipstick in hand, she writes "Rock n Roll 4eva [sic]" on a mirror.
Throughout the video, Shruti gives her verdict of what she believes is sexy. From Game of Thrones to whiskey and even 'dad bods'! But this shoot hails as an exceptional reason why Shruti is one of the sexiest South Indian actresses.
Lisa Ray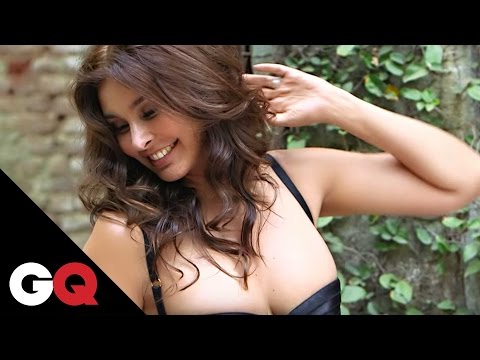 Known as one of India's original pin-up girls, Lisa Ray has enjoyed success in films such as Kasoor (2001) and Yuvaraja (2004). In this GQ India photo shoot, she captures all attention with a range of sexy poses.
She kicks off the video by whipping her hair back, revealing her seductive, black bra. Throughout the shoot, she adds glamour with a variety of lustful poses; from sharing a sultry smile to her hands delicately running through her hair.
Lisa tantalises further by holding a red rose, lingering nearby her toned legs. She also dons jaw-dropping bikinis, showing off her ample chest and outstanding figure. With this shoot, Lisa shows that she can still ooze magnificent sex appeal on screen.
Lauren Gottlieb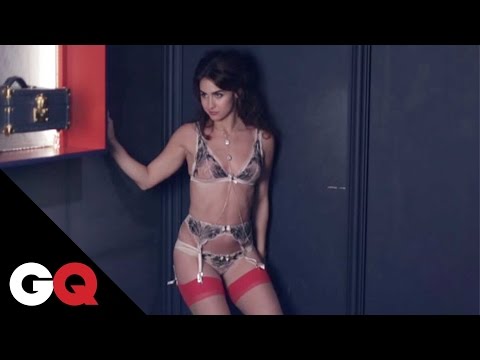 Lauren Gottlieb entered onto Indian radars in 2013, when she appeared on Jhalak Dikhla Jaa 6 as a contestant. With a spot on Bigg Boss 7, this cemented her status as a popular dancer in India.
In this video, the star wears an assortment of stunning outfits; from alluring lingerie to seductive dresses. We particularly love her gold and black lingerie set, detailed with rosy, red patterning. With her chestnut hair pinned back, she cuts a glamorous pose.
Throughout, one can see elements of dancing within the shoot. Lauren relaxes upon dance tour trucks and stands in front of full-length mirrors. Performing short, sexy dances, she tantalises the viewers into watching more of her seductive looks.
Lisa Haydon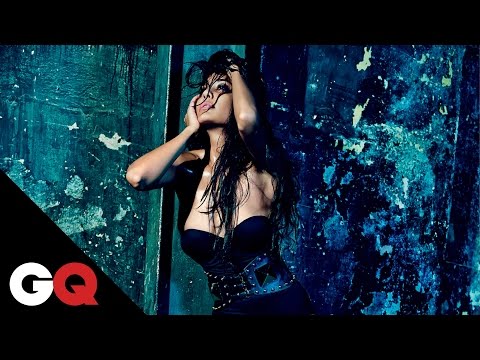 Enjoying a successful career as a model, Lisa Haydon has featured in many Bollywood flicks, such as Queen (2014) and The Shaukeens (2014). But in this shoot, the star showcases her impressive skills as a supermodel.
GQ India title the shoot as "Lisa Haydon Like You've Never Seen" and they prove themselves right. Set inside a dark, gritty location, Lisa pulls off intriguing poses while wearing sizzling lingerie. The video feels fast and exciting, with quick, unapologetic shots.
With her hair loose and partly covering her face, this shoot feels edgy and hot.
She gazes directly at the camera; from sitting on a chair, showing her stunning pins, to wearing a sleeveless bodice, cutting a racy pose. With her glowing skin revealing slight perspiration, this shoot reveals a mysterious side to the model.
Sonam Kapoor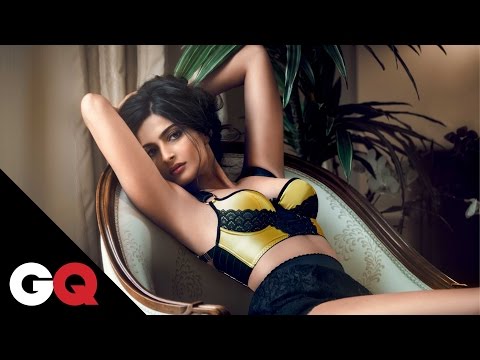 Sonam Kapoor has long hailed as one of Bollywood's finest actresses, as well as becoming a stylish fashionista. Hence, for her first cover shoot for GQ India, she certainly didn't disappoint!
She looks utterly divine as she poses seductively, sitting in front of a luxury, white bed. Wearing a shimmering top, decorated with numerous jewels and cut-out panels, she adds a short skirt, showing her impressive legs. With her long hair pinned back, Sonam cuts a smouldering pose.
Shot in glorious Cannes, the starlet fits in perfectly as she struts down a pathway, matching a tight, leopard print bodysuit with a lacy, white skirt. But Sonam really raises the temperature as she wears a yellow and black lingerie set. Its bodice, hugging the star's figure wonderfully, shows her gorgeous curves.
With the star delivering a series of model poses, this shoot truly simmers with sex appeal and luxury.
Radhika Apte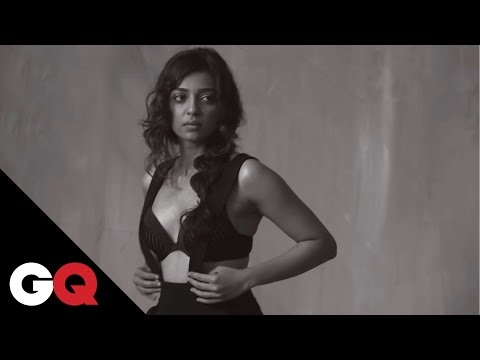 Radhika Apte hails as an outstanding actress, starring in an array of pivotal roles. From Dhoni (2012) to Parched (2016), she has grown into a tremendous star of Indian cinema.
In this seductive shoot, GQ India creates an intimate setting as Radhika poses with the photographer in sight. She wears a string of sexy outfits, such as a pair of black trousers with braces and a strapless bra.
With her hair loose and soft, she looks utterly radiant as she gazes at the photographer. Meanwhile, the actress also answers a series of questions, revealing more about her personality.
Altogether, this shoot feels sultry, sophisticated and empowering. A flawless shoot capturing the beauty of Radhika Apte.
In each of these stunning GQ India shoots, our Bollywood stars look incredible as they wear exciting outfits and create sexy poses. They have all set temperatures raising with fun, empowering shoots.
With enviable locations and seductive looks, these shoots offer fans an intimate perspective of their favourite actresses. Tantalising, yet utterly decadent, GQ India perfectly sets the balance to these racy videos.
As time goes on, we can surely expect more Bollywood actresses to appear in future editions of the magazine. Continuing to set pulses racing across their fanbases.