"History of winning vs Pakistan was with India and it will remain with us."
The mother of all contests is back on as arch rivals India and Pakistan battle it out in the Super 10 stage of the ICC World T20 cricket tournament.
The highly anticipated blockbuster match takes place in Kolkata on Saturday 19 March 2016.
Following all the drama, hullabaloo and brouhaha surrounding the original venue Dharamshala, the match had to be shifted to Eden Gardens for security reasons.
Upon change of venue, the hospitable West Bengal Chief Minister Mamta Banerjee tweeted saying:
"We are very very happy to host #IND #PAK #T20WorldCup match in #Kolkata. All are always welcome to our beautiful city."
The rivalry between these two great nations is something, which defies understanding and exceeds the limits of the cricket pitch.
Irrespective of their standings in Group 2 of the Super 10's, this is a game, which both sides want to win and neither want to lose.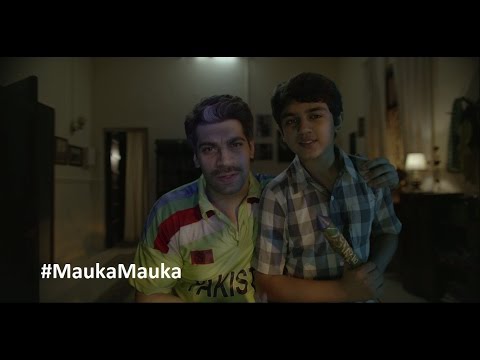 India have always defeated Pakistan in World Twenty 20 events, including beating them in Johannesburg (2007), Colombo (2012) and Mirpur (2014).
This time round with the 'Men in Blue' under home pressure, the 'Green Shirts' aim to intensify their game and break the jinx.
However speaking of the historical rivalry and this specific match, discarded Indian left arm fast-medium bowler Rudra Pratap Singh said:
"History of winning vs Pakistan was with India and it will remain with us."
With fans from both countries excited about this marquee clash, lets preview both teams:
India
There's plenty of experience in this Indian team. India's body language has been positive against Pakistan over the years, including in the 2016 Asia Cup.
Virat Kohli has been absolutely phenomenal with his batting, particularly in the T20 format. With his performances and the confidence he exhibits, Kohli is a dangerous customer for Pakistan.
It's not just about his batting, Kohli's fielding is also great as he is often seen attacking the ball and getting run outs at crucial times.
Praising and singling out Kohli, former Indian captain Kapil Dev said:
"Kohli has a different value in this team. There are others but Kohli looks very different."
India has depth in there bowling attack and can trouble the brittle Pakistan batting line-up.
Unlike before, the Indian team does not just depend on the spin duo of Ravichandran Ashwin and Ravindra Jadeja. The fast bowlers have come into the equation.
Ashish Nehra has proven age is no barrier when it comes to performing at the international level. Since his return to the side, Nehra has been in the form of his life.
Jasprit Bumrah has been fantastic and improving with every game he plays.
Bumrah can produce the yorker and the short ball in the death overs, which makes him a thinking bowler.
India welcome back Mohammad Shami from injury. Shami who took two wickets in the warm up match against West Indies gives a range of bowling options to Mahendra Singh Dhoni.
Hardik Pandya is a good young all-rounder for India. The 22-year-old from Gujarat will serve as a floater and may get promoted up the order if the team require some lusty blows.
Pandya is more than useful with the ball, having taken three wickets in the group stage match against Pakistan in the 2016 Asia Cup.
Yuvraj Singh is very key in the middle order and his spin bowling could be utilised if required against Pakistan.
Pakistan
Despite Pakistan never playing a T20 match in Kolkata, they do have a 4-0 edge over India in ODI cricket at this very ground.
Hence the 'Men in Green' will be hoping that this ground proves lucky for them yet again.
Playing their first game against Bangladesh at the same ground is also a huge advantage for Pakistan as they can familiarise with the conditions.
Pakistan's batting could decide the fate of this match, especially the performance of their top order.
There are big question marks on the form of Mohammad Hafeez aka Professor. Hafeez has been known to choke at major world competitions.
Sharjeel Khan the first and only centurion of the Pakistan Super League could be a key player if selected.
The only problem with the hit and miss Sharjeel is that he scores over seventy per cent of his runs through boundaries and sixes.
He will have to rotate the strike a little more. But on his day, Sharjeel has potential to bat like a flying jet and take the Indian bowling apart.
Shoaib Malik has a good record against India, averaging twenty-seven, including an unbeaten fifty-seven which he made in Bengaluru in 2012.
When Malik scores 30+, Pakistan win over seventy per cent of their matches.
The super talented Mohammad Amir leads the Pakistan pace attack. Aamir will target Rohit Sharma, Shikhar Dhawan and Virat Kohli early on.
A fan posting his thoughts through an online cricket forum predicted the importance of Pakistan's premier bowler saying:
"Amir will definitely bowl economically even if he only manages 1 or 2 wickets."
As captain and all-rounder, one gets the feeling that Boom Boom Shahid Afridi needs to make an impact in this game for the 'Green Shaheens' to have a chance against the mighty Indians.
Before departing to India, Afridi announced that Pakistan's 1992 'Cornered Tigers' Imran Khan and Wasim Akram had agreed to motivate the players.
The toss could be very vital, especially if there is any dew around during the second half of the match.
The game is scheduled to start at 19:30 IST (14:00 GMT).
It is widely expected that many famous people from the subcontinent including cricket legends, film stars and politicians will attend this match in Kolkata.
An official from the Cricket Association of Bengal confirmed:
"Amitabh Bachan will sing India's national anthem, while Shafqat Amanat Ali Khan will sing Pakistan's national anthem."
As the match is being played on the weekend, one can expect fans and cricket enthusiasts glued to their television sets. Everyone will be hoping for a classic nail-biting finish.
Will the 'Blue Sky' dominate or can it be blown away by the 'Green Storm'? Time will tell – May the best team win in this Pak-India Takra!