"he tried showing me filthy adult videos on his laptop."
A 33-year-old woman has accused Bollywood choreographer Ganesh Acharya of forcing her to watch adult videos. She also alleged that he has been depriving her of work.
The alleged victim filed a complaint against Ganesh at Amboli Police Station and the Women's Commission in Maharashtra.
According to the complaint, the woman claimed that she was asked to give a percentage of her income to Ganesh and told to watch adult videos.
Ganesh is the General Secretary of the Indian Film and Television Choreographers Association (IFTCA).
The complaint, who is a choreographer at the IFTCA, said that Ganesh has been harassing her ever since he became the General Secretary of the association. She explained:
"I have filed a complaint against him for the incident which happened with me on January 26.
"There is CCTV footage of that incident. Today, I came here to request that I want justice and also want to file an FIR against Ganesh Acharya.
"I have ignored him several times but again and again he tried showing me filthy adult videos on his laptop.
"I warned him that if you will repeat such things again, then I am going to complain to the association and also at the police station."
The woman alleged that Ganesh had her IFTCA membership suspended after she refused to agree to his demands.
She also said that Ganesh issued a letter to other choreographers telling them not to work with her.
Watch the Woman reveal her Allegations against Ganesh Acharya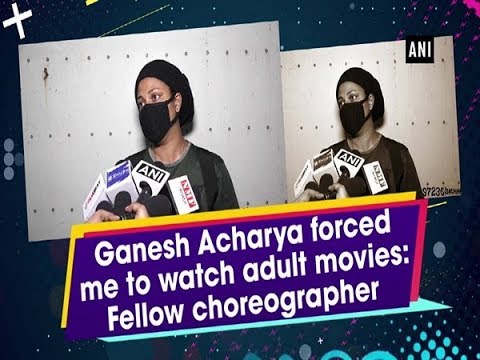 Following her accusations, Ganesh denied the claims and said he has been targeted due to his IFTCA position.
He went on to say that he will file a defamation case against the woman, someone he claims to have never met:
"I haven't met her (the complainant) personally. Such allegations will come up as I have taken a stand against coordinators and supported dance masters and dancers.
"Why should the federation have dance coordinators? Due to exploitation by these coordinators, today dancers are in the worst condition.
"Since I'm supporting dancers and dance masters, I am being targeted."
"And I will continue to fight against them and will keep supporting these dancers.
"I'll file a defamation case against them, as I want to teach them a lesson."
This is not the first time that Ganesh Acharya has been accused of sexual harassment.
Veteran choreographer Saroj Khan accused Ganesh of exploiting his dancers and using his position to malign the Cine Dancers Association.
Tanushree Dutta accused him of spreading "malicious rumours" and damaging her reputation.
At the same time, she accused Nana Patekar of sexually harassing her during the filming of Horn Ok Pleassss in 2008, a film which was choreographed by Ganesh.
Ganesh has denied both Saroj's and Tanushree's allegations.