Oz Arshad chooses to show a man as the victim, struggling with the ordeal of a divorce
Divorce is one of the many taboos of South Asian society. Being divorced is nothing short of being an outcast in the community. It's like one's existence is forever tainted by the tragedy that is a broken union.
Women often take the bigger hit of a failed marriage for it's considered a woman's responsibility to make the marriage work. In the case of it not happening, the woman has faltered.
Feminist activists have long confronted such ideologies to offer fellow women a much-needed escape from toxicity.
It was, hence, both interesting and enlightening to see that the repercussions of a divorce can, arguably, be just as damaging and frustrating for a South Asian man.
Oz Arshad's latest Brit-Asian comedy, Finding Fatimah, highlights this fresh perspective and the irony of it all.
British Bangladeshi Shahid (Danny Ashok) has been desperately trying his luck at finding a life partner for five years now.
Almost nearing 30, and with his printing business hitting rock bottom, aspiring stand-up comedian Shahid's future looks bleak.
Asian dating sites have brought varied opportunities but to no avail. And the one aspect of Shahid's life that stands in the way him meeting his soulmate is that Shahid is 'divorced'.
Dejected and depressed, Shahid is forced to pose as 'unmarried' on the dating site. Soon after he meets Dr Fatimah (Asmara Gabrielle) – a strong Pakistani woman who has met her fair share of deceitful South Asian men.
Fatimah, too, has a secret; she attends anger management therapy. But Shahid faces a bigger dilemma – how to break the news of his divorce to Fatimah – the woman he has fallen head over heels for.
Shot in and around Manchester, depicting the culture and norms that many British Asians there may conform to, Finding Fatimah looks at divorce from a man's point of view.
Contrary to popular belief, director Oz Arshad chooses to show an Asian man as the victim here, struggling with the ordeal of a divorce and the subsequent damage that it has brought to his reputation.
The fresh approach is, perhaps, easily digestible because of the director's satirical take on it.
Arshad hones in on the dysfunctionality of some Asian families. While times have progressed, we are still not averse to a pestering father eager to get the daughter married off and/or a helpless, marginally satisfied mother who can do little to support her children, and eventually, finds her voice for the ultimate climax.
Culture, religion and identity play a significant role in Brit-Asian communities as is made evident by the film, but Oz cleverly manages to shut down some stereotypes.
Fatimah wears the 'hijab' as her strength and not as a restriction. She is strong, independent and well in control of her life. She isn't suppressed and muzzled by the men around her as the West normally perceives a Hijab-clad Muslim woman to be.
Finding Fatimah also shows a Bangladeshi widowed mother dating a younger male much to her son's dismay. That's a bold path to tread on to and may well be ruffling some feathers within the community. In this, and in discussing male stigma related to divorce, Finding Fatimah pleasantly challenges audience perception.
Danny Ashok does a good job of expressing the character's confused and agitated state of mind and is the one character whose Muslim-ness isn't conspicuous in his appearance and/or life.
Talking to DESIblitz about his role in the film, Danny says:
"I think what people will really take away from this film is that, despite having the label of a 'Muslim Rom-Com', my character's religion plays such a non-existent part in his story.
"Ultimately he's a man who is at that crossroads in his life where he wants to do well, he wants to settle down, he wants to look after his family and make them proud and he's feeling the pressure of all those factors and the possibility that he may not fulfil any of them.
"These are not traits exclusive only to Muslim people, these are traits that are applicable to all people no matter what their backgrounds are."
Watch our interview with Nina Wadia here: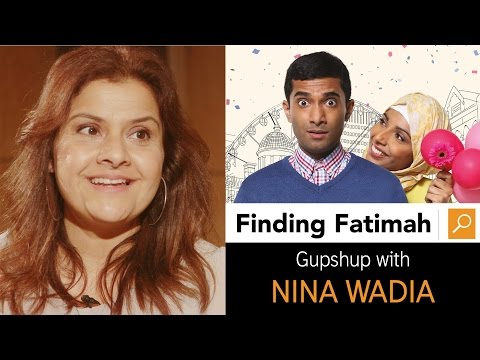 Directed by Oz Arshad, the film stars a brilliantly talented Brit-Asian cast. Including, Danny Ashok, Asmara Gabrielle, Nina Wadia, Wahab Sheikh, Mandeep Dhillon, Ambreen Razia, Shobna Gulati, Arif Jahid, Abdullah Afzal, Imran Yusuf and Guz Khan.
A special mention must be given to the supporting members of the cast, Wahab Sheikh and Mandeep Dhillon, who pump up the humour as the meddling little souls.
On the whole, Finding Fatimah makes for a fun watch simply because it explores a different aspect of the Brit-Asian Muslim community that may otherwise be ignored amidst the women rights movement.
Finding Fatimah releases in cinemas from 21st April 2017.