"We can sustain this, and we can take on Just Eat"
Taking on established brands in a competitive market can be a daunting feat for any business enthusiast. But not so for Midlands-based entrepreneurs, Gurpreet Sidhu (right) and Jeewan Sagu (left).
The British Asian businessmen are set to challenge the online takeaway world with their new food ordering service, easyFood.
Part of the easy© family of brands, easyFood offers intuitive deals for customers by building a closer and more personalised relationship with restaurant owners and takeaways.
Having welcomed their soft launch at the end of April 2018 in Birmingham, both Gurpreet and Jeewan are excited about their brand's future.
However, the journey to this point has certainly not been an 'easy' one.
For almost a decade, the business duo found themselves caught in a fierce legal battle with easyJet tycoon Sir Stelios Haji-Ioannou.
Gurpreet and Jeewan defiantly stood their ground and finally won the billionaire over with their passion and enthusiasm to create something that could empower so many other businesses.
In a sit-down with DESIblitz, the eloquent pair share their unique business journey and offer some much-needed tips for other British Asian entrepreneurs.
The Long Road to easyFood
It was back in 2004 that budding entrepreneurs Gurpreet and Jeewan first formulated the idea of an accessible and customised online food ordering service.
Revolutionising the way many of us order takeaways, their brand easyFood offers just that – an easy way to get food to your front door.
At the time, the brand's main competitor Just Eat was still in its infancy, and while it was proving a popular choice, it would still be a few years before it would become the global giant that it is today.
The future business partners first met at university in Wolverhampton. Gurpreet's passion for social justice and getting a fair deal gelled well with Jeewan's love of innovation and tech. And it seemed only a matter of time before they would turn their friendship into a business partnership.
Interestingly, the idea for easyFood came to them whilst they were studying: "Basically, we were hungry, and I think we fancied a KFC. We were thinking where's the menu," Jeewan tells us.
From here, they went on to create the concept of ordering food from your local takeaway online.
This would give the consumer convenient and instant access to menus and deals from all their favourite food places.
Gurpreet adds: "Even though it was a very early concept we figured we had enough passion between us to try and make it work."
Luckily, their knowledge of running a business had already been hardwired into them from a young age, from watching their own family businesses grow.
Their British Asian background in this instance proved invaluable, as it gave them the vital insight of the kind of commitment and dedication it takes to run a business.
Gurpreet explains:
"Having an Asian background, you know, you see that everywhere, people work all hours or they try to set up their own business. The kids get involved and the whole family gets involved. There's a lot of family business in Asian families."
Jeewan adds: "We've grown up [with] the family business, from helping them run it. So that entrepreneurial spark has been there for a long time from helping out in the shop to factories."
They add that their families also proved to be very supportive of their idea for easyFood, even offering to get them started.
Using capital raised through family and friends, they initially launched a pilot service in Wolverhampton in 2005. Gurpreet and Jeewan also took the plunge and spent thousands of pounds on purchasing internet domain names including easyFood.co.uk and easyFood.com.
That is when they became inundated with 'cease and desist' letters from Sir Stelios' lawyers.
At the time, they admit that they did not realise the impact of adopting a similar name to the easy brand. Nor the years of legal battles that it would lead to.
They stuck by the fact that their original brand was different to the easy group which was predominantly London based at the time.
Today, Jeewan summaries the background between them as "a little bit of a disagreement", and humorously follows that up with "but we're stubborn gits."
Gurpreet notes that this pressure to change their name encouraged "the Asian stubbornness". He adds: "Once we saw that there was a fight on, we knew there was value in it."
Rather than give in, Jeewan explains that they decided to fight back:
"It would've been easy enough to set up with another name and off you go but we had put so much into the business and that was its name."
Eventually, however, after many years of "ongoing legal disagreements," Jeewan explains everyone decided it would be smarter to "team up" instead of paying lawyers thousands of pounds to find a resolution.
Sitting Down with Sir Stelios Haji-Ioannou
Finally, in the summer of 2017, the two entrepreneurs were invited to Sir Stelios' offices in Kensington. They pitched a 'Dragons Den' style presentation to the easyJet founder.
It was the duo's open transparency and sincere desire to help other businesses that took Sir Stelios by surprise. Gurpreet says:
"We said we don't want your money, we don't want to fight you in court, we'd love for you to become our business partner. So we approached that whole day by preparing some slides and a presentation and I think he was a little bit taken aback."
No doubt, it was a pitch that was 10-plus years in the making. Sharing their unquestionable expertise about their brand, Sir Stelios was won over.
It was their social and fair approach to business that attracted the high-flying tycoon to them.
Sir Stelios states:
"It's only fair that people, consumers and market participants, like restaurant owners, should have a choice."
Well-known for founding the low-cost airline, easyJet, Sir Stelios now has a 33.3% share in easyFood.
Speaking about their current relationship with Sir Stelios, Gurpreet explains that they now gather on a monthly basis.
The perks of doing business with Sir Stelios are evident: "He really likes to engage and that's on a monthly basis."
He adds: "Actually, straight away from last Summer once we were on board, he invited us to his first barbeque networking meeting, he loves having barbeques and getting everyone together."
Gurpreet goes on to highlight the values that are important to them: "It's a family sort of network and we're all engaging with each other and talking business seeing how we can develop so in that respect it's brilliant."
It seems that teaming up has worked well for these entrepreneurs. They share a dislike of one company monopolising the market and believe that consumers should have a choice. Sir Stelios made his positive opinion of easyFood and his new business partners clear:
"I think easyFood is a great brand and I'm sure that my two partners in business are going to do it proud."
Watch Sir Stelios speak about easyFood in the video below: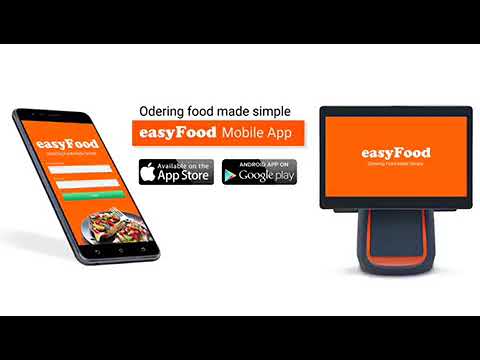 Staking Out the Competition
Having witnessed the incredible growth of Just Eat over the years, Gurpreet and Jeewan now wish to challenge them. They will be introducing their own model and formula to the competitive market, starting in Birmingham.
Undeterred by the prospect of any competition, however, 38-year-old Gurpreet and 36-year-old are offering a unique model that aims to support and empower its business clients as opposed to take advantage of them through pricey commissions.
By doing so, they aim to provide both restaurant owners and consumers with a fairer deal and offering many more added benefits than that of Just Eat and other middlemen companies.
Gurpreet asserts: "We can sustain this, and we can take on Just Eat."
The range of benefits will exist for consumers and restaurant owners alike. By ensuring the needs of restaurant owners are met, Gurpreet demonstrates how easyFood can streamline food ordering in the long run.
The easyFood company provides "a platform service just like you have a telephone line […] you can use it as much as you want".
"We want to be able to give you a website, an app, a merchant gateway, all the tools that you need in order to start getting orders online and not have to rely on a third party and pay extortionate commissions."
easyFood's model works on a basis of high-quality service with low subscription rates, namely £100 per month to set them up online.
The difference between their brand and other food ordering companies then is literally thousands of pounds.
Gurpreet explains the difference in numbers: "£100 a month is just £1,200 a year compared with £25,000/£30,000, there's a massive difference."
Jeewan adds that there are also advantages for the customer, with the service being quick, reliable and cheap:
"The only person who suffers when someone's taking a commission is the customer and the restaurant. Either a restaurant's going to have to take that hit and give away that big percentage or they're going to inflate their menu prices or give you a smaller portion which hurts the customer."
Ultimately, the co-founders of easyFood aim to make the online food ordering system fairer:
"easyFood is all about bringing that power back to the restaurant owners, being able to re-engage with their local consumers and not have these agencies middle people stamp their authority," they say.
Building a Business from Scratch
What sets both Gurpreet and Jeewan apart from other entrepreneurs is their sheer unwavering determination to succeed against all odds.
Despite facing a lengthy legal battle with one of the biggest UK-based tycoons, Gurpreet and Jeewan have spent the last 10-12 years building up an impressive portfolio of other businesses.
Many of these have been designed specifically as supports for easyFood, and range from payment services, infrastructure, to the apps and websites themselves.
Gurpreet admits that while the brand easyFood has "always been on a slow burner in the background", it is the crucial piece to their enterprise jigsaw.
Of course, having to juggle so many businesses at one time is a huge challenge. But it is one that both Gurpreet and Jeewan appear to have a natural talent for.
Mixing Jeewan's creativity when it comes to innovation with Gurpreet's sharp business sense, both have proved that building a successful business is very much possible, having done so numerous times.
But both are happy to share their own tips that they have picked up over the years:
"You've got to make sure that you don't try and spread yourself too thin and try and get involved in too many things unless you have a great partner or a great team," Jeewan says.
From their early life through to now, Gurpreet and Jeewan have always been influenced by their Asian upbringing. They cite the encouragement and support that they've received from their families as a component of their success.
Jeewan adds: "Every family will tell their kids to go out, get yourself a great education, get yourself a great job and don't do what we're doing. We're doing all the hard graft. We want you to be clever and go out and be successful."
Unfortunately, it seems there is no easy route to success in business. The payoff if you do succeed, however, is definitely worth the pain.
As Jeewan mentions, budding entrepreneurs should be "prepared for the smooth and the rough".
Gurpreet adds: "It's going to cost you all the money and time in the world, but eventually, you'll get there and we've got a  really great brand now with the easy brand with Stelios coming on board."
When asked whether being a British Asian can be an advantage or disadvantage in business, Gurpreet replies: "To be honest, it's a bit of both, it's like a game of chess, and in hindsight, it's easy for me to say this but I always knew the result."
He also mentions the importance of supporting other businesses and individuals: "I meet a lot of Asians, not just Asians, people, that don't share their ideas. I just don't get it. When I have an idea I share it with as many people as I can."
He continues: "The problem is a lot of people try and be negative when you're trying to be positive with an idea, that's probably why they don't like sharing. So, you need to start surrounding yourself with positive people."
It's clear that while the co-founders have experienced both ups and downs in their professional lives, it's how you deal with the downs that are key. Taking the negative legal action against them from Sir Stelios, they have managed to turn it into an advantageous business deal.
In hindsight, though the duo admits they would have sought a resolution with Stelio much sooner, rather than let the issue drag out.
But perhaps it is their remarkable patience and perseverance to carry on in the face of adversity that has led them to this point.
As Gurpreet says:
"At the end of the day, you are going to make mistakes and you're going to have obstacles, but it's being able to work through them."
A Bright Future
It is clear that this brainchild of the businessmen has been a long time in the making.
While most businesses will act first and reflect later, Gurpreet and Jeewan have spent the last decade honing and perfecting their business model.
As it stands, they appear to have left no stone unturned, putting the needs of restaurant owners first in order to offer the best possible experience for customers.
While their first phase is to start locally, in the UK's second city, they eventually see themselves expanding their services, to include door-to-door delivery and customised calling for restaurants and takeaways.
Having launched on 26th April 2018, Gurpreet is confident that the easyFood brand will flourish, particularly with Sir Stelios' backing:
"It took us about five weeks to sign up 200 takeaways. Our first aim is to get to 1,000 restaurants here in Birmingham."
He adds: "We want to take it one small step at a time, to be honest, because we can't do a scattered approach and spread ourselves too thin because then we stand no chance."
Once established, Jeewan says they will move to other cities around the UK: "Once we've got Birmingham done, then we start to expand. We have had interest from Leeds, Manchester, and from London."
They've made it clear that their journey through business together has had its fair share of obstacles. However, it seems that these obstacles have not deterred them from continuing with their business ventures.
Gurpreet and Jeewan summarise easyFood in three words: "Empower, Fair, and Orange."
You can find the easyFood app online. It is also available through the Google Play Store and the Apple App Store. On the Google Play Store, the app has a 5-star rating.
To find out more, you can visit their website, here.