"When Roger met Aamir he first spoke about the poster of 'PK'."
Bollywood stars played alongside Roger Federer and Novak Djokovic in an exhibition match, on Monday 8th December 2014.
The final day of the Delhi leg of the 2014 International Premier Tennis League (IPTL) capped off three spectacular days of tennis action.
The celebrity tennis showcase featuring Deepika Padukone, Aamir Khan, Akshay Kumar and Riteish Deshmukh, was a curtain raiser to the highly anticipated clash between Roger Federer's Indian Aces, and Novak Djokovic's UAE Royals.
Deepika Padukone and Aamir Khan took it in turns to play Doubles alongside Federer. They went up against the World Number 1, Djokovic, and Indian women's tennis star, Sania Mirza.
Padukone, a badminton player in her junior years, showed some flashes of brilliance with her ground strokes. By contrast, Aamir Khan was out of his depth against the professional players, playing most of his returns into the net. However, he managed to play a classy backhand at full stretch, returning a Mirza lob, to keep the point alive.
Later, Bollywood actors Akshay Kumar and Riteish Deshmukh, and Indian Aces owner, Sunil Gavaskar, also joined in. The cricketing legend showed that even as an elder statesman, he possessed excellent manual dexterity.
Federer was impressed by Aamir Khan's stature as a film star, and inquired about his latest film, PK. Aamir's spokesperson said in a statement:
"When Roger met Aamir he first spoke about the poster of 'PK'. He was very excited to know the idea behind the poster and told Aamir he would be watching the film when it releases."
Other members of the audience included former Indian cricket captain, Mohammad Azharuddin, Bollywood actress Lara Dutta and IPTL founder, Mahesh Bhupathi.
Dutta's daughter, Saira, and Aamir Khan's son, Azad, both had the chance to meet tennis icon, Roger Federer. Federer's youngest fans seemed excited to be in the presence of one of the world's greatest sportsman.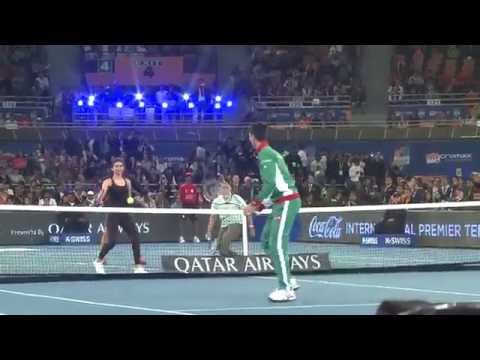 As previously reported on DESIblitz, the rules of the IPTL, vary greatly from the traditional tennis format. To make yourself familiar with the rules, you can read here.
With the festivities over, the night was headlined by the Federer-Djokovic blockbuster. The match ended in a 6-6 stalemate according to IPTL rules. About the encounter, Federer said:
"I thought the match was great. We both played at a very good level. There was unbelievable excitement in the crowd. It could not have worked out any better."
A day earlier on Sunday 7th December 2014, the Indian Aces hosted the Singapore Slammers. In the Mixed Doubles match, Federer teamed up with Indian female tennis sensation, Sania Mirza. The duo breezed past opponents, Bruno Soares and Daniela Hantuchova in a 6-0 win.
Sania took to Twitter after the game to tell her two million-plus followers:
Honoured????I had the best seat in the house ???? @rogerfederer was on fire today on the court and with strategies off it ???? pic.twitter.com/JO0EjOJtHe

— Sania Mirza (@MirzaSania) December 7, 2014
Later, Federer then teamed up with India's other high-profile Men's Doubles specialist, Rohan Bopanna. The pair beat the Australians, Nick Kyrgios and Lleyton Hewitt 6-1.
Bopanna also praised Federer on Twitter saying: "It was a great honour to have Roger Federer & Pete Sampras in Delhi. It's even better they are a part of our team."
Federer wrote on Twitter:
"The great moments I spent here will forever be in my memory. Thank you New Delhi! Tremendous crowd support! Forever grateful."
Due to his busy schedule, Federer did not get the chance to experience India and its culture, as much as he would have liked. So he came up with an idea for fans to 'photoshop' him to different places around India.
Federer said: "I really enjoyed [being in India]. Unfortunately I could not do much of those trips [as suggested on Twitter] but I know that one day I will definitely travel India in a big way.
He added: "I hope to get the company of some locals while I am travelling India. There is much to see. I want to come with family and hopefully we can do it in peace. I would really like to travel this beautiful country."
Before Federer departed India, he found time to dance along with Deepika Padukone and Amitabh Bachchan, to 'Khaike Paan Banaraswala' at an IPTL promotional event on Tuesday 9th December 2014.
He was also photographed eating a huge naan for dinner, alongside other IPTL players and management.
The IPTL tournament makes its final stop for 2014 in Dubai, starting on 11th December 2014.