"I don't play tennis to prove a point to anyone. I play for my country and myself."
Over the years, many Indian tennis players have been successful in the sport, both on a national and international level.
India's success in the men's and women's game has increased the popularity and participation of tennis in the country.
These players have made history, won Grand Slams and other events in the singles and doubles respectively.
With exceptional skills and ability, Indian tennis stars have showcased their talent on the world stage, receiving many awards along the way.
Tennis players from India have a big fan following, especially as some have a connection with the world of fashion, film, entertainment and sports.
They are also an inspiration for young people looking to make their mark in the coming years.
The list of great Indian tennis players includes the likes of Ramanathan Krishnan, Sania Mirza and many more.
As tennis is a popular sport in India, we have shortlisted some of the most successful players who have inspired the nation.
Leander Paes
When the phrase 'Indian tennis player' is said, the first thing that comes to people's minds is Leander Paes.
He has been the epitome of Indian tennis throughout a career spanning over 20 years.
Leander is one of the greatest doubles players in the history of the game. He has won eight Grand Slam titles in the Men's Doubles titles, along with six Mixed doubles Grand Slams.
He has also won each of the four Grand Slams (Australian Open, French Open, Wimbledon and US Open) in the Men's and Mixed Doubles.
Paes' venture into tennis began at age 5 when he joined a tennis academy in Madras.
During his time at the academy, he went onto becoming the Junior Wimbledon champion in 1990. This saw him rise to world number one in the junior rankings.
Paes went professional in 1991, but it was not until 1996 where he reached a turning point in his career.
He won a Bronze medal in Atlanta to become the second Indian after KD Jadhav to win an individual Olympic medal.
Leander has competed in consecutive Olympics from 1992 to 2016. He is the first Indian and only tennis player to appear in seven Olympics.
Although early success came in singles, Leander won many titles in the Men's Doubles with countryman Mahesh Bhupathi.
Known as 'The Indian Express' the duo got to the finals of all four Grand Slams in 1999, winning two.
In the Mixed Doubles, Leander won several Grand Slam championships with various partners, including Martina Navratilova (CZE).
Leander Paes is still an active player but is coaching the next generation of Indian tennis players.
Watch Leander Paes at Wimbledon 2003
Sania Mirza
Sania Mirza is India's hottest tennis property and the greatest ever sportswoman from the country.
She has had a prominent career in singles where she reached a career-high ranking of 27 in 2007.
However, Sania's main success is in the Doubles where she has six Grand Slam titles to her name.
Mirza's rise came in 2002, as a 15-year-old when Leander Paes partnered her for Mixed Doubles at the Asian Games.
The duo went on to win the Bronze medal and since then, her career had taken on.
In 2003, Sania was the youngest and first Indian to win the girls' Doubles Junior Wimbledon Championship.
The Mumbai-born tennis player has also 41 career Doubles titles on the WTA Tour.
In 2006, Sania was awarded the prestigious Padma Shri for her services to sport.
One of her biggest honours came in 2016 when she was named in Time magazine's 100 most influential people in the world.
Sania who has a very positive attitude to tennis says: "I don't play tennis to prove a point to anyone. I play for my country and myself."
"It's not changing what people say or think. It's about what I can do. If I feel I have the ability to achieve something and haven't used my potential to that end, I'll keep trying until I succeed."
Sania has established herself and been globally recognised as one of the most successful tennis players from India.
Watch Sania Mirza at the 2015 Wimbledon Final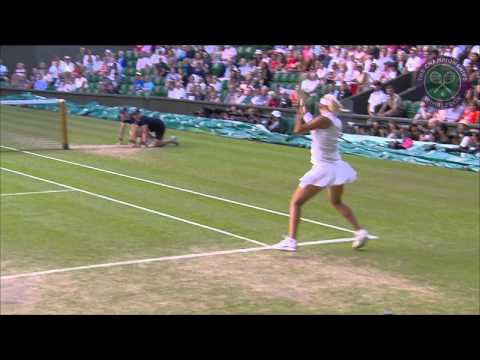 Mahesh Bhupathi
Mahesh Bhupathi began tennis as a young child when his father trained him and the rest is history.
Bhupathi is the first Indian person ever to win a Grand Slam tournament when he won the French Open with Rika Hiraki (JPN) in 1997.
Since then he has gone on to win a total of 12 Grand Slam titles in both the Men's and Mixed Doubles.
His best partnership came with tennis icon Leander Paes. They both won Grand Slam championships together.
As well as their wins in 1999, they also achieved the number one in the Men's Doubles rankings.
He is one of the most dominant Doubles players in the world, winning over 60 titles.
After winning the Mixed Doubles title at the 2006 Australian Open, Mahesh joined an elite group in achieving a career Grand Slam in the same discipline.
He also teamed up with fellow Indian Sania Mirza to win the 2009 Australian Open.
All his Grand Slam accomplishments make Mahesh undoubtedly one of the best Doubles players in the world.
Mahesh is currently the India Davis Cup captain.
He is also the founder of International Premier Tennis League (IPTL), which is an annual team tennis league featuring four teams across Asia.
The IPTL aims to boost the popularity of tennis in India and has seen well-known players take part. In its inaugural season in 2014, Swiss icon Roger Federer was the marquee player.
Watch Mahesh Bhupathi at the 2009 Australian Open Final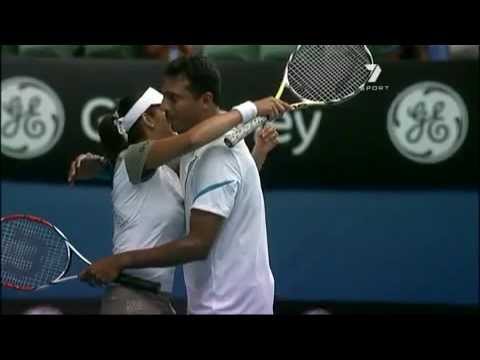 Rohan Bopanna
Rohan Bopanna turned professional in 2003. While he initially began playing singles, he soon discovered that his strengths lied in the Doubles.
Bopanna partnered Mahesh Bhupathi in the Doubles and Sania Mirza in Mixed Doubles during Davis Cup matches.
Rohan also had a good partnership with Pakistani player Aisam-ul-Haq Qureshi. They won several titles and broke into the top 10.
The duo who were nicknamed 'Indo-Pak Express' reached the US Open final in 2010, eventually losing to the American Bryan brothers.
Despite the loss, the pair won ATP's 'Humanitarian of the Year' award in the same year.
Rohan's highest Doubles career ranking is three in July 2013.
At the 2016 Rio Olympics, he and Sania Mirza narrowly lost the Bronze medal match.
Bopanna is determined to succeed in the Olympics. He is aiming to achieve Gold at the 2020 Olympics. He will be at the age of 40 then.
Rohan's quest for Grand Slam glory came in 2017 when he won the French Open Mixed Doubles title with Canadian Gabriela Dabrowski.
After Bhupathi, Paes and Mirza, Bopanna was the fourth Indian to win a Grand Slam.
Watch Rohan Bopanna at the Monte-Carlo Masters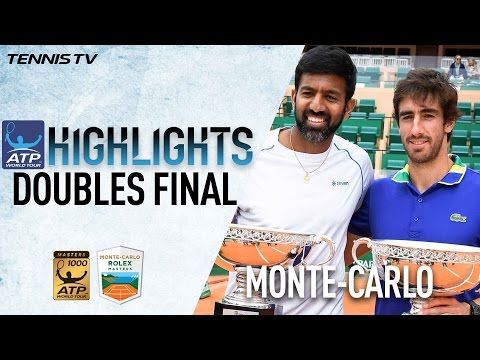 Ramanathan Krishnan
Ramanathan Krishnan is credited with being the pioneer for tennis success in India during the 1950s and 1960s.
He was one of the earliest sporting heroes of India as an independent nation when he won the boys Singles' title at Wimbledon in 1954.
Krishnan competed at Wimbledon in 1960 where he entered as the seventh seed.
He had a strong run and got to the semi-final where he was beaten by the eventual champion Neale Fraser (AUS).
Ramanathan once again got to the semi-final a year later. Again he lost to the eventual winner which was the tennis great, Rod Laver (AUS).
During his 1961 Wimbledon campaign, Krishnan overcame another legend, Roy Emerson (AUS) in the quarter-finals.
Although he retired in 1968, he played a crucial role in his son Ramesh Krishnan's career in the 1980s.
His service to sport saw him honoured with the Padma Bhushan award in 1967.
Watch tennis highlights of Ramanathan Krishnan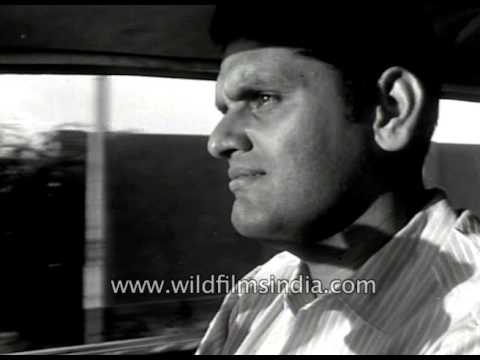 Somdev Devvarman
It came as a shock when one of India's promising Singles players, Somdev Devvarman announced his retirement in 2017.
He was born in India but went to America to further his tennis potential.
Somdev first grabbed headlines as the only collegiate player to make three consecutive National Collegiate Athletic Association (NCAA) finals.
Back-to-back finals were won in his junior and senior years. This includes defeating American John Isner to win in 2007.
As a professional, he reached the Chennai Open final in 2009 as a wildcard entry, making Indian history as the first.
Somdev's best achievement came at the 2012 Delhi Commonwealth Games where he won a Gold in the Men's Singles.
He followed this success with Gold medals in both the Men's Singles and Doubles at the Asian Games in Guangzhou, China.
Somdev got a wildcard for the 2011 Australian Open but lost to Spaniard Tommy Robredo in the first round.
Injuries and a loss of passion saw Devvarman retire. However, he is one of India's most successful singles players in modern times.
Watch Somdev Devvarman at the Commonwealth Games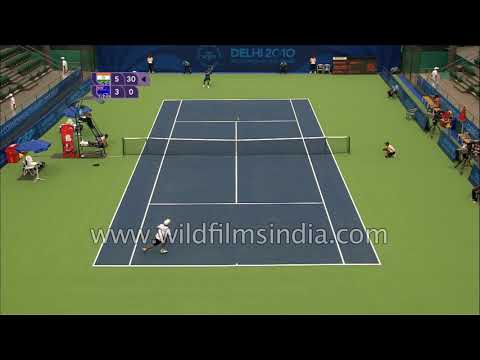 Vijay Amritraj
Vijay Amritraj is one of India's earliest trendsetters for success at Grand Slams. He is the first Indian tennis player to fully turn professional.
Throughout his career, Vijay has defeated some of tennis' most famous names during the 1970s and 1980s.
Players such as Bjorn Borg (SWE), Jimmy Connors (USA), Ivan Lendl (USA), John McEnroe (USA) and John Newcombe (AUS) lost at least once to the Indian who starred in the James Bond film Octopussy (1983).
Vijay's received the limelight in 1973 when he reached two Grand Slam quarter-finals.
In 1974, Vijay teamed up with Shashi Menon, Jasjit Singh and brother Anand Amritraj for the Davis Cup.
They took India to the final for only the second time but refused to play against South Africa, due to the apartheid period.
His impressive Davis Cup record continued over a decade later when India reached the final in 1987. They finished runners-up to Sweden.
Amritraj's career reached its peak in 1980 when he was ranked number 16 in the world.
His success at Grand Slams and at Davis Cup have made Vijay Amritraj one of India's most legendary tennis players.
Watch Vijay Amritraj vs Bjorn Borg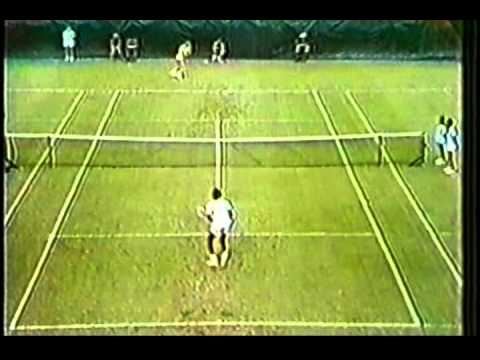 Nirupama Sanjeev
Though many people credit Sania Mirza for women's tennis success in India, Nirupama Sanjeev is where it started.
Nirupama began tennis at the age of five in Tamil Nadu but moved to Luxembourg to improve her game.
A year later, she moved to Sarasota, Florida where she was coached by David O'Meara, former coach of Leander Paes.
On the tennis tour, Nirupama was more popularly known by her maiden name, Vaidyanathan.
Her career spanned through the 1990s where she was the first Indian woman to win a first-round match at a Grand Slam.
She did it at the 1998 Australian Open, beating Italy's Gloria Pizzichini.
In the same year, Nirupama won the Bronze medal with Mahesh Bhupathi at the Asian Games in Bangkok.
This early success represented a further growth for women's tennis in India, inspiring the likes of Sania Mirza to reach new heights.
Nirupama retired from the sport during the late 2000s. However, she did return in 2010 to compete at the Commonwealth and Asian Games that year.
They were her last two competitive appearances before walking away from the sport for good.
Nirupama is now coaching tennis to children and adults at her academy in the Bay Area, California.
Nirus Tennis Academy was founded in 2004. Nirupama wants to give back to the community by helping people with their tennis.
Watch Nirupama Tennis Master Class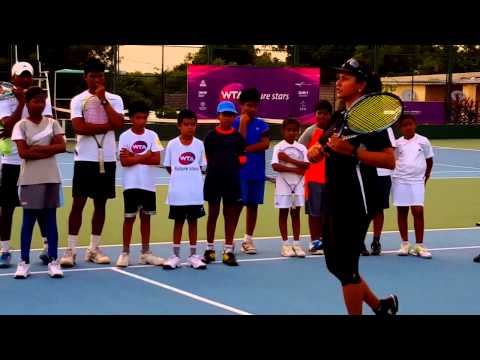 Anand Amritraj
The brother of Vijay Amritraj, Anand was among the first Indian tennis players to play in the top tier of tour tennis.
While his brother mainly specialised in singles, Anand played doubles.
In 1976, the Amritraj brothers reached the semi-finals of Wimbledon where they lost to eventual winners Brian Gottfried (USA) and Raul Ramirez (MEX).
Anand was part of the Indian Davis Cup team which reached the final in 1974, before forfeiting against South Africa.
The Indian Government decided to boycott the match in protest against South Africa's Apartheid regime.
They also were runners-up at the 1987 Davis Cup.
Post-retirement, Anand has worked with Indian tennis players like Somdev Devvarman when he was the Davis Cup captain.
When talking about the players he worked with, Anand said:
"I've worked with Somdev, Leander (Paes), Rohan (Bopanna). These were six to eight of the finest guys I would ever want to be with."
Alongside his brother, Anand Amritraj is one of India's early successful tennis stars on the global stage.
Watch Anand Amritraj on how to handle Body-Volley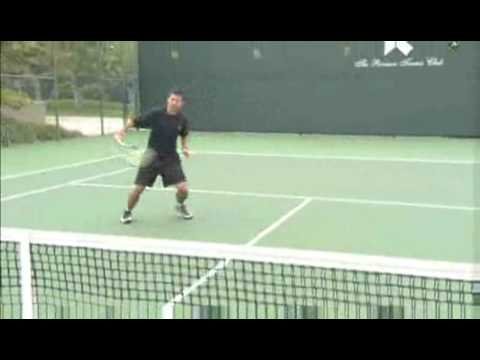 Ramesh Krishnan
Being the son of an Indian tennis legend has huge pressure, thankfully, Ramesh Krishnan achieved his own success during the 1980s.
As a junior, in 1979 he won Singles titles at both Wimbledon and the French Open.
As a professional, Ramesh reached three Grand Slam quarter-finals during the 1980s and was admired for his touch and all-round game.
He was part of the Davis Cup team which reached the final in 1987 and was instrumental in India getting there.
Ramesh defeated Australian Wally Masur in the decisive fifth rubber.
In 1989 at the Australian Open, Krishnan's highlight was defeating the then World number one Mats Wilander (SWE).
Ramesh reached the Men's doubles quarter-final with Leander Paes at the 1992 Barcelona Olympics.
He retired in 1993 but has carried on teaching the next generation the game of tennis.
Ramesh, alongside his father, founded the Krishnan Tennis Centre (Chennai) in 1995. It is set up similar to those which are in the United States and is focused on developing future tennis stars.
Watch Ramesh Krishnan at the 1981 Seiko World Tennis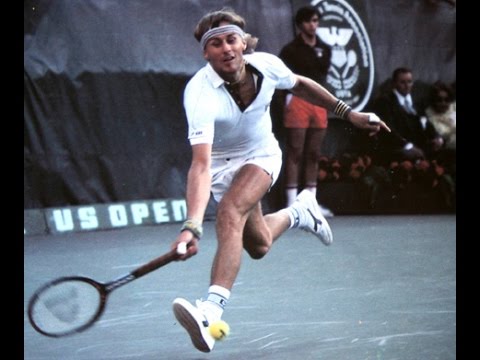 All of the above tennis players have shown the growing potential of the sport with the success they have had.
Some were around at a time when there was very little media coverage. Nevertheless, their skills have been showcased around the world, making the whole Indian nation proud.
Their achievements help current prospects like Yuki Bhambri, Ramkumar Ramanathan and Saketh Mayeni to try and emulate them in their respective careers.
Many of these players, whether active or retired will inspire the young people of India to pick up a racket with the dream of becoming the next big star.