"I think that the contribution the Asian community makes is palpable."
Hosted by Asian Business Publications Ltd (ABPL), the 14th annual Asian Achievers Awards 2014 once more welcomed the crème de la crème of the British Asian Community.
Celebrities graced the red carpet in beautiful Indian and English attire at the Grosvenor House Hotel located in London's commercial district of Mayfair.
As an Online Media Partner, DESIblitz attended the prestigious awards ceremony, which recognised British Asian talent across all walks of life, including entrepreneurship.
Present at the awards were a whole host of well known personalities including actor Nitin Ganatra, music producer Naughty Boy, singer Emeli Sande, TV presenter Philippa Tomson, radio presenter DJ Neev, the famous BBC radio duo Sunny and Shay and many more.
Cherie Blair QC CBE also attended as a Guest Speaker at the lavish event. Dressed in an elegant white Indian Pajami suit, Mrs Blair exclusively spoke to DESIblitz about the Awards:
"Well they are a real affirmation of the contribution that the Asian community has made to the United Kingdom."
She continued saying: "I think that the contribution the Asian community makes is palpable."
The proceeds from the event were donated to the Cherie Blair Foundation for Women charity.
Highlighting the key initiatives and works of the charity, Cherie said: "We've raised £100,000 for my foundation and are putting it to work in and around Mumbai."
"We're going to work with individual women who are small entrepreneurs and help them by giving them business training and business skills."
Besides inspirational speeches, the event itself was an entertaining and exciting affair, with everyone eagerly awaiting the announcement of the winners.
The atmosphere was simply electrifying, following performances from the Fatboyz Dance Company and Hoop Act 2.
There was also mind blowing Bollywood dances and extravagant light balancing acts throughout the evening.
The guests were inspired to continue with the work they were already doing in the community, whilst encouraging others to do the same.
Donned in a brilliant Scottish kilt, Dilawer Singh MBE, one of the liveliest attendees from Glasgow received the Sports Personality of the Year award
When asked whether more ceremonies need to be held, Dilawer said:
"We really need to do these events internationally rather than locally"
"Then we [can] highlight people who are doing good for themselves, their families and their communities. I really feel we need to do more."
He then went on to speak about his organisation and the issue of equality, a subject close to his heart: "One thing I fight for is equality, my organisation has a 50 / 50 male and female ratio-everyone is valued."
Former Warwickshire County Cricketer, Wasim Gulzar Khan MBE felt honoured to have won the Achievement in Community Service award.
He also echoed Cherie Blair's words saying: "There's always more that can be done but tonight is a great example of the kinds of actions that are already taking place."
"Tonight is a great testimony and reflects all the hard work that British Asians do in this country."
The Life Time Achievement Award was given to Chairman of Bestway Group, Sir Anwar Pervez OBE.
The Editor's Award for Bravery and Patriotism recognised Late Flight Lieutenant Rakesh Chauhan who tragically lost his life when his Lynx helicopter crashed whilst serving in Afghanistan.
His parents proudly collected the award for his courage and bravery.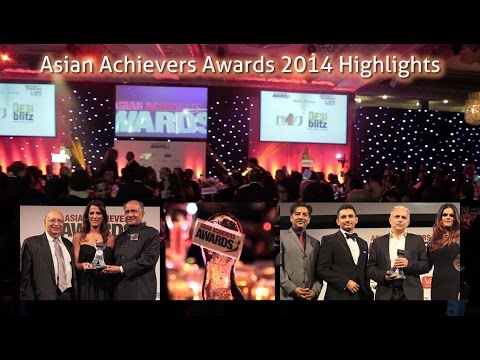 Other winners included: Nazir Afzal OBE (Uniformed and Civil Services), Professor Sir Tejinder Singh Virdee, FRS (Professional of the Year), Priya Lakhani OBE (Woman of the Year), Mahmud Kamani (Business Person of the Year), Dr. Richie Nanda (Entrepreneur of the Year) and Hanif Kureishi CBE (Media, Arts and Culture award).
The night would not have been complete without the Editor's Award for Rising Star which was awarded to none other than Naughty Boy aka Shahid Khan.
Shahid is best known for his hit with Sam Smith: La La La.
Speaking about the awards, Shahid said they were important to recognise and promote Asian talent.
Talking about his future, he mentioned an exclusive insight into potentially working on a Bollywood track in the near future:
"I'm really interested in working with Bollywood. I've got a hit list actually of people I want to work with. Atif Aslam, Kanika Kapoor – I'm meeting her next week."
Nitin Ganatra aka Masood Ahmed of Eastenders and his two co-hosts, DJ Lora and Philippa Tomson enthralled everyone at the awards.
In spirit of the event, Tomson wore a very a beautiful gold and black Indian outfit.
Leading up to the event, Tomson expressed her excitement about the ceremony as she said: "There are some wonderful people in that room tonight and some wonderful awards that are going to be handed out."
It seems that the Asian Achievers Awards is attracting and highlighting more and more Asian talent across the UK like never before.
There is no doubt that next year's awards will be bigger, more glamorous and with more inspiring stories to share and reflect upon. DESIblitz, as always, will be there to bring the news straight to you!
Congratulations once again to all the winners and the British Asian Community for their incredible achievements in 2014.