"I am very pleased with this award as it comes from the Asian community. I am so proud of my Asian heritage."
Now in its fourth year the Asian Awards may seem like a new kid on the block when it comes to awards ceremonies. However with three amazing ceremonies under its belt, it's clear to see why the Asian Awards have become so prestigious so quickly.
We are pleased to say that this year's ceremony was certainly up there with the 2013 awards. One Direction's Zayn Malik, Naughty Boy, Nina Wadia and Gok Wan were amongst those attending the glitzy ceremony at London's Grosvenor House Hotel.
These awards don't just recognise those in the public eye; Asians with success in business, public service, and science are also very much recognised and valued. Founder of the awards, Paul Sagoo explains further:
"Our goal was to celebrate the highest calibre of individuals from the global Asian community across all spheres of activity. This year is no different and we continue to raise the bar of the event each year."
The overall atmosphere of the event was one of celebration and style. Attendees dressed in their finest and most sparkling attire. They seemed proud to be part of the event and even prouder to be Asian.
With Asia's big achievers all seated and strapped into the hotel's impressive ballroom, it was time to kick off the show. Attendees were treated to an energetic performance from none other than Preeya Kalidas.
Preeya graced the stage in a stunning outfit and sang 2002's hit 'Shakalaka Baby'. In doing so, she completely lifted the room and reminded us that her career started long before her EastEnders days.
The awards were hosted by BBC Radio's Nikki Bedi. DESIblitz were lucky enough to have a chat with Nikki moments before she was due on stage. She told us why she thinks the Asian Awards are so important:
"What separates this awards ceremony from others is that it celebrates success from all corners of Asia, not just South Asia."
This point was reaffirmed during the ceremony when a special message from Deputy Prime Minister Nick Clegg was played on a large video screen. During his speech he said: "The Asian Awards is the only Pan Asian awards ceremony in the world."
The first award of the evening was the Founders Award which was presented to the South African politician Ahmed Kathrada for his immense anti-apartheid campaigns. These campaigns resulted in his imprisonment for almost 20 years. The award was hosted very fittingly by Idris Elba, star of Mandela: Long Walk to Freedom (2013).
Ahmed was humble on receiving the award saying: "I don't think I have done much to deserve this. I dedicate this award to freedom."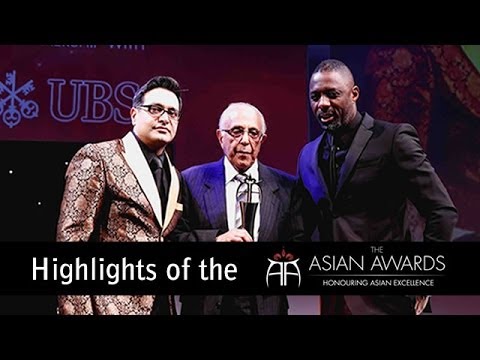 For many this was the most significant award of the evening, and guests including presenter Nikki became noticeably emotional when Ahmed collected the award.
Jackie Chan won the Fellowship Award. Jackie was unfortunately unable to attend but sent over a special video message thanking everyone for their support.
Catering was provided by Madhu's. Judging from the smiles and empty plates it certainly ticked all the boxes. On arrival guests tucked into chicken, fish and chanay canapés. Once seated, guests were served chanay wrapped in pastry.
This was followed by a choice of lamb on a bed of vegetables or paneer with aubergine salad. Dessert was a berry cheesecake topped with an edible brightly coloured bow. This definitely had the wow factor and many diners reached for their phones to take a photo.
Other award winners at this year's Asian Awards included MS Dhoni for Outstanding Achievement in Sport, Irrfan Khan for Outstanding Achievement in Cinema and Gok Wan for Outstanding Achievement in Television.
On receiving the award, Gok told us: "I am very pleased with this award as it comes from the Asian community. I am so proud of my Asian heritage."
Here is the full list of winners for the 2014 Asian Awards:
Outstanding Achievement in the Arts
Sir David Tang
Outstanding Achievement in Television
Gok Wan
Outstanding Achievement in Cinema
Irrfan Khan
Outstanding Achievement in Music
Norah Jones
Business Leader of the Year
Dr Cyrus Poonawalla
Outstanding Achievement in Sport
Mahendra Singh Doni
Public Servant of The Year
Salil Shetty
Entrepreneur of the Year
Lui Che Woo
Outstanding Achievement in Science & Technology
Sir Venkatraman Ramakrishnan
The Founders Award
Ahmed Kathrada
Fellowship Award
Jackie Chan
The Asian Awards attempts to separate itself from other ceremonies by celebrating achievements across all of Asia. Looking at the varying origins of winners, we think it has definitely succeeded in its aim.
DESIblitz sends out massive congratulations to all winners and the organisers. We're already looking forward to the Asian Awards 2015!