"Pari is not like the usual horror films in India"
Prosit Roy's debut film, Pari is a Bollywood horror that is "not a fairytale". Starring Anushka Sharma in the lead role alongside Bengali actor Parambrata Chatterjee, the Indian thriller looks promising.
Sharma also serves as a producer of the film, making it her third after NH10 (2015) and Phillauri (2017).
Anushka Sharma's Pari has had an unconventional release from other Bollywood films. Very little promotion has been done for the movie, which appears to be a strategy by the makers to keep the mystery.
Though not much has been revealed about the plot, we do know Sharma takes on the role of an abuse victim called Rukhsana.
The spine-chilling trailer sees Sharma's strange behaviour as her character is challenged by the supernatural. Of course, this is a very different take on the supernatural than Sharma's ghostly Phillauri.
The trailer presents us a montage of Rukhsana's weird behaviours such as laying on the floor dazed whilst waving her arms in the air, staring blankly into a mirror and blowing bubbles and catching them in her mouth.
She is found in the corner of the shed by Chatterjee's character (whose name has not been revealed) and police officers, who take her to a hospital. From there, Chatterjee's character becomes her guardian.
It looks as though Sharma will also play a demonic alter ego of her character Rukhsana, who is covered in blood, bloodshot eyes and nasty nails. There are even some scenes in which Rukhsana is chained.
The production company, Clean Slate Films also released a clip showing how Anushka Sharma transformed into the bloodshot and bruised Rukhsana by British prosthetic designer, Clover Wooton.
Make-up played a lead role in #Pari. Here's the #MakingOfRukhsana. #2DaysToPari@AnushkaSharma @paramspeak @prosit_roy @kriarj @poojafilms @KytaProductions #PrernaaArora #HoliWithPari pic.twitter.com/FmPtHgetdz

— Clean Slate Films (@OfficialCSFilms) February 28, 2018
Sharma has been sharing teasers through her social media accounts titled 'screamers'. In them, we can see snippets of Rukhsana's strange behaviour aimed at keeping us viewers on the edge of our seats.
Posters for the film also show Sharma in a trance-like state with a demonic figure stood behind her. Others show her bloodied up. Speaking to media about the reaction to the teasers, Sharma says:
"I'm very happy with the kind of response the posters have gathered, Its great. It's the right kind of curiosity amongst people which we were going for."
According to sources, it was a conscious decision by Anushka and the team to not extensively promote the film, to keep a sense of mystery for fans.
While Bollywood's previous history with the horror genre has been turbulent, co-producer Prernaa Arora believes Pari offers viewers something very different. Speaking to press, she said:
"Pari is not like the usual horror films in India with creaking doors, ear-shattering background score and crashing chandeliers.
"This is a totally different take on the spooky theme. The horror is so organically introduced into everyday life that audiences will be stunned."
"I don't think any actress in the world has played this kind of a chilling character," she added of Sharma.
A private film screening for industry people that was scheduled for Wednesday 28th February was cancelled in honour of the late Sridevi.
Pari's co-producer Prerna Arora stated: "We are deeply shocked and heartbroken with the untimely demise of our beloved Indian legend, Sridevi.
"To honour her memory and the legacy she left behind, KriArj Entertainment has decided to cancel the screening of their upcoming film, Pari, which was earlier scheduled for the 28th of February."
However, Sharma's new husband, Virat Kohli did host a private screening of the film following his return from South Africa. It was attended by the likes of director Vishal Bhardwaj and actor Shahid Kapoor.
Notably, Pari marks the first screen appearance of the actress after she tied the knot with Indian cricketer, Virat Kohli in December 2017.
Even with the lack of promotion, expectations for Sharma's Pari are still quite high. And many are anticipating a chilling movie that is full of jumps and scares.
Despite being known for her romantic-comedy roles, Sharma has had success with thrillers in the past. Particularly with NH10, a suspenseful thriller about a couple who deal with a dangerous gang after a girl who is pursued by them pleads for help.
The film was widely praised by critics like Rajeev Masand rating it 3.5 out of 5. It grossed Rs 33 crores ($5.1 million) on a budget of Rs 13 crores ($2 million), and Sharma was nominated for a Filmfare award for the role.
Fans of Sharma are hopeful then that Pari will be just as impactful.
The Indian Express commented: "Not always do we have a highly convincing horror film in Bollywood that sends a shiver down the spine of audiences. But it looks like Anushka Sharma's upcoming Pari might just change the game."
Watch the spine-tingling trailer for Pari here: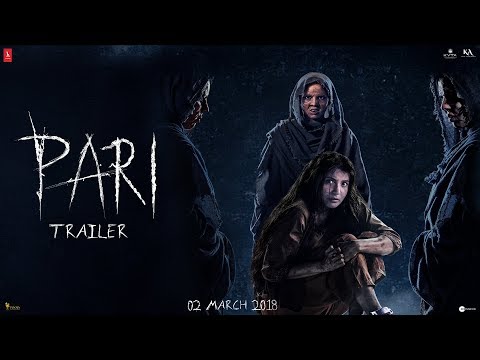 Other projects the actress is preparing for include Sanju. A biographical drama based on Bollywood actor Sanjay Dutt with Ranbir Kapoor as Sanjay. The film is expected to release in June 2018.
Anushka is currently filming Sui Dhaga which will see her star alongside Varun Dhawan. It is set to be released in September 2018.
Also releasing at the end of 2018 is Sharma's Zero which stars Shahrukh Khan and Katrina Kaif. The film will feature numerous special appearances by actors such as Deepika Padukone, Salman Khan, Sridevi and more.
Anushka Sharma's Pari releases in cinemas on 2nd March 2018.