"There is so many Indians in the world and clearly, we're coming from somewhere."
YouTube Lilly Singh aka Superwoman, has come third in Forbes rankings of highest paid YouTube stars, with $7.5 million (£5.9 million) in earnings.
The Canadian-born star has reached 10 million subscribers on her YouTube channel, with over 1.5 billion views.
The daughter of Indian immigrants, she often makes videos entitled 'My Parents react to…" in which she typically pretends to be both her mum and dad, giving funny Desi responses to popular music videos and so on.
In an interview with Buzzfeed, Singh speaks of her approach to starting out.
She said: "From a business point of view, when I discovered YouTube I saw there were no South Asian females doing it. So, I thought it was a great opportunity in a business sense to create a niche market."
Singh makes videos on touchy subjects that may be considered taboo by the South Asian community. In one of her videos she discusses periods, and why it freaks boys out. She embraces her roots by using her heritage for material.
One YouTube video is entitled '3 ways my childhood screwed me up'. In this, she mentions the taboo subject of sex, saying that she never received 'the talk' when she was younger – which would have helped her understand sex better.
She says: "There is so many Indians in the world and clearly, we're coming from somewhere."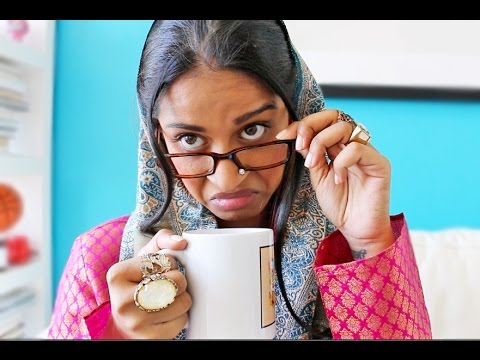 In another video, she dons a blonde wig vs. her natural hair to mark the 'difference between brown and white girls.'
Since her channel's launch in 2010, Singh has gone on to release her own red lipstick called 'Bawse'. She is releasing her very own book in 2017 and frequently tours the world.
Not only has she made videos starring Hollywood actors James Franco and Seth Rogen, but she has also made a video with and met her idol – The Rock.
Singh has also appeared on The Tonight Show Featuring Jimmy Fallon.
Growing up in Toronto, the 26-year-old YouTube star initially started filming her comedy lines when she was struggling with depression. Studying undergraduate Psychology, she decided to ditch further studies for the spotlight.
Her parents took some time in understanding her change of heart. But, when they saw how far Singh was getting, they threw all their support behind her.
However, it wasn't all fun and games for the Canadian-Indian star. Singh told VanCityBuzz that the biggest challenge was the psychology of her job. She said:
"My job is 10 percent being creative and being Superwoman, and 90 percent dealing with the psychology of it all.
"It's definitely hard to have a bad day. Even for the show. I've been really upset during some of those. But you have to really separate personal from business.
"It's super hard to do and I have no answer, I have no magic secret on how to do that, but all I know is that before every show, something I do is say, 'You're not Lilly anymore. You're going on stage as Superwoman for these two hours. You are a performer'."
Speaking to Flare, Singh spoke of her excitement on meeting Bollywood actor Shahrukh Khan. She said: "I will never forget the moment of stepping out the car and hearing screams. It was his daughter and her friends screaming for me. No other words can describe it besides life changing."
Lilly Singh, aka Superwoman, continues to post her videos on YouTube star. Her book, How to be a Bawse, is set to be released in 2017.