"I am sure this will be an evening to remember full of laughter and banter"
Plan Your Entertainment, in association with DESIblitz, are giving away a pair of tickets to India vs Pakistan Comedy Clash: Breaking barriers with Love and Laughter at Waterman Arts Centre, Brentford West London on Saturday 8th September 2018.
A one of a kind event, the Comedy Clash will welcome some of the UK's most talented Indian and Pakistani comedians onto the stage for two hours of non-stop comedy entertainment.
On Team India, spectators can look forward to seeing the likes of Anil Desai, Hyde Panaser and Jay Sodagar.
Having begun his career on the BBC hit-series Goodness Gracious Me, Anil Desai is a popular name on the comedy circuit.
The comedian and impressionist has performed in over 30 countries in the last decade. He also broke records when he performed an impressive 52 impressions in the space of five minutes.
Joining Desai are Jay Sodagar and Hyde Panaser.
Sodagar is one of the funniest and most experienced British Asian comedians in the UK. While the British Punjabi Hyde Panaser has written and produced a number of community radio shows, entertaining listeners with his quick wit.
Watch our interview with Hyde Panaser here: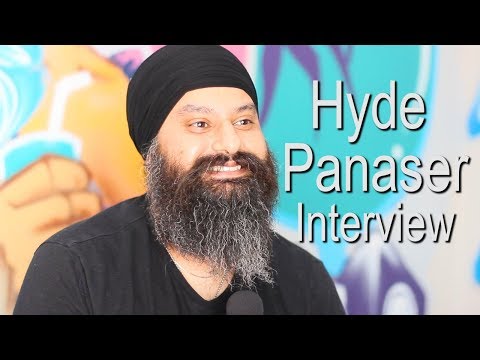 On Team Pakistan, comedy fans can expect great thing from the likes of Aatif Nawaz, Mani Liaqat and event organiser Salman Malik himself.
London-based Aatif is an award-winning comedian known for a multitude of talents that include acting, filmmaking, radio presenting and writing.
The respected act will perform with the likes of Mani Liaqat, winner of Laughter Challenge UK. A presenter and actor, Liaqat's comic style consists of strange rants and a mix of Punjabi and Urdu humour.
Salman Malik will also entertain audiences with his hilarious banter and mix of culture and humour. The Leicester Asian Glitz Awards 2018 winner says:
"I am a big cricket fan, this idea came to me two years ago, just like a cricket match at this event we will have 2 captains, toss and even play the national anthems."
Malik admits that the aim of the comedy night is to break down barriers and ongoing animosity between the two neighbouring nations. As Salman explains, comedy is something that both can share together and use as a "common ground".
The British Pakistani adds:
"As the organiser of the event I have put my heart and soul into this project, I have loads of surprises for our guests and I am sure this will be an evening to remember full of laughter and banter."
The evening will be hosted by Jay Handley, from Team England.
Celebrating cultures and communities with laughter, India vs Pakistan Comedy Clash will be an unmissable night of great banter and even better entertainment.
SHOW DETAILS
Date and Time: Saturday 8th September 2018 at 7.30pm
Venue: Watermans Art Centre, 40 High St, Brentford TW8 0DS
Buy Tickets: India vs Pakistan Comedy Clash
Tickets can be purchased by visiting the link above.
FREE TICKETS COMPETITION
We have one pair of tickets to give away to one lucky winner.
To win a pair of FREE tickets to see INDIA VS PAKISTAN COMEDY CLASH, first follow us on Twitter or Like Us on Facebook:
Then, simply answer the question below and submit your answer to us now!
One entry will allow you to win two tickets to the event. Duplicate entries will not be accepted.
The competition closes at 12pm on Friday 31st August 2018. Please read the Terms and Conditions of the competition below before entering.
Terms & Conditions
You have read and agreed with our updated Privacy Policy informing you how we use your competition data.
DESIblitz.com is not responsible for and will not consider incomplete or incorrect entries, or entries submitted but not received by DESIblitz.com for any reason, as potential competition winners.
To enter this competition, you must be at least 18 years old or older.
The winner will be contacted at the "sender" email address or telephone number that was used to enter the competition and the "sender" will be considered as the sole winner.
No more than one entry per email address is permitted and will be considered.
You hereby agree to hold DESIblitz.com and its affiliates, owners, partners, subsidiaries, licensees sponsors and assigns harmless from and against, and hereby waive any right to pursue, any claims of any nature arising in connection with the inclusion in, publication via or display on any DESIblitz.com site or this competition, or any other use authorised under these Terms, of any photo or information submitted to DESIblitz.com by you;
Your Details – In order to claim a winning entry, the entrant supply DESIblitz.com with his/her legal name, a valid email address, and telephone number.
Winner – the winning entrant of the competition will be selected using a random number algorithmic process which will select one number from only the correctly answered entries input serially into the system. If details supplied by any winner are incorrect, then their ticket will be offered to the next random number from the winning entries.

DESIblitz.com will communicate with the winner via the email or telephone provided. DESIblitz.com is not responsible for emails not getting to the user, nor responsible for the quality of the seats, if show times or dates change, and is not responsible for anything that happens before, during, or after the event.
The winner may not request substitutions of winnings. The winner is solely responsible for any and all taxes and/or fees, and all such additional costs that may be incurred after or before they receive the tickets.
DESIblitz.com, nor employees of DESIblitz.com or partners may be held liable for any warranty, costs, damage, injury, or any other claims incurred as a result of any winnings of a prize.
DESIblitz.com is not liable for any loss arising out of or in connection with or resulting from any competition promoted by DESIblitz.com.
DESIblitz.com does not accept responsibility for: (1) lost, late or undelivered entries, notifications or communications; (2) any technical, computer, on-line, telephone, cable, electronic, software, hardware, transmission, connection, Internet, Web site, or other access issue, failure, malfunction or difficulty that might hinder the ability of an entrant to enter the competition.
DESIblitz.com disclaims any liability for inaccurate information, whether caused by the Web site, its users or by human or technical errors related to the submission of entries. DESIblitz.com makes no warranties or guarantees in relation to the prizes.
No purchase is necessary to enter the competition. Details given in the entry to the competition will only be used by DESIblitz.com in accordance with its privacy policy and consent communications from DESIblitz.com
By entering the competition, entrants agree to be bound by these Terms and Conditions which are governed by the law of England and Wales. DESIblitz.com and all entrants irrevocably agree that the courts of England and Wales shall have exclusive jurisdiction to settle any dispute which may arise in connection with these Terms and Conditions and submit all such disputes to the jurisdiction of the courts of England and Wales, provided that for the exclusive benefit of DESIblitz.com shall retain the right to bring proceedings as to the substance of the matter in the courts near an entrant's residence.
DESIblitz.com reserves the right to alter any rules of any contest at any time.