"It's time to recognise India's changing place in the world"
No new British financial aid grants will be made to India with immediate effect, it was announced by the UK Government Development Secretary Justine Greening on 9th November 2012.
Currently, the UK gives £280 million a year to India, despite that fact aid more than this is given to other nations by India itself. India expects to see economic growth of over five per cent in 2012/13.
Justine Greening recently visited India and made the announcement on her return. The decision follows the conclusion of talks with senior Indian politicians and Government of India officials about the future of UK-India development cooperation.
"Having visited India I have seen first-hand the tremendous progress being made. India is successfully developing and our own bilateral relationship has to keep up with 21st century India. It's time to recognise India's changing place in the world," said Greening.
The UK's programme in India will be restructured and traditional financial grant aid ended responsibly, so projects already underway will be completed by the end of 2015 as planned. But Greening will not sign off any new programmes, and financial aid programmes to the country will end completely in 2015.
From now, all new programmes will focus on sharing skills and expertise in priority areas such a growth, trade and investment, skills and health; and on investments in private sector projects designed to help the poor while generating a return.
That work will see a 'hub' of specialists in India working alongside the Foreign Office, UKTrade and Investment and other government departments to share advice and skills with the Government of India.
The shift reflects India's successful transition to become a key part of the global economy.
Justine Greening said:
"After reviewing the programme and holding discussions with the Government of India this week, we agreed that now is the time to move to a relationship focusing on skills-sharing rather than aid."
"It is, of course, critical that we fulfil all the commitments we have already made and that we continue with those short-term projects already underway which are an important part of the UK and Government of India's development programme," added Greening.
The new programme restructure is expected to see a total saving of around £200m over 2013-2015 compared to the Bilateral Aid Review plan. The UK's Technical Assistance presence in India post-2015 is expected to cost around one-tenth of the current programme.
The UK Government has agreed with the Government of India that from 2015 Britain's role will be focused on specifically the following:
Technical cooperation. We will maintain a hub of development expertise within India. This will share advice and skills with the GoI on poverty reduction.
Private Sector. We will continue the programme we launched last year to invest in private sector projects bringing opportunities to poor people in the poorest parts of India.
Global partnership. The UK will collaborate with India on development and areas of mutual interest internationally. We will work together to help other poor countries learn from India's experience and on areas like trade, food security, climate change and health that can benefit everyone.
The Department for International Development (DFID) has engaged in many projects delivering the UK aid to the poorer parts of India. The video shows an example project to provide a school bus for poor children in Delhi, India.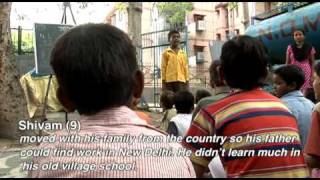 The change will mean such projects need to be supported more and more by India itself. Something that is hoped will happen. Otherwise the gap between rich and poor in India will definitely become greater.
In 2010, bilateral trade between the UK and India grew by 20%, bringing the total to £13 billion. UK goods export to India grew by 37% and goods imports from India rose by 27%.
The absolute public spending by India on education has more than doubled since 2006 (from £15 billion in 2006 to £35 billion in 2011), as has absolute spending on health since 2006 (from £7 billion in 2006 to around £15 billion in 2011).
In 2011-12, India invested 25% of its budget on health, education and rural development.
However, not everyone is in favour of the cease in aid to India. Save the Children's Kitty Aire, opposing the move said:
"Despite India's impressive economic progress, 1.6 million children died in India last year – a quarter of all global child deaths," she said.
"We agree that in the longer term, aid to India should be phased out as the country continues to develop, but we believe that the poorest children will need our ongoing help, and to cut bilateral aid in 2015 is premature," added Aire.
But it is very unlikely that the UK government will change its mind from the amended commitment towards India further to Greening's visit.
This new stance by Greening indicates a key change in policy towards India. Because only in August 2012 the then International Development Secretary Andrew Mitchell reiterated the country's commitment to spending money there.
Mitchell said:"The Indian government has made great progress on tackling poverty but there is still huge need."
The support for the move comes from both sides of the House, where many MPs have suggested that it is wrong that the UK should have been giving money to a country which is spending hundreds of millions on a space programme.
India has come a long way since the days of when aid was very much needed when it was classed as a third world country.
Today, with the economical growth in India steaming ahead; faster and more inclusive growth continues to be India's top priority. India's development efforts have pulled 60 million people out of extreme poverty in the last 5 years. Therefore, it is imperative that this momentum continues, if India wants to be seen as a country that can support itself and compete on the international stage of economics.