"The day our moms approve of this will be the day when we are allowed to get married to each other!"
A new Tinder India advertisement has been criticised by social media for being unreflective of the casual dating app's demographic.
Released on Facebook on May 7, 2016, the ad depicts a young Indian woman grooming herself and getting ready for go out.
Her mother enters the room and asks what she has planned for the evening. The hesitant young woman mumbles something about a theatre exhibit and skirts her mother's inquisitive gaze.
Venturing casually over to her daughter's bed, the mother takes a seat and glances at the young girl's phone screen, which has lit up with two Tinder notifications.
Smiling knowingly, she takes in her daughter's date night attire, saying: "From my side, there is a right swipe for this. And wear a kajal, it has its own charms."
The advert, while aiming for a progressive and more casual stance in the way Indians view the dating scene in 2016, has been slammed for its conservative and unrealistic nature.
Facebook user Love Punj comments: "This idea came out of a daily soap director's mind!"
Aditya Rane adds: "Hmm, her mom knows about swiping right. Shouldnt her dad be worried?"
Dhvani Shah points out how the ad chooses to present a stereotypical portrayal of an Indian household, rather than the reality of the modern dating scene.
She says: "Does anyone else think that Tinder just assumes that this is what will happen at any point in an Indian family?
"I'm not saying that we're backward. But I'm an Indian origin child that's been brought up in a very westernised culture and my parents don't even like the idea of dating. I think Tinder's a long shot.
"I don't think a mother would ever know what 'right swipe' is, regardless of them being a tech freak.
"To anyone whose parents are accepting of this idea, you're lucky af. But on a more realistic note Tinder, this ad is something that shows people a side of the culture that is far from reality."
Many others see it as a laughable attempt to market itself as more than just a hook-up app and a ridiculous way of encouraging traditional relationship choices.
Tinder's new ad is the stupidest thing I've seen in some time. Why are they so afraid of being just a hook up app?

— Shweta Sangtani (@penguinhowler) May 10, 2016
Some sarcastically compare it with Shaadi.com, a matrimonial site popularly used by many Indian parents to arrange marriages for their children.
Debasmita Bhakta says: "The day our moms approve of this will be the day when we are allowed to get married to each other!"
Mitali Gadekar agrees: "Hahah the Tinder in India ad is more like a matrimony advert."
Confused by new Tinder India ad – Is the desi mom cool with hookups or is this the old https://t.co/zEv6yzQddo wine in a new #datingapp?

— Aditi Sen (@urbanwonk_mom) May 12, 2016
Watch the new Tinder India ad here: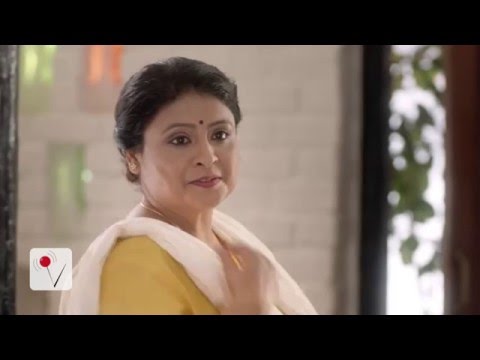 Launched in 2012, Tinder opened its first international office in New Delhi in January 2016, as a central hub for its growing user base in Asia where India is currently its biggest market, recording over 14 million swipes every day.
Despite being widely recognised as a hook-up app for people looking for no strings attached sexual encounters, it has been endorsing itself as more than just a meeting point for people who want instant sexual gratification.
The US-based company has been fiercely promoting fairytales of Tinder matches that lead to marriages, using the hashtag '#SwipedRight' and a dedicated blog page to share real life love stories.
Besides, it has recently introduced the option of adding education and work background in user profiles to enhance matches and challenge its obvious advocacy of shallow surface-interests.
So, it is possible that Tinder India's new ad has been created with the new marketing strategy in mind, as part of their broader approach to reposition itself as a dating app where people can find casual dates as well as true love.
Nevertheless, the reaction from numerous Indian Tinder users towards the ad would indicate this may not yield much success from its young user group (19-25 year old) who are simply looking for a little fun.
Bourree Lam sums up the majority view succinctly in The Atlantic: "It's too bad that Tinder is going the way of traditional dating because if meeting people in real life is so great, why would anyone be using a dating app in the first place?"