"Suz is someone who we have had a keen eye on for a while. He is a tremendous athlete and a good boxer."
Firefighter turned professional boxer Suz Member will be hoping to catapult into the big time when he takes the bow for his début fight.
On Saturday 1st March 2014, London's legendary York Hall in Bethnal Green will witness history as professional boxing's first British-born Indian Muslim fighter, Suz Member takes centre stage. He will take his first step at a title fight against Lithuania's Tadas Stulginskas.
Born and raised in Preston (UK), Suz has been signed up by sports promoter Acourtier Events. He will fight on an international televised card featuring World Boxing Union (WBU) European championships bouts.
Highlighting his potential, Dave Murphy, Head of Acourtier Events said: "Suz is someone who we have had a keen eye on for a while. He is a tremendous athlete and a good boxer."
"We have high hopes for him, and as long as he keeps winning, we are confident we can get him the titles he wants."
The Welterweight boxer has fought six times under the European Boxing Federation (EBU), winning five of his six bouts. He has already knocked out Damien Jefferies (2nd Round), Reece Street (2nd Round), Thomas Kuzak (4th Round) and Anthony Ward (3rd Round).
For someone who has been in boxing for a while this does not seem like a lot of fights, but Member has been somewhat limited due to various injuries, contractual issues and other problems. But he is very determined to make something of himself in the pro-ranks and will be hoping to start with a knockout on Saturday.
From a young age Suz was fascinated by the likes of Prince Naseem Hamed, Herol 'Bomber' Graham and Mohammed Ali. However it was reading the book Rocky (1976), which actually inspired him to get into boxing.
He finished reading the book in one night and was completely hooked on the sport. He says: "I still believe in the message of the story that if you want something badly enough it can be yours. The impossible dream is achievable by anyone."
As a troubled teenager, Suz joined Preston & Fulwood Amateur boxing club to rebuild his life. Thus he dedicated more time to the gym, taking out all his frustration in the ring. Over the years he progressed slowly through sheer determination and hard work.
Progression meant he was ready for some amateur fights, but lost his initial four fights. He never gave up and believed in his ability and continued working on his game.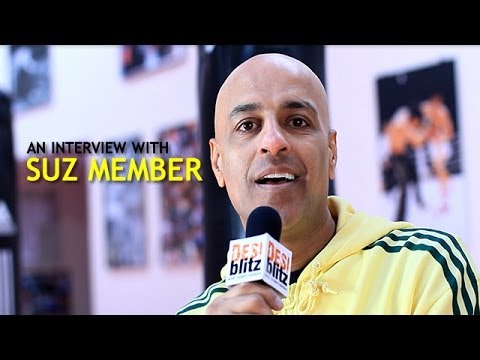 Whilst being injured, Suz used his experience and love of boxing to help kids in the community. In 2009, he was appointed to help youngsters in a government mentoring scheme, which included delivering talks at youth clubs and young offender institutions.
In May 2012, the Zambian government requested his help in mentoring some of the emerging talent in sport. He was also promised a couple of fights, which would be televised across Zambian and African TV stations. Relishing this chance, Suz said:
"I haven't ever been to Africa before but there aren't any boxers in Europe who have had the opportunity to go over there. I see it as a privilege."
"I will be able to expand my horizons, see a fascinating country, help other people and gain some valuable boxing experience," he added.
During his spare time, Suz visited various parts of the country and was shocked by the poverty stricken villages. He personally donated his fight purse, ensuring some of the kids had their exams fees paid to enhance their education.
Suz has not had an easy ride himself, having been involved in underground fighting and unlicensed bouts. Even though he was fortunate to have been paid for these fights, it was quite challenging as he knew very little about his opponents and their abilities.
In preparation for his fights, Suz has a strict twelve week regime. The first four weeks include total fitness and weight orientation. The next six weeks are a combination of fitness, conditioning, technical boxing and sparring.
The final two weeks is all about making the weight, stepping up speed and sharpness as well as coming up with a game plan. The gruesome schedule, persistence and hard work over the years have paid much dividends for Member.
One thing that cannot be questioned is his fitness, after all he has been a firefighter representing Greater Manchester for the past eleven years — that alone needs stamina and survival for the fittest.
One has to be in perfect condition mentally and physically to fight. Therefore he has been training and sparring with different people around the country to get the best out of him.
Come Saturday night, Member will be creating history as he steps out of his dressing room and takes the walk through the corridors into a packed crowd.
His mind will be focused, his body should be ready and most importantly will he do the unthinkable and make the breakthrough he thoroughly deserves.
DESIblitz has been informed through reliable sources that Suz Member has been training with and is under the guidance of a very well-known boxing legend. The boxer in question was acknowledged as one of the best British boxers of post-war era never to have won a title.
The crowd at the York Hall, Bethnal Green is in for a surprise. Is it written in the stars for Suz Member? We will soon find out.