"That moment when Shahrukh Khan invites you over and spoils you to bits."
It's a fact, YouTube stars are taking over the world. The term 'celebrity' no longer applies only to actors and singers. There's a new generation of self-made celebrities creating their own content for the world to see.
One of the funniest and well known stars is Lilly Singh, aka Superwoman as she is known on YouTube, who made her Mumbai début last weekend.
Lilly is a Psychology graduate from Canada turned self-made Internet star, comedian, dancer and motivational speaker.
She entertains her 2 million plus subscribers with her humorous take on Desi situations, dating and lifestyle advice, dressing up as her parents, fictional brother and offering inspiration to a generation of young South Asians.
Lilly began her YouTube journey filming videos in her Ontario, Canada bedroom but has now moved on to speaking at events across the world, from England, America and even Australia and New Zealand.
One of her most popular videos 'S**t Punjabi Mothers Say' resonates with the South Asian diaspora who can relate Lilly's parody of her stereotypical Desi mother to their own Aunties and Moms as well as a multitude of viewers alien to Desi life.
However, Lilly's first foray into the Indian media scene came via the YouTube Fanfest. On March 1st, the Bandra Amphitheatre in Mumbai hosted the 2014 YouTube FanFest, kick-starting 6 months of YouTube led events across the globe.
A range of YouTube stars appeared alongside Lilly from American beauty blogger turned designer Bethany Mota, to India's homegrown comedy channel All India Bakchod appeared at the event speaking to a huge Indian crowd as well a worldwide audience through the livestreams to a collecting audience of over 14.6 million subscribers.
Superwoman was joined by Bollywood's own Superman Shahrukh Khan, who despite not being a YouTuber made an appearance at the event speaking about the rise of YouTube and its stars.
Shahrukh Khan clearly took a shine to Lilly. Supposedly his young daughter Suhana is a big fan of Lilly's work and Shahrukh showed his knowledge of Lilly's videos when he performed Lilly's signature 'S' which she ends all her videos with.
The star then Lilly over to his house, Mannat a home many journalists, photographers and even Bollywood actors would kill for an invitation to.
Lilly tweeted: "That moment when Shahrukh Khan invites you over and spoils you to bits," accompanying a picture of the two at his house, with a multitude of Filmfare Awards littering the background.
An invitation to Shahrukh's house wasn't the only highlight of Lilly's trip to Mumbai. The lucky YouTuber also met writer Mushtaq Sheik, comedy host Kapil Sharma, producer Anubhav Sinha and Award winning actresses Juhi Chawla and Madhuri Dixit which she chronicled in pictures on her Instagram account.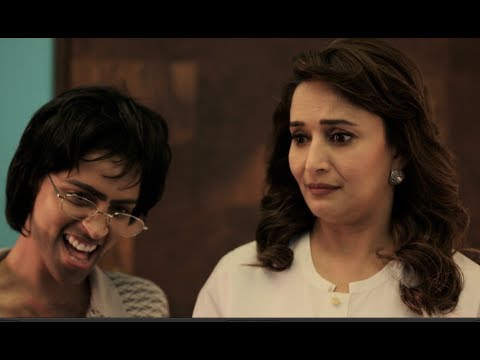 Among her many talents Lilly is also a talented rapper, she made her singing début in 2013 on Birmingham born Jassi Sidhu's single 'Hipshaker' and is now branching out to Bollywood.
The YouTube star helped promote Anubhav Sinha's Gulaab Gang in which she features on the song Mauj Ki Malharein alongside Sadhu Sushil Tiwari and Chaittali Shrivastavva rapping to lyrics by Rohit Sharma and Humble the Poet.
Madhuri Dixit, one of the stars of Gulaab Gang repaid Lilly in kind by appearing in a Superwoman video 'What Bollywood Has Taught Me' which has already amassed over 500,000 views.
Madhuri appears at Lilly's house and teaches her just how Bollywood applies to all aspects of life. From how to ask someone out 'What is mobile number? What is your style number', how to deal with awkward silences 'Say shava shava, mahiya' and even how to beat Flappy Bird 'kabootar ja ja ja', Madhuri – or rather Bollywood – has all the answers.
Before her short stay in Mumbai ended Lilly also tweeted that she was signing contracts (while sunbathing by the pool). A Bollywood movie starring Shah Rukh Khan and Lilly Singh might still be possible.
Maybe even a love triangle with Madhuri Dixit? From hanging out at Shahrukh's house to getting life advice from Madhuri, Lilly is all set to take India by storm. This may be the first step to a whole new career for Superwoman.