"Khoon Mein Teri Mitti. Mitti Mein Tera Khoon. Upar Allah, Neeche Dharti Beech Mein Tera Junoon."
One of the most awaited movies of 2016, YRF'S Sultan starring Salman Khan and Anushka Sharma, is about a Haryana-based wrestler who has issues in his professional and personal life after achieving global fame.
The film marks the first time where we see Anushka paired opposite Salman, and fans and audiences alike are eager to see both on-screen together.
Aside from the buzz of the film and incredible trailer release, the music of Sultan has also gained a lot of attention.
While the film itself incorporates a rustic flavour, when it comes to the music for an Ali Abbas Zafar movie, one expects a musical treat. Sohail Sen's compositions for Mere Brother Ki Dulhan and Gunday certainly struck a chord with fans and audiences.
This time, Vishal-Shekhar take the front seat as music composers. Therefore, the hopes for Sultan's music are sky-high. So, do the songs live up to the hype?
The album begins with 'Baby Ko Bass Pasand Hai (BKBPH)'. This is a catchy, preppy number which reunites 'Balam Pichkari' singers Vishal Dadlani and Shalmali Kholgade.
As such, there is a 'Kajra Mohabbat Wala' feel with a modern twist. There is a good balance of traditional music with contemporary beats. Badshah also does well with the leading vocals.
In the video, one sees the wrestler Sultan gaterashing a wedding and wooing his beloved Aarfa (Anushka Sharma). Now the question is, Aapko yeh catchy song pasand hai?!
Following the first track, listeners are taken into romantic mode. 'Jag Ghoomiya' is the next track in the album. The male version of the song is crooned by Rahat Fateh Ali Khan.
The song is a gentle rendition, which encompasses a Rajasthani and Haryanvi atmosphere. Plus, the folk lyrics discuss the purity and spirituality of true love. Media reports suggest that Arjit Singh was the initial choice for the song. However, Rahatji drifts us back to 'Tere Mast Mast Do Nain' days.
For the female version, Neha Bhasin does very well, providing this is a different genre to the 'Dhunki' and 'Asalaam-e-Ishqum', which she has previously sung. Plus, the guitar, light-clapping and pot-tapping sounds are soothing and enhance the rurality of the song.
After that song, listeners are plunged into dancing-zone… Well, almost! '440 Volt' is sung by Mika Singh. One believes this song would be played during Aarfa and Sultan's first meeting. In comparison to Mika's 'Aaj Ki Party', '440 Volt' is not as high-octane. One hopes that this track may be more enjoyable on celluloid.
'Sultan' is a fast-tempo motivational track which is sung by Sukhwinder Singh and Shadab Faridi. The beginning guitar notes remind one of Survivor's 'Eye Of The Tiger'.
Sukhwinder delivers yet another energetic performance. It captures the 'Bas Tu Bhaag Milkha' emotion, so it would be interesting to see how Sultan prepares for these wrestling matches on-screen.
Next is, 'Sachi Muchi'. A fun-filled romantic track which is sung by Mohit Chauhan and Harshdeep Kaur. Both have done a decent job… Especially for Harshdeep as this song is different to her preferred genre of singing.
The recurring tune of the mouth-organ, recreates the 'Slow Motion Angreza' feel. It would be nice to see Salman and Anushka dancing to this song in the movie.
The proceeding track will make you emotional. 'Bulleya' has Papon (of 'Moh Moh Ke Dhaage') at the vocals and he delivers yet another soulful performance. This Rock-Qawwali emphasises the pain of incomplete love potentially on-behalf of Sultan.
The chorus lyrics: "Main Bhi Naachu Rijhaaun Sone Yaar Ko, Karoon Na Parva Bulleya," indicate how the character has forgotten his love and is walking on the path of the Almighty.
The music is equally touching, the combination of drums and harmonium is excellent. One of the finest tunes of the album!
When there is a rustic theme of an album, one simply cannot forget the Nooran Sisters. We are graced by their voices in 'Tuk Tuk'.
Another excellent track from the album, the beginning piano notes seem like a masterpiece by AR Rahman.
Plus, the lyrics at the beginning are along the lines of: "Koi Jogi Koi Kalandar Rehta Hai Apne Mein. Koi Bhoola Hua Sikandar Rehta Hai Apne Mein."
It's a track which celebrates life and how one must rise from failure. Irshad Kamil's meaningful lyrics work again. One is also surprised when the song breaks out into Dubstep, with some motivational raps by Vishal Dadlani. This is a number which MUST be kept on repeat mode!
The album concludes with a BANG. 'Rise Of Sultan' is a semi-instrumental with the words: "Khoon Mein Teri Mitti. Mitti Mein Tera Khoon. Upar Allah, Neeche Dharti Beech Mein Tera Junoon. Aye Sultan." This is one power-packed song which yearns you for more excellent composition!
Watch the music video for 'Baby Ko Bass Pasand Hai' here: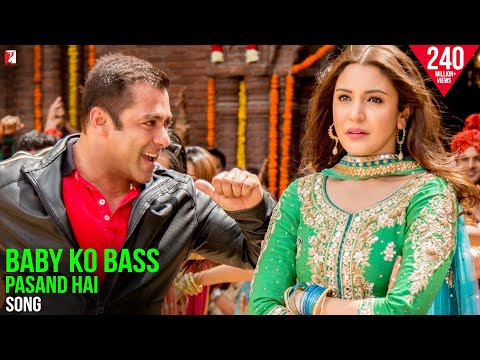 Overall, the soundtrack of Sultan is one of the finest Vishal-Shekhar's compositions in recent times, despite some situational tracks which would be interesting to watch on celluloid.
Nevertheless, with six soulful/catchy songs of the nine compositions such as 'BKBPH', 'Rise Of Sultan', 'Tuk Tuk', 'Bulleya' and 'Jag Ghoomiya' outweigh the rest. We are certain these will stick with fans and audiences after the credits roll.
Sultan releases from July 6, 2016.