"I am a strong believer of fairy tales and think at the end everything will be good."
Khoobsurat is an eccentric, contemporary romantic comedy, starring Bollywood belle, Sonam Kapoor and Pakistani import, Fawad Khan.
The Walt Disney Pictures and UTV Motion Pictures film is about what unfolds when a vivacious, awfully romantic physiotherapist meets a fine-looking, charming Rajput prince (played by Fawad).
He is the complete contradiction of her and to top it all, is engaged to somebody else. Thus begins the clash of principles between the two families; where one persuades discipline and moderation against the other, which encourages impulsiveness and liberalism.
This Sonam Kapoor film is a remake of the Rekha starrer of the same name, Khoobsurat. The original 1980 film was directed by Hrishikesh Mukherjee, and had dialogues written by the celebrated lyricist Gulzar.
Khoobsurat won the 1981 Filmfare Best Movie Award and also happens to be one of Rekha's best roles on the big screen.
The 2014 film is jointly produced by Anil Kapoor, Rhea Kapoor and Siddharth Roy Kapur and directed by the famous ad-filmmaker, Shashank Ghosh.
The film along with Sonam and Fawad Afzal Khan stars, Kirron Kher, Prosenjit Chatterjee, Ratna Pathak and Aamir Raza Hussain in the lead roles.
Sonam who will be seen in the character of a clumsy girl, immediately agreed to the Disney movie because she believes in happy endings:
"The reason I did Khoobsurat was because I just believe in a happily ever after… I am a strong believer of fairytales and think at the end everything will be good. We should not let that feeling go from our lives," she says.
While Sonam has replaced Rekha, the famous Pakistani actor Fawad Khan is starring in the role of Rakesh Roshan's character in Khoobsurat.
The tremendously stern Dina Pathak's family has been changed into a royal family from Rajasthan in the film that coincidentally has Dina Pathak's daughter Ratna Pathak as the female head of the family.
India's 'typical Punjabi mother' Kirron Kher will be seen playing Sonam's mom in the film portraying the role of a fun mother.
Interestingly, Sonam not only stars in the remake of Khoobsurat, but has also decided to name herself after another beloved female protagonist from another Hrishikesh Mukherjee 1975 classic, Mili: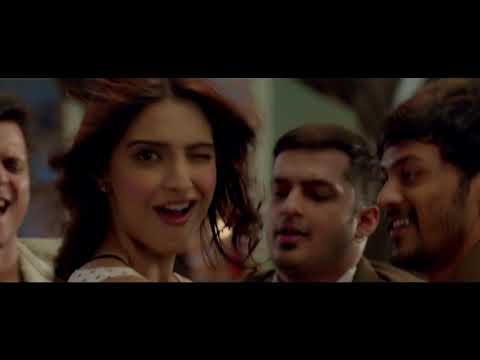 "My director Shashank Ghosh, my producer Rhea, and I, we all decided not to name my character Anju. That was the name Rekha was given by Hrishida in Khubsoorat. We decided to name my character Mili," says Sonam.
"We are all huge fans of Hrishikesh Mukherjee. My dad worked in his last film. Unfortunately, I couldn't work with him. Shashank waited four years to do his own take on Khubsoorat with me."
"And since Mili is another favourite film of mine by Hrishida, I decided to incorporate that as well into our Khoobsurat," she added.
With so much buzz around the film, it is certain to be a huge success and firmly place Fawad Khan into Bollywood royalty. DESIblitz's 5 reasons to watch the film are:
The fact that the film is based on Hrishikesh Mukherjee's cult rom-com Khoobsurat is enough reason to grab the cinema tickets.
In the unfortunate times when one has to watch Sajid Khan Films and cheap adult entertainers, this film will be a fresh change to catch some good ol' styled laughter.
Pakistan Import, Fawad Khan
In an age when kids like Varun, Siddharth, and Tiger are being launched, a hot manly charming Fawad Khan has made all the girls very happy.
He proved his worth in the Pakistani serial, Zindagi Gulzar Hai, which made him a domestic name in the country.
A rock star, a model, and an actor has made Fawad the latest heartthrob of India. Let's see if he will live up to the expectations of all the females.
Sonam Kapoor, the Fashionista
Sonam Kapoor is undoubtedly the fashionista of Bollywood. She is more famous for her dressing style than her acting.
In Khoobsurat too, Sonam is seen flaunting vibrant, colourful stylish clothes. Her character of the clumsy girl looks as tailor made for her as her costumes.
One cannot think of any better actress to play the role of India's first Disney Princess.
Be it the promos of the film or the promotional campaigns, one simply cannot ignore Sonam and Fawad's chemistry and friendship.
They are so chilled out with each other that  it makes us wait eagerly  to watch this rom-com and their lovely chemistry on the big screen even more.
The music of the movie has been given by Sneha Khanwalkar (Yes, the same chick who composed for Gangs of Wasseypur).
She unquestionably is one of the most undervalued music composers of the industry. Right from the foot-tapping 'Engine ki Seeti', to the quirky 'Maa ka Phone', each track of the film is diverse and fun.
Walt Disney Pictures along with UTV and Anil Kapoor Films Company present Khoobsurat, a royal rom-com movie full of happy endings and Bollywood masti. The film releases from September 19, 2014.