"We laugh at the same kind of things and have this silly sense of humour that most people don't find funny."
Romantic comedy, Daawat-e-Ishq is set to make you hungry for romance! Directed by Habib Faisal, it stars Parineeti Chopra and Aditya Roy Kapur in leading roles.
Habib has taken on the talented Parineeti for a second time, following Ishaqzaade in 2012, opposite Arjun Kapoor. This is Aditya's first venture with Habib under the Yash Raj banner, and Aditya is hot property at the moment following his huge success with Aashiqui 2 (2013).
Anupam Kher will also be starring in the movie alongside TV actor, Karan Wahi, who will be making his debut on the silver screen with this film.
Daawat-e-Ishq is about the story of Tariq (played by Aditya) and Gulrez (played by Parineeti) and their love story. Tariq runs a restaurant called 'Haidari Kebab', he loves to cook and feed people his delicious food.
His restaurant is known as the best Lucknawi restaurant. He knows many recipes that have been passed down generations. Armed with many flavours and seekh kebabs, he can win any stomach and inevitably any heart!
Despite his parents telling him to marry, and trying to settle a rishta, Taru wants to wait for the partner who has the right 'tuning and setting'.
Enter Gulrez, who is an only child, living in Hyderabad as a sales girl. Her dream is to get out of Hyderabad and live in America as a shoe designer.
She wasn't able to do a degree in design as her father is putting money away for her dowry. Gullu is a lover of food, but dislikes the preparation beforehand and having to cook for herself.
She dreams for a man who is sophisticated, educated and fluent in English. Her problem is the amount of dowry that her father can afford to pay will only get her a crude man.
This however doesn't stop Gullu lose her humour, positivity and optimism. On Gullu's quest to find her Mr. Right she is faced against 'Big Boss Hyderi Kebab' (Taru), that's when love gets spicy, sweet and bitter. Will the two be what the other is looking for?
Aditya is known to have played alcoholics in blockbuster films such as Aashiqui 2 and Yeh Jawaani Hai Deewani (2013) but his role in Daawat-e-Ishq is completely different.
Known as the 'drunkard hero' Aditya has now made a change with this new role: "I wanted to do something different and challenging…it had to come to me normally."
Aditya said: "It's a pleasure to work with Habib. He is one of the finest filmmakers in the industry. It makes a big difference to work with such a filmmaker."
Despite being surrounded by food everyday, Aditya is infact looking slimmer than ever before: "It was really tough to just resist eating food while shooting because we were in Lucknow and Hyderabad and food over there is just so amazing."
Co-stars Aditya and Parineeti are known to have got on so well whilst shooting for Daawat-e-Ishq. It was rumoured that the two were dating, but the confusion has been cleared and has been declared as a marketing scheme to get a buzz around the release of the film.
The chemistry between Aditya and Parineeti is the same off screen: "We share a similar sense of humour. We laugh at the same kind of things and have this silly sense of humour that most people don't find funny."
Regarding her different roles thus far, Parineeti says: "I think it is important for the audience to not get bored. I believe they should be surprised every time walking into my films and not get what they expect."
She also adds: "I think whatever roles I have done till date in my four films, I have experimented, tried to add a shock value and given them new things."
She also confessed to being a food lover and is glad to be part of a food movie, she feels the Yash Raj film is made for her: "The film has all elements that I love – it is a love story, about food, great director and great role."
She feels very much at ease with her co-star Aditya:
"We had a lot of fun. I didn't have to worry about impressing him, he was very easy going. We bonded a lot on the sets. He has become a very good friend and I hope that we do many more films together," she said.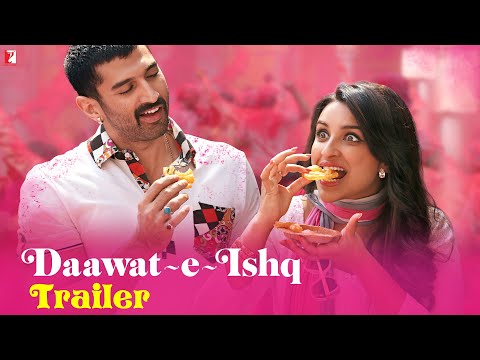 The music for Daawat-e-Ishq is composed by the duo Sajid-Wajid, with lyrics by Kausar Munir. The soundtrack consists of a total of seven songs, including the title song, and the title song's instrumental. The title song, 'Daawat-e-Ishq' sung by Javed Ali and Sunidhi Chauhan, is not out of the ordinary, with the sounds of lively Indian percussion.
The remaining songs are typical of a Bollywood soundtrack, with a mixture of mellow sounds, dance songs and modern twists with electric guitar sounds. All in all, the soundtrack is quite playful and true to the likeness of Bollywood romantic comedies.
Carrying the Yash Raj Films banner, Daawat-e-Ishq is predicted to do reasonably well, and with its young and hot cast, the movie might potentially be universally widespread.
Director Habib Faisal has already proved he is more than capable of creating an interesting story and blockbuster material, so Dawaat-e-Ishq is expected to be nothing less. Be ready to have your taste buds tingling and craving for kebabs, with the release of Daawat-e-Ishq from 19th September 2014.