"Sometimes when words aren't enough, a popular film dialogue often fills in."
Skype has partnered with Indian studios Yash Raj Films and Eros Now to develop custom Bollywood mojis.
Megastars like Shahrukh Khan, Aishwarya Rai and Ranveer Singh are see in short clips taken from popular films and TV shows.
The fun feature is expected to attact Bollywood fans and make their conversations more dynamic and dramatic.
It takes the concept of using GIFS to the next level with the audio being matched to the video clip.
Instead of a normal worded reply to your friends, use a clip from Dilwale Dulhania Le Jayenge, Ra.One and many more to express yourselves.
Anand Gavani, Vice President-Digital of Yash Raj Films, says: "Sometimes when words aren't enough, a popular film dialogue often fills in."
He adds 'the introduction of Skype Mojis is an extremely innovative addition to the instand messaging that should get instand traction'.
Watch the trailer video here: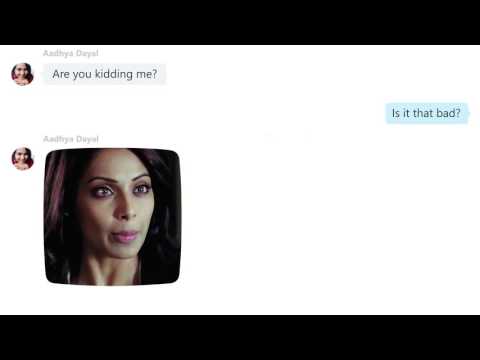 The update also includes some of the food, festivals and daily expressions as a way of honouring the many facets of Indian culture.
Gurdeep Pall, Coportate Vice President of Skype, states:
"Our goal is to provide the best possible messaging experience on Skype, and tapping into India's extremely active and vibrant film culture is a perfect way to do that."
To help users manage their data charges, Skype introduces a cache so that the videos will not be downloaded every time.
This new form of expression has been long-coming with the rising popularity of apps that promote using short video messages, such as Vine and Snapchat.
With a Bollywood twist, Skype has taken a step forward with enhancing cultural visibility and exposure.
Bollywood mojis are available now worldwide in the features tab of the emoticon picker on Skype for Windows desktop, Mac, iOS, Android and Skype for Web.