"I consider Sanjay Dutt a flawed but a wonderful person."
The long-awaited trailer for Sanju launched on 30th May 2018 and sent social media and news outlets into a frenzy!
The biographical drama starring Ranbir Kapoor in the titular role is based on the many struggles of Bollywood actor, Sanjay Dutt.
Without a doubt, this film will be a high performer at the box office. The teaser trailer was streamed 30 million times on YouTube within the first 48 hours of release, breaking Padmavaat's record!
The official trailer was viewed 1 million times within the first hour of release. NDTV said:
"Ranbir brilliantly paints the life of Sanjay Dutt in the powerful trailer with all shades available on the colour palette of emotion."
Here are five reasons why you cannot miss Sanju!
Sanjay Dutt's Controversial Life
It's a no-brainer as to why we are dying to see this film. Sanjay Dutt has had a chaotic life. We have seen him go through the worst. The film will see three phases of Sanjay's life. His drug addiction, his love affairs, and his imprisonment.
In the 1980s, Dutt would make numerous slip backs after his successful film debut. The actor made headlines for his drinking and womanising ways. In the trailer, Dutt (Ranbir Kapoor) reveals he has had intimate relations with 308 women!
The death of Dutt's mother, Nargis, was seen as a contributing factor to his drug addiction. He struggled to come to terms with his mother's cancer and death and resorted to drugs to suppress his pain and grief.
This made it difficult for him to find work. So, his father, Sunil, eventually sent him to America for treatment.
The '90s was his most challenging decade, having served a prison sentence for allegedly being involved in the 1993 terrorist attacks in Mumbai. The charges were dropped. However, he was convicted of having illegal possession of weapons and was once again imprisoned in 2013.
The trailer promises hard-hitting and gritty moments.
Ranbir Kapoor and his Accurate Depiction of Sanju
Ranbir Kapoor's performance in the trailer is nothing short of flawless. He portrays the turbulent Sanjay Dutt so effortlessly.
Kapoor has gone to great lengths to bring the best out of himself and do justice to Sanjay Dutt. With the film spanning a number of years, he went through rigorous amounts of body transformations.
He discussed at the launch of the teaser trailer:
"It was fast, as the number of days weren't many. I gave myself a month break between every phase. So, there was a lot of team effort behind this."
Though he is not known to be a gym freak, there is a point in the film where he is super muscular. Kapoor continues:
"A year before that we did a lot of prep and screen tests, trying to give Raju sir the confidence that I can look like the muscular Sanjay Dutt. I usually have a thin frame, it was hard for me to put on muscles."
"I can look like the Sanjay Dutt, who comes out of the jail or the guy who was doing Munna Bhai. Looking like young Sanjay in Rocky was easy too because that's how I also look."
He adds:
"I have always been a Sanjay Dutt fan. So, for me, it was a fan playing his icon. But the hardest thing for me was to give myself the confidence to go ahead. I consider Sanjay Dutt a flawed but a wonderful person. He's a pop icon. It was scary."
Kapoor was required to go through 5-6 hours of prosthetic make-up in order to become Sanju.
With the amount of work and dedication put into this film, it would be a crime to not watch it!
Big Supporting Names: Sonam, Manisha and Anushka
The film also includes numerous big names who have played important roles in Sanjay Dutt's life. These characters will be played by the current Bollywood generation.
Sonam Kapoor will play actress Tina Munim, who dated Dutt in the '80s. Dia Mirza will play Manyata Dutt, his current wife. Karishma Tanna will play Madhuri Dixit, with whom Sanju had an affair in the '90s.
Padmavaat actor, Jim Sarbh is playing Salman Khan. Fresh off the recent success of Raazi, Vicky Kaushal is set to play Sanjay Dutt's childhood friend and now brother-in-law, Kumar Gaurav.
Anushka Sharma will be playing a biographer. According to PTI, Sharma stated:
"My character is the only fictional character in the film. It is not based on any living person that much I can tell."
His parents, Mother India (1957) actors Nargis and Sunil Dutt will be played by Manisha Koirala and Paresh Rawal respectively. Of course, Sanju's parents play an important role in his life.
In the film, we will see Nargis in hospital suffering from pancreatic cancer and eventually succumb to the illness. This triggers her son's drug addiction.
The Men behind the Movie: Rajkumar Hirani and Abhijat Joshi
Rajkumar Hirani has given Bollywood audiences some amazing films. He is known for directing Munna Bhai M.B.B.S (2003), Lage Raho Munna Bhai (2006), 3 Idiots (2009) and PK (2014). The latter two became the highest grossing Indian films at the time of their releases.
It is very fitting that Hirani has directed Sanju as he began his directorial career with Sanjay Dutt as his protagonist in the Munna Bhai films. As he leads this critically acclaimed franchise, Hirani's direction in Sanju promises to be spectacular.
Having spent a lot of time with Dutt, Hirani will give audiences a detailed and gritty insight into Sanjay Dutt's life.
Hirani, again, has teamed up with frequent collaborator Abhijat Joshi to write the script for the film. The duo's writing credits include the aforementioned films with the exception of Munna Bhai M.B.B.S. (2003) for Joshi.
Hirani told Rajeev Masand, telling the story was: "Challenging as it's not a story of an achiever."
He elaborated that biopics are normally centred around heroism but Dutt's life is very tragic. Joshi added that there were no deliberate attempts to sympathise with him.
The two writers compiled the anecdotes that had been told by Sanjay Dutt in which Joshi described as:
"Very engaging, incredibly fascinating, it's a conflicted person, it's a flawed person but there's something about it that definitely deserved a sort of empathy."
Hirani revealed to Masand that he offered Dutt a pre-screening but he insisted: "No, no, no, I'll see the final print."
I think we are all eagerly waiting to hear Sanju's review.
Not Just a Tragedy
As you know by now, Sanjay Dutt's life has been tragic which is well displayed in the film. The trailer gives glimpses into the tragedies and setbacks in his life. However, the film will probably fall under the tragicomedy hybrid genre.
Writers Rajkumar Hirani and Abhijat Joshi are well-known for their box-office and critically acclaimed comedy films, as mentioned above. Again they have delivered some great banter.
The trailer presents us with some hilarious moments and one-liners. Lost your mangalsutra? It's okay, just have your man rip off the toilet seat and put that around your neck!
The most comedic moments will most likely come from the Sanju and Kumar scenes as the trailer briefly explores their bromantic shenanigans. A strong friendship, Kumar is always standing by his best friend.
Fans can also expect Ranbir to explore and reenact some of Sanjay Dutt's memorable film scenes. For example, in a quick shot, you can see Ranbir transformed into Munna Bhai for the 'M Bole To' music video.
Watch the trailer for Sanju (2018) here: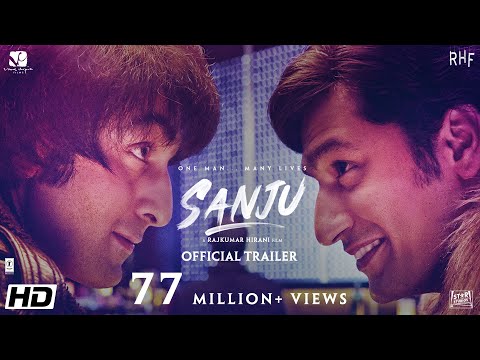 Sanju is a film that will take audiences through the emotional rollercoaster ride of "One man… many lives," Sanjay Dutt. Audiences have high hopes for this film and we think it will definitely smash the box office.
Ranbir Kapoor's metamorphosis into the many phases of Sanju deserves our appreciation.
Watch Sanju in cinemas on 29th June 2018.