"Please don't give up, just believe in yourself."
Stand-up comedian, Rinkoo Barpaga is the UK's first deaf Punjabi comedian to have graced The Birmingham REP with his new play, Made in India Britain.
Barpaga made his directorial debut with the documentary film, Double Discrimination in 2015.
The documentary won the 'Disability Justice Award' at Superfest International Disability Film Festival held in the USA on October 22-23 2016.
Double Discrimination was also the catalyst for an anti-racism campaign in France.
Rinkoo explaining the reason for doing this documentary says:
"In my experience, I have been facing discrimination from the deaf community, in particular, in my career, sports and social.
"I thought, 'enough is enough.' I thought I'd stand up and raise the issue.
"Then I decided to make a film about racism within the deaf community which created a lot of dispute.
"After my film was released on Film4, there was a lot of controversy in social media and some people told me racism doesn't happen in the deaf community. A year later they said it actually was happening.
"I was overwhelmed by what I found out. I was the first to make a film about racism within the deaf community."
Barpaga returns to his roots with Made in India Britain. Rinkoo narrates his own story, retelling his experiences with British Asian deaf struggles.
DESIblitz shares an intimate discussion with Rinkoo Barpaga about Made in India Britain, his upbringing and his journey into stand up as a deaf British Punjabi.
How Did You Start Out in Stand Up?
At that time in 2008, I lost my job. I couldn't find another job and my friends from various areas of my life were telling me that I should give comedy a try as I always made them laugh.
I applied at the Deaf Explorer to secure funding to develop my stand-up comedy career. I went to different British comedy clubs, but they laughed at me for the wrong reasons – they didn't think a deaf man could be a comedian.
So, I thought I'd try my luck abroad. I have an uncle who lives in New York, where I went to study and train to become a professional stand-up comedian.
I had a British Sign Language interpreter booked in New York, who had to pull out at the last minute.
I was panicking as I was new to New York, but fortunately, I came across a local Italian American man, who happened to be an interpreter.
I asked him to work with me for my comedy course. I was studying and training for a while and then I was ready to perform at a famous place called Gotham Comedy Club.
This was my first ever performance, where I smashed the show. After that, I performed at three shows in New York.
Then I went back to London, where I performed at a comedy club around Soho.
I have been travelling all over the country, doing my stand-up comedy for the last five years.
My achievements in America have opened the door for me to enter the comedy network in the UK.
What were your experiences growing up Desi and deaf? 
I'm the only deaf person in a huge family, where I am treated brilliantly – my family don't see me as different.
I have seen other deaf people, whose families do not accept their deafness which can result in mental health issues. I am grateful that my family brought me up in the right way.
Deaf children with hearing families should do the same as my family. They should be treated how I was. I'm a TV presenter, stand-up comedian, filmmaker, cameraman and work in theatre productions.
I can translate and interpret – people can see how I've developed and grown. If everyone in the Asian community can see this and see me as a role model, the next generation can be as successful.
I'd have to ask people to be respectful of anyone with deaf family members in order to encourage them.
How did you Introduce the Concept of Urban Sign language?
Urban sign language hasn't been developed without reason. Deaf people that left school and didn't know where to go would find themselves going to Birmingham Deaf Club.
The deaf club didn't accept us because of our race. That created two barriers: deafness and racism.
They weren't really accepting to people of colour. So how could we make sense of that? There was racism even within the deaf community. I was one of few who decided to fight against that.
Urban Sign Language developed from a discreet form of sign language. Now in 2018, it is popular, especially among young people from different backgrounds who think it is cool or fashionable to use.
Also, I used Urban Sign Language whilst working for MTV as a presenter.
Have others' judgements affected you?
This is an important question. There's so much stigmatisation surrounding deaf people. My family don't care at all. But my extended family treat me differently, as do the wider community.
In the Indian community, if you're deaf and you're born the in the 1980s there is a bad stigma. They may believe it to be bad karma, that I might have been born again with a disability because I was trouble in the past.
These judgements make me angry and it has happened in my life. For example, I once went to an Indian fish and chip shop, where I asked for fish and chips and they thought I was trouble because I'm deaf.
I have had that all my life, people being judgemental.
Whereas in a Pakistani fish and chip shop, they spoke slowly, they used gestures to communicate.
Here, I'd say I was treated well. The guy was perhaps trying to show God that he had been helping a deaf person.
The Asian community as a whole may not accept my deafness, but I am incredibly proud that my family accept me.
Were there any other deaf Asians around you growing up?
I grew up in an area where there was a strong Indian community. I didn't sign back then as it was banned. I had to learn how to lip read and had to really focus.
There were a lot of barriers because of that and so there was discrimination.
I started learning sign language in a local deaf community when I was about eight years old.
In my group, I was with three Jamaicans. I had never met another deaf Asian until I was at secondary school. All my life I have mainly had white and black deaf friends.
What would you want people to gain from your comedy?
When people come to see my shows, I want to make them laugh. Also, they would listen to my side – a secret world.
Get a taste of Rinkoo's comedy here: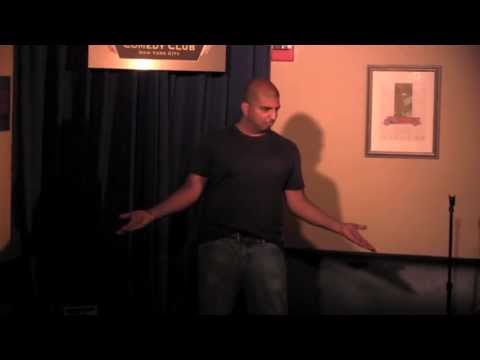 Having already won the hearts of thousands worldwide, Rinkoo is certain to stun audiences with his latest production.
With his light-hearted approach to delicate issues, we are all looking forward to Barpaga's future projects.
He leaves fellow deaf Asians with an inspiring message: "Please don't give up, just believe in yourself."
As a concluding statement, the gifted comedian expresses his gratitude: "You are the first to take an interest in me – and I will support you and what you are doing."
Be sure to follow Rinkoo Barpaga on Twitter and keep up with his future projects.