"They didn't really kidnap me, the whole thing was staged"
In episode 15 of Quantico, Nimah is still missing from the FBI training camp and in search of the terrorist's cell that had been holding Miranda's son, Charlie. Once she arrives, she discovers that the guns are gone and they are nowhere in sight.
Miranda tells Nimah to go to her house and bring Charlie to safety. Meanwhile, Raina is worried about her sister's safety and confronts Miranda about the rogue mission she has been sent on.
Shelby is distracted during training, which is irritating Iris and their shared assignment grade. She confronts Will who has discovered the truth about Caleb's alter ego Mark Raymond, and confesses it to Iris.
Iris steals Caleb's envelope given to him from Samar/Haifa from under his pillow, and gives it to Shelby.
In complete shock, Shelby discovers the truth about her parents being alive, and being conned into having a sister in Samar/Haifa, who has been keeping up the ruse for the last 13 years. Distraught, she runs from class.
Both Drew and Liam were kicked out/forced to resign in the previous episode. Drew is feeling pent up over the corrupt FBI and shows up Liam during class. But as the two argue it out in the corridor, the Quantico campus comes under fire and the NATs are suddenly fighting to survive.
Caleb is worried about Shelby's disappearance and is keen to get out and find her despite the lockdown. Will goes with him.
Nimah who still has Charlie in her protection finds out the truth: "They didn't really kidnap me, the whole thing was staged.
"But they stabbed your mother?!" says Nimah confused.
Charlie responds:
"I didn't know they were going to do that. They told me later that they had to make it look real. They said she was gonna be okay and she was."
In the woods, Drew makes a bold move to save Liam and the terrorists are taken down. That is, all but one.
With the rest of the day off from Quantico, Alex brutally breaks things off with Ryan. Meeting him at a bar, she says: "I want to do this job and I want to do it well, and I can't do it with you in my head."
Ryan is taken aback by being 'just some guy' in her eyes, and responds: "How many more different ways do I need to say that I'm in love with you?"
Meanwhile, Shelby confronts Samar/Haifa at the bar.
The fake sister is still eager to be a friend to Shelby, saying: "I was poor, I needed the money.
"But I want you to know, it doesn't matter if we don't share blood, you are my sister."
Shelby responds: "You and I, are nothing. You are as dead to me as my parents were. You are as dead to me as they still are."
At their house, Miranda and her son Charlie are in the firing line of the final terrorist shooter until Nimah arrives with backup. But even with the terrorist down, the danger is not over and Liam's sniper team takes its aim, only for it find Charlie.
In the present, Natalie is dead and Alex and Simon have been up all night trying to decode the terrorist's call. Alex is in predictable panic mode after losing a friend.
A new assignment from the terrorist tells her to give a capsule of pills to Senator Haas aka Caleb's mum. But getting access is tricky, especially past Hannah's watchful gaze.
Eventually she finds an excuse in Caleb, and gets Senator Haas's attention. But rather than handing over the pills, she is fired from the FBI. In a final attempt, she confesses all to Hannah and gives her the pills and returns to Simon.
Another call from the terrorist's sees Alex being congratulated for a job well done. It seems that Hannah swapped the pills and arrives to show her support to Alex. But how will Alex's new ally defeat the terrorist?
Watch a Sneak Peek of next week's episode here: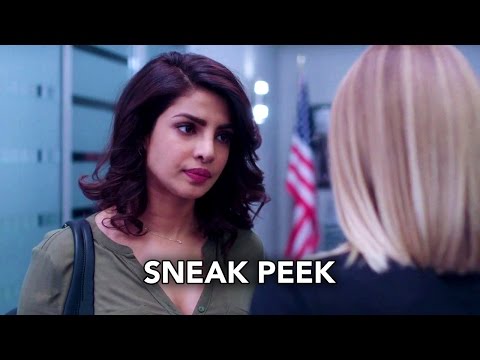 The 16th episode of Quantico will air on April 3, 2016 at 10pm (US time) on ABC.