"It's about what happens when a gang of friends decide to take justice into their own hands."
Produced under the Dharma Productions banner by Karan Johar and Hiroo Yash Johar, Ungli is about a group of friends who want to see change in the corruption and crime that peeks into the day to day life in India.
Directed by Rensil D'Silva, the film stars Emraan Hashmi, Kangana Ranaut, Randeep Hooda, Neil Bhoopalam and Angad Bedi.
In the film, the cast form a group called 'Ungli', whose primary aim is to take justice into their own hands, even down to auto rickshaw wallahs.
To do this they need to work step by step towards their goal and they start by kidnapping corrupt officials. They are seen either shaming or making these officials understand the consequences of their actions.
But when this group of friends try and take back what is theirs, the police become involved and ACP Kale (played by Sanjay Dutt) takes on the case to bring this group to justice. Will he be able to relate to this group of vigilantes?
Speaking about the film, actor Emraan Hashmi admits that even though it is not a standard Bollywood film, some elements of mainstream cinema have been added to ensure it caters to all audiences:
"A film having social relevance, along with other elements of society like corruption, where the common man is not able to raise his voice against corrupt powers and injustice happening to him and a gang, whose extreme measure is to fight injustice, comes to help him. I think this has rarely happened in our Bollywood films," he says.
Director Rensil D'Silva adds that the film is not just a dark thriller but a fun film. He believes it is: "[A] caper tonally akin to Catch Me If You Can. It's about vigilantes who strike at night. It's actually about characters that pull pranks on the system."
When asked if Ungli was inspired from a secondary source he says: "I am proud to say Ungli is absolutely original. Not too many vigilante films have been made in the country. It's an anti-corruption film that is not angry, bitter or violent."
"It is a story about friendship and is a very character-driven film. It's about what happens when a gang of friends decide to take justice into their own hands. The film itself has a lot of really humorous moments, which adds to the already good storyline," D'Silva explains.
Shooting the film was not straightforward for the director. Spanning media headlines for days, actor Sanjay Dutt had to go to jail which left him with a possibility of an incomplete film.
The director had to relocate his shoot near the actor's residence and also cut some of his lines to make it easier for Sanjay to shoot quickly.
Speaking about the ordeal, Karan Johar says: "It was really stressful at the time, both Rensil and I both felt under huge amounts of pressure and neither of us knew exactly what was going to happen.
"When something like that happens during filming it can often be the end of the film. We still had a number of scenes to shoot and without Sanjay it just wasn't possible."
"Fortunately we were able to complete the film and I think that the delay has actually helped the film overall, I am really happy with how Ungli has turned out."
The film notably sees the cast walking around showing their middle finger as part of the film's promotion, but the Censor board have decided to remove displays of the middle finger from the film. As D'Silva explains:
"Yes, there were some changes in the dialogue and two shots of the middle finger had to go. Which was a reasonable cut considering we a got a UA certificate."
The music soundtrack to the film sees five tracks in total, composed by a range of musical geniuses including Salim-Sulaiman, Sachin-Jigar, Gulraj Singh, and Aslam Keyi.
The first song to release was 'Dance Basanti' on October 28, 2014. The music video features Shraddha Kapoor in a one off  special appearance in the film with Emraan Hashmi. On being asked why Karan Johar roped Shraddha to do this song he said:
"I have been a big fan of Shraddha's work for a while now and thought she would be perfect for the song. I know she hasn't really done anything like this before so I thought I would offer it to her.
"When I spoke to her she was really excited about the opportunity and was excited to do something new! It worked out really well in the end, Shraddha and Emraan worked perfectly together!"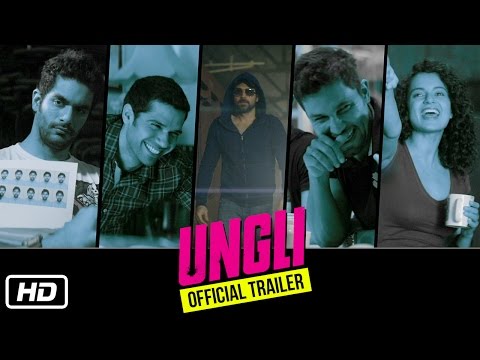 The movie captures the feeling and the mood of not just the youth but of all age groups in India. It is a fight against the biggest downfall that is weighing this beautiful cultural and geographically rich country from developing prosperously; corruption.
Let's hope more movies which share a holistic view of a reformed society turn up on our big screens. Ungli releases on November 28th, 2014.