"Priyanka is leaving the film, call her up and apologise."
Yash Raj films presents Gunday, bringing pure action and thriller onscreen for fans. Ali Abbas Zafar throws his romantic comedy repertoire out of the window for a brave and bold film following two refugees who become renegades.
The period film is set in the 70's, during the war between India and Pakistan and the liberation of the new born country, Bangladesh. The brutality of war itself resulted in millions of people fleeing to the neighbouring country India to seek refuge.
Bikram and Bala played by Ranveer Singh and Arjun Kapoor are two men who both witnessed the war and its aftermath. They were only 12 when they fought for survival and escaped holding on to each other to Calcutta.
Coming to India, the world was unfamiliar to them and they knew nothing more than each other.
Their friendship grew stronger, and together they searched for new beginnings, and for a way to rise in society by never giving up even if the world came crashing down on them.
As they get older and more street-wise, Bikram and Bala became the most loved, celebrated, reckless, fearless and powerful bandits of Calcutta known as 'Gunday'.
Life goes well for the pair, then one day a Cabaret dancer Nandita played by Priyanka Chopra changes their lives as soon as she walks through the door. They fall madly in love with her. But it's not long before chaos ensues as ACP Satyajeet Sarkar (played by Irrfan Khan), the counter force for Bikram and Bala, finally gets to them.
Ali Abbas Zafar has brought together a brilliant cast for Gunday fitting into the 70's and 80's period theme. The film sees Ranveer Singh and Arjun Kapoor as the older version of Bikram and Bala, and Darshan Gurjar and Jayesh.V. Kardak, who will be playing the young Bikram and Bala, along with Priyanka Chopra and Irrfan Khan in supporting roles.
The film has had a lot of hype surrounding it since the announcement made by Zafar in 2012, with rumours that Katrina Kaif was going to be given the female role, but it was later confirmed by the director that Priyanka Chopra would be playing the love interest of Bikram and Bala.
Ranveer and Arjun will be seen in the film playing as two Bengali boys, which Ranveer says: "It's a bromance."
The two actors had to undergo a lot of physical training to gear up for Gunday however it didn't stop from injuries occurring, as Ranveer gained a foot injury whilst shooting for the song 'Jashn-E-Ishqa'. In many of the shots for the song, crew members supported Ranveer along by holding his injured foot whilst he performed.
Ranveer and Arjun will be seen pulling off all the action and drama leaving the heroines way behind the starting line as Arjun said: "Why should girls have all the fun?"
Known as the Golden Era, it was important to get the Gunday 70's feel right; from the clothing to the way people behaved and looked. Priyanka mentioned that the film is not looking to match with great films like Sholay (1975), but hopes it does fit in with the time of year that Gunday is based.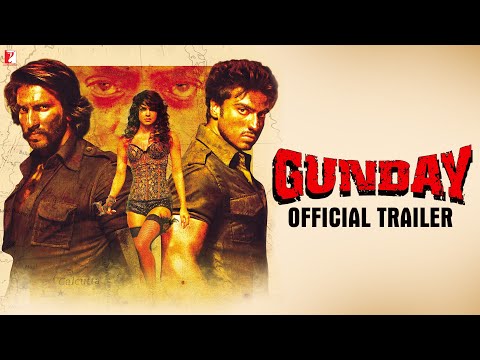 It was also rumoured that Priyanka didn't want to be in the film, as she had some issues when she first met Ranveer on the set: "You behave like a wolf," she said to Ranveer, as she felt he behaved like an animal.
Ranveer also stated that Ali Abbas Zafar phoned him saying: "Priyanka is leaving the film, call her up and apologise." He said when he got the call he went to the shoot that evening and apologised to her with a rose and sharbat.
Ranveer however admitted he loved working with Priyanka and had a lot of respect for her:
"What I love about Priyanka is that she makes everyone's job easy. She is actor-friendly, director-friendly, and producer-friendly. She makes everyone's task easier by tapping in her experience. She is a one-take artist."
The trio, Ranveer, Arjun and Priyanka, along with the director Ali Abbas, music director Sohail Sen and lyricist Irshad Kamil, were on a jet set mode at the music launch for the film.
The stage for the music launch was transformed into 80's themed Calcutta. At the event there were lots of Bengali treats from Jhal Moori to Rasgulla's, which all the guests thoroughly enjoyed. The song 'Tune Maari Entriyan' was also played at the event.
For the first time Bappi Lahiri was approached by Sohail Sen to compose and sing for the album. Sen quoted: "Bappi da adds to the 70's mood and his inputs give an authentic touch to a composition."
'Jashn-E-Ishqa' was originally named 'Rang De Ishqa', and is the entry song of Gunday. Arjun Kapoor described the music to be a celebration of love and brotherhood. The original version of the soundtrack was soon followed with a Bengali version that was also released.
Predictions have been set high with the film not having much of a competition on release day. Gunday is set for a buzz of wonders at the Box Office with the opening day set to make 12 Crore; its first weekend takings to make 38 Crore; and 60 Crore in the first week.
With action, thriller, sentiment and romance combined, Gunday is an unmissable film with a great team cast. Giving all the rom-com's a run for their money, the movie releases from February 14.