"There are lots of things in this film: drama, conflict, romance, music, and a great climax."
Pakistan's Humaima Malick makes her Bollywood debut with the Raja Natwarlal. A crime comedy, the stunning actress stars alongside Emraan Hashmi.
Directed by Kunal Deshmukh and produced by Siddharth Roy Kapur, the makers of Jannat (2008) are back with their latest installment, Raja Natwarlal.
The film is a tale about two colourful small town conmen, Raja (played by Emraan Hashmi) and Raghav (played by Deepak Tijori), with an appetite for the big ranks.
But when a powerful criminal murders Raghav, a devastated Raja sets out to exact revenge.
As he powers up the con-ranks, Raja meets the more experienced swindler-come-guru, Yodi (played by Paresh Rawal) to prepare him for his clash with the Titan of all cons, Vardha Yadav (played by Kay Kay Menon).
Talking about the film, Hashmi says:
"It's a commercial film which will appeal to a wide audience. There are lots of things in this film: drama, conflict, romance, great music, and a great climax. This is definitely a film to look out for!"
Story aside, an Emraan Hashmi starrer usually creates more excitement on the music front. The soundtrack of Raja Natwarlal is composed by Yuvan Shankar Raja and written by Irshad Kamil.
It features some of the most notable music megastars of the moment. From Mika Singh's tapori 'Dukki Tikki' to the must-have Arijit Singh crooner, 'Tere Hoke Rahengay', the music album is a mixed bag.
Mamta Sharma and Anumpan Anod lend their voices to the melodious item number, 'Namak Paare'. The beautiful Humaima Malick brings the song to life in a dazzling performance.
To the delight of his fans, Hashmi will even be seen in a full-fledged, first-of-its-kind dance number, 'Flip Your Collar Back' sung by Benny Dayal. Talking about his dancing in the film, Hashmi says: "I agreed to dance at gunpoint!"
The film has already stirred media attention, with the talented Pakistani actress Humaima Malick in her first Indian venture.
Not one to shy away from controversy, the young actress has already made news by emulating her co-star's bold and daring image.
Speaking about Emraan, Humaima says: "He is very funny and has great energy on the set Mashallah. His humor is fantastic and he is a very intelligent actor. He is super professional, who comes dot on time and goes on time. He has no hang-ups and is very grounded."
Humaima, having first appeared in the Pakistani film Bol, appears in a bolder avatar in Raja Natwarlal. Featuring in many intimate scenes, the Pakistani beauty has made the daring leap from 'Bol to Bold'.
Humaima Malick is not, however, the first to make that leap.
The Meeras and Veenas of Pakistan have tried to tread the same thorny path. The daring, explicit scenes and clothes and the catchy, sensual item dance numbers. After much hysteria caused by their 'raunchy' avatars in the more conservative Pakistan, Meera and Veena Malik quickly fizzled out into oblivion.
Will Humaima Malick now suffer the same fate? Or, the question lingers, will Humaima end the very curse that haunts Pakistani actors in Bollywood?
Like her predecessor's, Humaima takes satisfaction in the tastefulness of her kissing scenes with co-star and 'serial kisser', Emraan Hashmi. Claiming each lovemaking scene serves a purpose, Humaima defends the need for the multiple scenes in the film:
"Films in India do show intimacy through an occasional full lipped kiss and I was very reluctant to share a kiss with my co-star. But the director explained how it doesn't cross the line between romance and sleaze. I had to trust my director's sensibilities," Humaima says.
If the music videos are anything to go by, the lead pair has indeed created an undeniably stunning chemistry. Speaking about his beautiful co-star, Hashmi says:
"Humaima's performance has really floored me. She has given such depth to the character…she has done a commendable job."
Still, Humaima is weary of any reaction that may follow in Pakistan: "I did face some backlash and mostly it was because 'our' woman was involved in a kissing scene and it was considered worse because it was with a guy who was not Pakistani," Humaima says.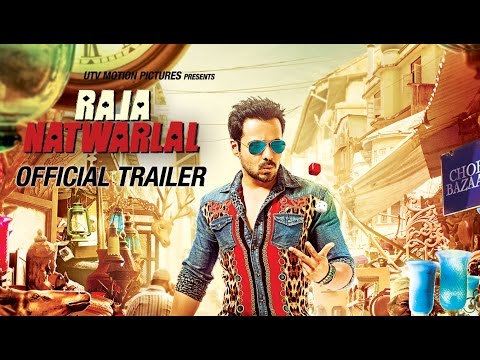 To Humaima's credit, she has already signed a 3-film contract. All this before her film even hit the silver screen. Surely this is the Bollywood stamp of approval? It is difficult to deny this beautifully talented actress her rightful place in Bollywood.
Although, Lollywood has never really been that far behind Bollywood in showcasing more explicit content, Humaima explains:
"People have to understand I am playing a role. Having said that, I think people are less worked up by the scene than they would have been five or 10 years ago. The new generation have grown up with Hollywood and Bollywood films. Put it this way, I haven't had any death threats yet," the actress adds.
Whatever the case, perhaps Malick's fate is not sealed after all. Raja Natwarlal releases from 29th August 2014.