speakers that obey the laws of gravity are just so blasé
The focal point of technological innovation and gadgets has always been utility.
How can we make things bigger, better and more efficient? What can we do to improve our own quality of life?
But for some, the innovation cycle is not necessarily constrained by necessity.
2015 has played host to a series of strange, amusing and fun new gadgets whose usefulness needn't be its modus operandi.
DESIblitz takes a look at 5 of the quirkiest gadgets of 2015.
'Easy Order' is a Monument to Human Self Indulgence
The advent of fast online services has made ordering fast food a breeze.
But somewhere in Dominos head office someone decided that things could be even easier. Thus the 'Easy Order' Button was born.
'Easy Order' is a modified version of the Flic Button. It works via Bluetooth by paring the gadget with the Domino's Smartphone app.
Users input their details, as they would with any order, alongside their favourite order. These details are then saved by the app.
From then on, with the click of a button the order is picked, processed and paid for with no other input from the user.
The first 'Easy Order' buttons were shipped out to competition winners this year, but Domino's plans the second stage of the device's launch in early 2016.
Terrify Arachnophobes with a Robot Spider Army
Arachnophobes, be warned, the following video will make your skin crawl: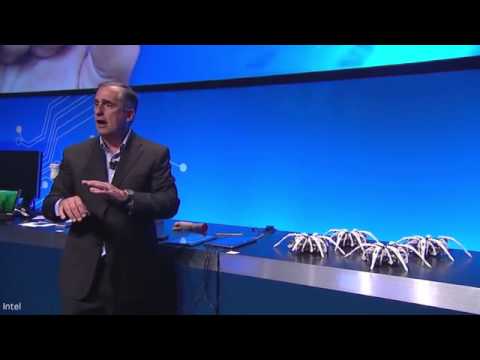 While not the first arachnid automatons to grace our nightmares, this demonstration at the Intel Developers Forum in China showed us the potential for gesture controlled robotics.
The presentation was made to show off the Intel Curie, a new button sized processing chip that has built in hardware to recognise and understand the subtle movements of the user.
The utility of such a technology will largely be industrial, helping to improve efficiency in factory conditions and the like.
However if the tech could be condensed and made affordable at the commercial level, it could prove extremely popular, as drones have proven to be this year.
Floating Speakers may Levitate Interest …
… Because speakers that obey the laws of gravity are just so blasé.
The gizmo no one knew they needed has been at the forefront of Christmas gadget gift lists, and will likely be a focal point of conversation for many a household.
The technical wizardry behind this Bluetooth speaker is little more than a pair of powerful diametrically opposed magnets.
The force of repulsion, coupled with the devices gyroscopic design allows the speaker to 'float' above its dock effortlessly.
As a magnetic device, the speaker can also be attached to any magnetic surface, allowing for versatility.
Many tech fanatics have expressed more interest in this secondary function, due to its versatility, but the idea of a levitating speaker itself is fascinating.
'Invisibility' Glasses keep your Identity Safe with Laser Beams
Showcased at this year's Mobile World Congress in Barcelona, security firm AVG's new project is designed with a consciously private audience in mind.
In an era where facial recognition software is no longer limited to the state, there is growing concern about its commercial use.
AVG attributes this to the abundance of facial recognition software in Smartphones, and other devices like Google street view cars.
This potentially gives "private corporations power to not only recognize us, but also cross-reference our faces to other data found online."
So how do the glasses work? A set of infrared LEDs placed around the frame of the glasses breaks the facial recognition software used by various devices, making it harder to identify a person.
While news of this device will be welcome to the privacy conscious among us, the commercial availability prospects are still a while away.
A Belt that Knows When you're Being Greedy
Are you a gourmet with an ever changing circumference? Belty developer Emotia has the perfect solution for you.
The 'Smart belt', which is described as being 'like a buddy who takes care of you' was announced at CES 2015.
It operates via sensors in the belt that detect your body position and adjusts its width accordingly. It notifies you when you've been sedentary for too long.
It also recommends exercise routines and helps you to lose weight, via synching with a companion app on Smartphones.
Belty won't be available until at least 2016, but it stood out at CES as one of the more bizarre new entries into lifestyle technology.
2015 has shown that necessity and utility needn't be the forebears of technological innovation.
Sometimes all you need is an inquisitive mind and a vivid imagination, and you'll find yourself creating the next big thing.
These five gadgets might seem odd and even unnecessary, but they also prove that no invention should be discounted, because there is always an audience out there.
If you have a big idea that you aren't confident about, write it down anyway, because it might just be the next big thing.