"By the time the Olympics comes round, I'll win that gold medal."
British bantamweight (56kg) boxer, Qais Ashfaq, won a bronze medal at the Baku European Games in Azerbaijan on June, 24 2015.
He was guaranteed a medal as he stepped into the ring to face Dzmitry Asanau in the semi-finals.
But Asanau of Belarus clinched a 3-0 victory, which meant the British boxer could only claim bronze.
Ashfaq now awaits the final round as he hopes his victor will win and allow him to claim a place in the World Championships.
After the fight, the 22-year-old expressed he was not feeling his best, but tried to put that to one side.
He said: "I thought it was a close fight. I was a bit fatigued and not too well so I fell a few times.
"Even warming up I wasn't feeling myself, but that's part of the experience and I'll come back stronger. On another day, I could have beaten him."
You can watch Qais Ashfaq vs Dzmitry Asanau here: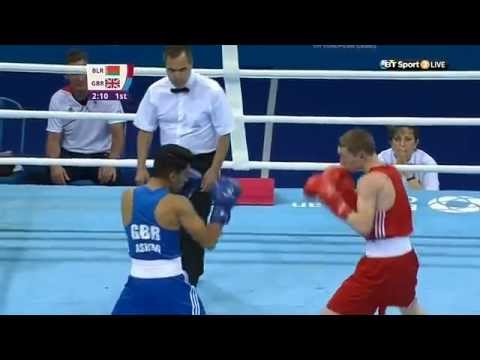 The Commonwealth Games bronze medallist came through three impressive bouts during the competition to make it to the semi-final, but struggled from the start against Asanau.
Once Ashfaq got into his stride, both fighters were landing heavy shots in a bout that was very back and forth.
Asanau, though, was able to use his reach to keep the Brit at bay and when Ashfaq did find a way in, he was punished.
Anthony Fowler, fellow British boxer and Commonwealth Games gold medallist, gave his support to Ashfaq:
Big well done to @NicolaAdams2012 what a class act she really is, an gutted for my mate @Qais_Ashfaq who's performed great this tournament

— Anthony Fowler ?????? (@afowler06) June 24, 2015
Another British boxer, Thomas Stalker has also tweeted about Ashfaq:
Massive achievment kez well done mate @Qais_Ashfaq

— Thomas Stalker (@ThomasStalker1) June 24, 2015
Despite defeat, the Leeds boxer has high hopes for the future, saying: "This is really my first major senior tournament apart from the Commonwealth Games.
"The more experience I'm getting the better I'll become."
He will now turn his attention to the 2016 Olympic Games in Rio de Janeiro, where he hopes to perform at his best on the world's biggest stage.
Ashfaq said: "I know that I have learnt a lot from this experience. I am still young and getting plenty of experience now.
"I know that as long as I do perform 100 per cent, then I can beat these kids. By the time the Olympics comes round, I'll win that gold medal."
The final match will takes place on June 25, 2015 between Dzmitry Asanau and Bakhtovar Nazirov. The 2015 Baku European Games will end on June 28.