The video displays some magical moves and is a delight for all her fans.
Former Miss World and Bollywood actress Priyanka Chopra was spotted in her city launching the official video of her first international single In My City. Priyanka's video, which has been making waves for so long was unveiled at the 'Reliance Digital' store in Mumbai, India on 29th January 2013 in front of a large media presence.
For the second time, Reliance Digital played host to an event involving Priyanka Chopra. Speaking on this occasion, a spokesperson from Reliance said:
"We are extremely happy to have Priyanka back, spreading happiness among her innumerable fans and our customers and patrons alike. We congratulate Priyanka on the huge success achieved by her single and video, and hope to continue having her with us in our mission of spreading happiness to one and all."
For Reliance this was a good opportunity to spread brand awareness of their products – in this case electronics and digital technology. Product placement is also quite noticeable in the visuals as Priyanka and other artists in the video are seen using the Nokia Lumia smart phone. Stars these days are more commonly associating themselves with unique brands.
The thirty-year-old actress addressing the media told about her experiences of creating the video.
"Well I think the making of the video was a lot of fun, except that we shot almost twenty four hours straight. We did not really get time because it was really a grueling schedule. The dancing and everything was fine because you know being in Bollywood, we are sort of use to it," said Priyanka.
Much like the hook-line of the song, Priyanka looked very excited and very proud on her maiden international single. She said: I wanted my Indian identity to remain in the song. I guess I want everyone in India to be proud of this video. As the video reaches the masses, I want all my worldwide fans to know that Bollywood is fun."
She continued saying: "What I really wanted to do was to sort of give it a bit of Indian flavour, in terms of the dancing and thumkas [jerk used in dance step]. I wanted the world to sort of see what Bollywood is about."
Priyanka's debut single as a recording artist also features guest vocals from American Rapper 'will.i.am.' Interscope Records released the track In My City on 14th September 2012. Priyanka, Ester Dean and RedOne have written the song as well as producing it along with Rush and Brian Kennedy. The music album has been directed by award winning music maker Joseph Kahn.
Here's the official music video of Priyanka Chopra's In My City: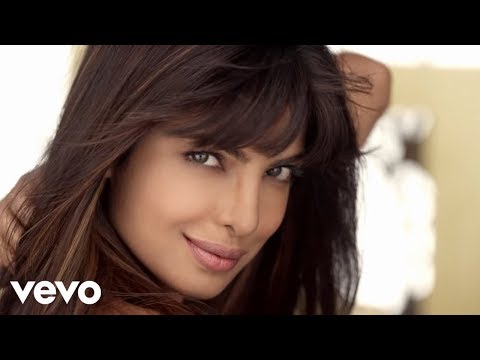 In My City is a contemporary video song, which is boosting with energy, colourful clothes and great dance sequences. Aimed at an international audience, the track has been recorded in English. Priyanka says she was inspired by singing from her dad. The first video she showed was to her dad. This daddy's little girl was a proud daughter at the music launch. She said:
"Who did I show the video to – my father. My dad has been unwell and he's been at the hospital for few months now. He was actually very happy about it, he really liked it. His most favourite bit is when I did Namaste in the video, he liked that a lot."
While making the video song Priyanka said she was a little nervous when she performed with Black Eyed Peas singer, 'will.i.am.' But it has to be said that she is very confident in the video and looks like she is enjoying every minute of it!
Priyanka confessed she has a love for pop divas from the West:
"Internationally of course I have always loved the late Whitney Houston very much. And from recent singers I like Rihanna."
The video displays some magical moves and is a delight for all her fans. And the fans can continue to cheer their rock star actress as Priyanka promises to entertain them in a live concert very soon. Priyanka explained her reasons for delaying the concert saying:
"We are waiting for one more single to release before I do a proper live performance on stage. There's not much point to perform just one song."
Musically the song is catchy and the video has clocked over one million views on YouTube and still growing. It looks like Priyanka's popularity as a pop artist is on the up and she is attracting the attention she wants to launch her dream singing career.
Priyanka has also indicated that she would like to combine her acting with her singing, revealing that she would like to sing for her own films. With this being the first single, she is excited about the rest and said: "This is just the beginning. I am waiting for the entire album to come out."
Following the launch of the music video it is now being reported that Priyanka is set to marry TV actor Mohit Raina. Raina is an Indian television actor known for playing the character 'Shiva' in the spiritual drama series 'Devon Ke Dev – Mahadev, which airs on the Life Ok channel.It has been revealed that Priyanka's maternal aunt has found her niece the perfect life partner. Priyanka has been avoiding media questions related to this news.
The video has opened to a great international response, especially in Canada where there is a significant number of Indians living in the country.In My City is available as a download both on iTunes and Amazon.
Known in the Bollywood circles as the 'Junglee Billi,' we look forward to seeing more music and videos from Priyanka Chopra in the future.