The aesthetic customisation has reached new levels of fidelity.
After taking a much needed year off, the Need for Speed franchise is back in a new online-only format.
It harks back to the previous underground iterations of 2003/04 – a revisit that will certainly delight fans.
Ghost Games takes gamers' feedback on board to create 'an experience that will capture their imagination and unleash their passion for cars and speed'.
DESIblitz explores all the surprises and disappointments along the way.
Visuals
The arcade-style racer is breathtakingly beautiful, which is best showcased when racing at high speeds over damp roads.
The way the environmental lighting reflects off the tarmac adds a great sense of realism to the world.  
Furthermore, the game sounds almost as good as it looks.
Every minute rev of the engine and each tyre screeching handbrake turn of varying aggression are represented with perfect melodic accuracy.
Gameplay
Ghost Games have provided us with the welcomed new addition of allowing players to tune their cars for either grip or drift.
The game features a high level of customisation, which is what you would expect from a Need for Speed: Underground homage.
Although the performance tuning is somewhat basic, the aesthetic customisation has reached new levels of fidelity.
However, it is worth noting the roster of cars is minimal when compared to some of the competition.
There is enough to satiate most car fans, but true petrol heads may be a tad unsatisfied.
Story
The game's story mode is a very short affair and the narrative is explained through live action cut scenes.
Disappointingly, these feature very unrelatable characters that would in no way talk like that in real life and use an inordinate amount of first-person fist bumping.
One interesting aspect of the single player mode is the five main racing threads all prompt an encounter with a racing star from the real world.
This is definitely something hardcore automotive fans will get a kick out of.  
Always Online
The always-online option is a questionable decision, as there is no automated matchmaking.
You have to catch up to players in your session, and racing only occurs if they agree to it.
How a game of this magnitude in this day and age does not have matchmaking is beyond comprehension.
As frustrating as this may be, an even more annoying aspect is that players cannot even pause the game. Always-online is always an ill-fated choice.
@NeedforSpeed "always online, you play when we tell you "

— FPlus (@FPlusPS3) November 18, 2015
@NeedforSpeed If your game wasn't always online this wouldn't be a problem

— Euan || XO (@SidwellEuan) November 17, 2015
In promotion for the game, EA has invited Chelsea footballer Willian to test drive a custom BMW M3 via a PS4 controller, burning much rubber in the process.
The Blues winger can be seen embracing his inner gamer in the Top Gear-esque video.
He may be not having the best time in his day job with Chelsea currently sitting at 14th in the Premier League, but seems to be having a blast off-field.
Need for Speed recruits the now-famous Yiannimize Garage to take the M3's in-game look and produce a real life version.
They have achieved this by wrapping the vehicle to match the game model as well as adding a spoiler and 'NFS' number plate.
Yiannimize regularly customises the cars of famous sportsmen, celebrities and YouTubers.
Arsenal's Hector Bellerin, Grime legend Lethal Bizzle and YouTube's KSI, Gonth and Wroetoshaw have all had their vehicles wrapped by the company.
Watch Willian in action in this video: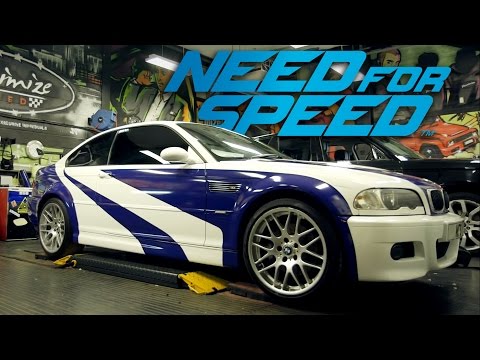 Need for Speed (2015) is certainly a positive direction for the franchise, but this iteration lacks the depth of its predecessors. It has got a great body, but not much under the hood.
The game is out now on PS4, Xbox One and PC. Happy racing!