"I am overwhelmed at the opportunity of coming on board as an ambassador."
Fashion mogul and household designer, Manish Malhotra, is named the newest ambassador for the British Asian Trust.
The announcement was made at an event at the Aashani + Co in Notting Hill, London, where he gave a sneak preview of his new collection.
A sea of VIP guests attended the celebration, including actress Laila Rouass and BBC Radio presenter, Ritula Shah.
The powerhouse posed in front of a backdrop with his name plastered all over it, marvelling in his new status.
Manish commented: "I am overwhelmed at the opportunity of coming on board as an ambassador for The British Asian Trust.
"I have been observing their great work for some time and am looking forward to contributing in my own way."
Watch the event highlights here: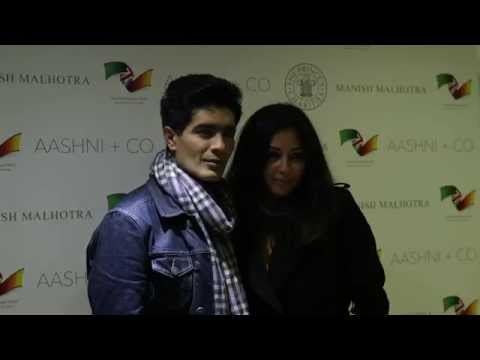 For years, the 49-year-old has created lavishly unique designs for the biggest names in Bollywood.
From Arjun Kapoor to Aishwarya Rai, he has styled them all and redefined what it takes to be a fashion success.
Not many Desi designers have thrived as opulently in the Hollywood market, but Manish has excelled immensely.
Kylie Minogue, Demi Moore, Kate Moss and Naomi Campbell have been seen sporting his pieces.
Since 1995, he has been winning awards for his show-stopping designs, so it's no wonder the Trust has chosen him to promote their social causes and projects.
Hitan Mehta, Executive Director of the British Asian Trust is ecstatic about the new addition, stating:
"We are very excited to have Manish on board as an ambassador for the Trust and would also like to say a huge thanks to Aashni Anshul Doshi for being such a fantastic supporter of the Trust."
Aashni Anshul Doshi, Founder and Creative Director of Aashni + Co, is just as uplifted about the news, commenting:
"It's been a wonderful evening with an amazing response to Manish's new collection, as well as to the news of his ambassadorship for The British Asian Trust.
"We are proud of our relationship with Manish and are so delighted to be presenting his latest, festive collection in-store, as well as sharing the news of his involvement with an extremely noble cause."
But whilst Manish may be broadening his horizons within the charitable sector, things don't look so rosy in his personal life.
Sources reveal his long-time friend, Kajol, reportedly refuses to take Manish's styling advice for her upcoming movie Dilwale (2015), and instead pushes for her own creations to be considered.
The two started their careers around the same time and have had a blossoming friendship, so we suspect this fallout will be brief.
Founded in 2007 by HRH The Prince of Wales, it aims to mobilise funding and driving positive changes to the people of South Asia.
Its current list of ambassadors come from all walks of life, such as chef Atul Kochhar, cricketer Isa Guha and former One Direction singer, Zayn Malik.
DESIblitz congratulates Manish on becoming the Trust's ambassador, as it is a truly well deserved title and achievement for the amazing Desi designer.