"This was also my first Pahari film in Pahari language."
The short Pahari film, Kafan, starring renowned actor Tariq Khan from Jammu and Kashmir has been released via YouTube for the first time on June 24, 2020.
A Doordarshan Jammu presentation, the film is an adaptation of the namesake short story by Indian literature writer, Munshi Premchand. The legendary writer aimed to incite public awareness through his amazing writing ability on social and national issues.
Originally released fifteen years ago, Kafan follows the story of a father, Ghisu [played by Lalit Gupta] and his son, Madhav [portrayed by Tariq Khan].
Tariq Khan who is also the producer of the film has featured in many hit independent films such as Mantostaan (2017) Side A & Side B (2018) and Lihaaf: The Quilt (2019) to name a few.
In the film, Madhav's wife, Bhudiya, unfortunately, passes away during childbirth and the father-son duo require money to perform her funeral rites.
Rendered helpless with no money, they must ask the villagers for monetary assistance.
However, the big question is whether the villagers will come to their rescue or disregard them because they are considered a low-caste family.
Kafan which translates to 'shroud' highlights the degradation of human beings to the lowest level possible.
The film also explores the depravity of human's concerning caste, religions and creeds.
Critically acclaimed filmmaker and writer-director of Kafan, Rahat Kazmi exclusively told DESIblitz:
"Kafan was one of the productions which were done fifteen years ago by Tariq and me, where Tariq played the lead role in Premchand's masterpiece.
"The best thing is its language, "Pahadi/Poonchi" language which is still not even an official language.
"This language is largely spoken in Jammu and Kashmir and in Pakistan side Kashmir as well.
"It was made with a very micro-budget, but our D.O.P Sameer Sharma who belongs to Kashmir is a magician who creates magic with just a camera and two lights.
"As a technician, I learnt a lot from him in the initial days. Kafan also has a professor Lalit Gupta as father and Lalita Tapasvi as "Daai Maa" the premise, the characters and the story itself are iconic."
In an exclusive conversation with DESIblitz, Tariq Khan explains the complexity of the character:
"I had no idea at that time how deep the character and the legacy are with the story being a youngster at that point of time.
"Maybe my deep roots in culture and my love for acting made me get into the skin of Premchand's rustic and raw character and thankfully it worked.
"I am so blessed that after so many years a leading publication of the UK like DESIblitz is considered to feature this film."
Tariq Khan further added that Kafan was his first Pahari film:
"Kafan is Munshi Premchand's last short film, one of his ever-best. I have played a role in this and as an actor to play in Pahari language was very difficult and challenging.
"This was also my first Pahari film in Pahari language and I was very happy because Pahari is my mother language and doing a film and acting in your mother language itself is a big happiness.
"When I reached the film set, I felt very easy and mixed up in character. After playing [the character] I felt very proud because playing a character in Munshi Premchand's story was itself a challenge.
"After this success, I'm very happy. I never forget a scene when both son and father drank together they bought the drink after selling the kafan."
Watch the short Pahari, film, Kafan here: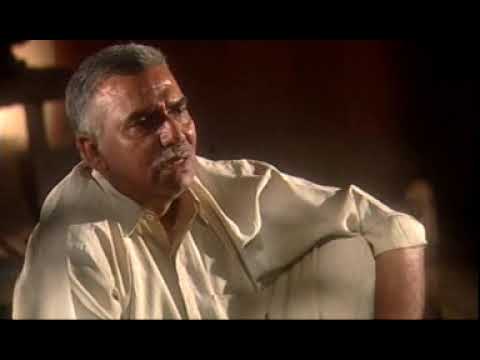 The most interesting thing is emininet Indian film writer and director Gulzar had previously made Kafan for Doordarshan in Hindi. Whereas Tariq Khan also made it for the state broadcaster, but in Pahari.