"Welcome Back is made on a huge canvas and that aspect has to be reflected in the production values."
'Welcome Back' Bollywood's biggest, meanest and funniest 'Bhais' to the big screen.
The comical trio of Paresh Rawal, Anil Kapoor and Nana Patekar return for director Anees Bazmee's sequel to the hilarious smash hit, Welcome (2007).
Joining them for round two of slapstick humour is the fresh pairing of Shruti Hassan and John Abraham who replace the classic duo Akshay Kumar and Katrina Kaif.
Welcome Back picks up 8 years later. After leaving their old life of crime the two funny dons, Uday Shetty (played by Nana Patekar) and Majnu Bhai (played by Anil Kapoor) have started a new business.
Expecting to live a normal life, free of crime, enter the stunning Rajkumari (played by Ankita Srivastava).
Falling head over heels for the beauty, both the Bhais dream of tying the knot with her. But just as their romantic dreams are coming true, Uday Shetty's father arrives.
He tells Uday that he has to get his sister Ranjhana (played by Shruti Hassan) married to a simple boy before he can marry.
On the hunt for a simple boy, Ranjhana ends up falling for the not-so-simple Ajju Bhai (played by John Abraham).
But in order to meet the criteria Ajju Bhai has to pose as a the perfect suitor in order to be marriage material for Ranjhana.
Will Ranjhana and Ajju Bhai tie the knot, and which 'bhai' will Rajkumari pick?
While it is great to see some new faces in this hilarious sequel, we do miss the comical charms of Akshay Kumar. But the trio of Kapoor, Patekar and Rawal put us at ease. Also joining the film are Naseeruddin Shah as 'Wanted Bhai' and Dimple Kapadia.
A surprise addition to the cast is Shiney Ahuja, who returns to acting after being accused of raping his domestic help in 2014. Fading into a phase of ambiguity after his legal troubles, the actor is keen to build up his career once again.
Director Anees Bazmee expressed his reasons for why he chose Shiney for the film, saying:
"I do not know anything more than movie making. I thought that in the film I need Shiney and he can do justice to the role. Apart from that, I did not think about anything else."
Hoping to make an impactful comeback, audiences are eagerly waiting to see the talented actor's performance.
Sparing no expense in the making of Welcome Back, producer Firoz Nadiadwala made sure that the best cars were used in the film.
Notably some of the most exclusive limited edition luxury and sports cars were used during shoots such as the Ferrari Spider, Mansory Carbonado Apertos Lamborghini, Aston Martin One-77 and Rolls Royce Phantom.
Nadiadwala was keen to ensure that the experience of the film is nothing less than a grandeur event.
And the extravagance doesn't just stop with the cars, as the locations were also visually stunning. Director Bazmee took the film to some of the most luxurious locations in the Middle East.
From the Meydan, the world's first five-star trackside hotel in Dubai, the Emirates Palace in Abu Dhabi, to the personal helicopter and yacht of the Royal Family of Dubai.
Bazmee said: "Welcome Back is made on a huge canvas and that aspect has to be reflected in the production values. Firoz bhai has spared no effort and expense in ensuring that."
With an unlimited film budget, Welcome Back will definitely be one of the larger than life type experiences of 2015.
The film reportedly cost Rs 125 Crores to make. Interestingly, Anil Kapoor and some crew members were not paid by the production company at the time of release.
Watch the trailer for Welcome Back here: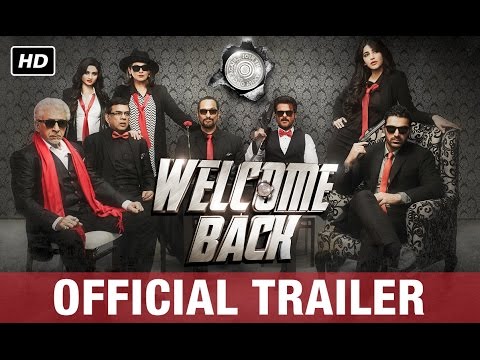 Hoping for super hit music just like its prequel, a number of talented music directors were brought together to create a 10-track album, including Meet Bros Anjjan, Anu Malik, Abhishek Ray and Mika Singh.
Punjabi wedding song, 'Tutti Bole Wedding Di' composed by hit makers Meet Bros Anjjan has a fun mixture of Hindi, English and Punjabi.
Mika Singh remixes the original 'Welcome' theme into a fun and upbeat EDM track called 'Welcome Back'. It is sure to be a club hit.
Expressing a more comic side, 'Meet Me Daily Baby' is a fun track with a Spanish twist that sees brilliant guitar solos.
'20-20' composed by Anu Malik is a full on item number starring Lauren Gottlieb. Taking a step back from the extravagant locations of Dubai, the track has a nice 'Bhai giri' type feeling. Other tracks include: 'Time Lagaye Kaiko', 'Nas Nas Mein' and 'Dama Dam Mast Kalandar'.
With 2007s Welcome being such an epic comedy hit, audiences and critics are eagerly awaiting to see if its sequel can deliver all the laughs.
Despite Akshay's absence, Welcome Back promises to be a riot of comedy and hysterics. The film releases from September 4, 2015.