"he has some real skill. He's a very talented off-spinner."
Surrey right-arm off-break conventional bowler Amar Virdi is on the brink of Test cricket selection for the England team.
Many pundits believe he will become the third Punjabi Sikh player to represent the home side in international cricket.
Monty Panesar and Ravi Bopara are the two other players from a similar community to earn Test caps.
Similarly, Virdi has every chance to win a Test call up during 2020-2021.
He was born as Guramar Singh Virdi in Chiswick, London, England on July 19, 1998. The spiritual Virdi is the son of East African Asians who came from Kenya and Uganda respectively.
His dad, Raj arrived in the UK at the age of eighteen to attend university. Whereases his mother Harmeet had to flee from Uganda, following the traumatic situation under brutal military dictator Idi Amin.
Watch Virtual Interview with Amar Virdi here: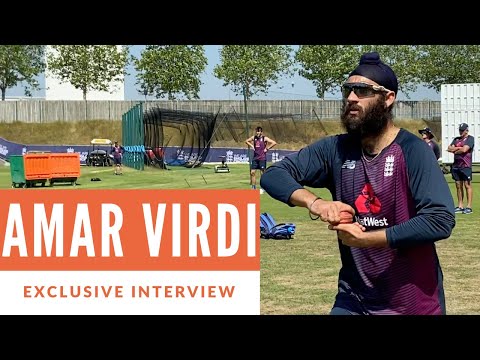 His family were into sports, with his father playing tennis for Kenya at the junior level. Cricket was introduced to Virdi, courtesy of his elder brother Gursimran.
Despite having the opportunity yet not studying at a private school, Virdi eventually rose through the cricket ranks whilst being a student of the Guru Nanak Academy in Hayes.
Growing up in West London, Virdi was a member of the historical Indian Gymkhana club. However, his talent came to notice at Sunbury. It is here that at a young age, he was pushing for a place in the senior teams.
Considering cricket was not played at his state school, this was a great accomplishment for Virdi. Former England spinners Monty Panesar and Graeme Swann were a big early inspiration on him.
Though it is former Surrey super spinner and Doosra inventor Saqlain Mushtaq (PAK) that he considers as one of his major mentors.
Former English and Surrey right-arm spinner Gareth Batty has also had a big influence during his career.
He made his first-class debut versus Essex at Chelmsford cricket ground on May 26, 2017.
Taking thirty-nine wickets, he was the leading English-born spin bowler during Surrey's 2018 County Championship-winning campaign.
A stress injury forced him out in the earlier part of the 2019 English cricket season. Whilst recovering, he was asked by Surrey Director of Cricket and England legend Alec Stewart to reduce weight and improve his fitness levels.
Virdi made a super return during mid-July, claiming fourteen wickets in a first-class win over Nottinghamshire.
Following the COVID-19 pandemic, on May 29, 2020, Virdi was named part of a 55-man group of cricketers that began training together prior to the international schedule in England.
On June 17, 2020, was part of a 30 man squad that had been training behind closed doors. This was ahead of the home Test series featuring the West Indies.
We explore further why Amar Virdi is being tipped to play for England, reflecting on his press conference during the Ageas Bowl bubble and his attainments at the county level.
Ageas Bowl Press Conference
On Friday, June 26, 2020, Amar Virdi held a virtual press conference from behind closed doors of the training group bubble at the Ageas Oval in Southampton.
During an 18-minute interview session, the Surrey and Lions cricketer went onto answer many key questions from the media.
Virdi initially got a call up in a 55-man group of players training during May 2020. He then got the nod to train with an exclusive 30 member group before the Test Series against the West Indies.
He acknowledges that his cricket from 2017 onwards is coming to fruition:
"I've been in the Lions programme for the last three years. In the last year, there's been a big difference. When you're playing Lions now you feel a lot closer to the main side.
"So being picked into that 55 is massive for me because I want to be playing Test cricket. And then getting picked in that 30-man squad, it's great being around the boys and getting a taste of what it's like at this level."
"So, so far it's been really good and I'm really enjoying it."
Playing only 23 first-class games and the likes of Moeen Ali being ahead in the pecking order does not really phase Amar.
In reply to a question about his Test Cricket ambitions, a confident Amar told ESPN that he certainly is pushing for a place:
"Obviously I'm here so I want to be playing Test cricket whenever that comes, so I'm going to keep on trying my hardest to make sure that I'm playing.
"I don't really try to impress as such – I want to do my own thing and be who I am."
"That's what I want to show people and show people what I'm capable of doing, rather than doing other things or try to forcefully show my skills.
"So far I've just been myself and just been bowling and doing all my other skills. I'm very proud of myself that I've got to this stage.
By the sound of things, Virdi will be on standby for the English cricket season, even if he does not make the full Test squad ar first.
Another plus point is his fitness improvement, in comparison to 2019. This is after former England cricket player Alec Stewart told Virdi that his fitness levels were not up to the mark.
The 21-year old who has a slimline figure, admits reaching  "minimum levels' was important to keep in line with the rest of the England team.
During the conference, he specifically mentioned the wake-up call from Stewart. In addition, he is very thankful to Surrey fitness coach Darren Venesse for turning things around.
Achievements and Potential
In a very short space of time and from a young age Amar Virdi has demonstrated his cricket talent.
In twenty-three first matches, he has taken 69 wickets at an average of 28.78. A bowling average under 30 for a spinner is very good.
During Virdi's debut first-class match against Essex away, he took 3-82 in the first innings, indicating his early promise.
The young cricketer then came to the Surrey party during the 2018 County Championship triumph.
Playing in 14 matches for the Oval based team, Virdi took thirty-nine wickets, with a bowling average of 30.35.
One of the biggest highlights for Virdi was when he stole the show with 14 spinning wickets. This was during a County Championship match against Nottinghamshire at Trent Bridge in July 2019.
He had bowling figures of 8-61 in Notts first innings, along with claiming 6-21 during the second. Speaking to ESPN Cricinfo about  how the pitch aided him and his bowling strategy, Virdi stated:
"It was quite a helpful pitch from the start, it stayed dry throughout and as the game went on there was a bit of rough.
"It was clearly quite a big turning pitch…it is certainly one of the more spin-friendly pitches I've played on. I think there is no harm in having pitches like that once in a while and it was nice to play on, yes.
"My strategy really was just to bowl at the stumps, to make the batsman play the ball and to bowl round the wicket to keep all the dismissals in play."
Surrey won the 4-day match comfortably on day three by 167 runs. Surrey head coach and former England player Vikram Solanki genuinely believes that Virdi has the gift to go far:
"He's an exciting prospect. 'Talent' and 'potential' are words thrown around a bit loosely at times. But he has some real skill. He's a very talented off-spinner.
"He has the ability to spin the ball and is a very attacking bowler. And that could set him apart."
The statistics back the aggressive nature of his bowling too. Since 2017, he has a strike rate of taking a wicket every 51.9 balls.
Only South African born players Simon Harmer and Keshav Maharaj have had a better bowling strike rate than Virdi over the same period.
Every spinner can bowl some long hops occasionally. Virdi is no different, but his attacking nature also ensures him to bowl much more wicket-taking deliveries.
This makes Virdi a dangerous customer to deal with on the cricket pitch.
With a great attitude at some point, Amar Virdi will feature in the England Test squad and final XI. Virdi would have learnt and benefited from Moeen Ali during the Ageas camp.
A precise fitness programme that began in 2019 and forming a spinning union with his playing counterparts from England will certainly help Amar Virdi going forward.