"Comfort is as much about discomfort as it is about laughter."
TV presenter, broadcaster, stand-up comedian, chef and author; Hardeep Singh Kohli is a man of many talents.
Having worked in broadcasting and later stand-up since leaving university with a Law degree, Hardeep has carved a unique place for himself in British media.
Chatting to him about even the most straightforward topics to do with Asian identity and their prevalence in media, his answers are laced with a hilarious dry wit that tells us that this is a man who does not take himself too seriously.
In a very honest and open Gupshup, Hardeep Singh Kohli tells DESIblitz:
"I never wanted to be a presenter because I thought all presenters were muppets. Then I became one, and realised how right I was."
Watch our exclusive Gupshup with Hardeep Singh Kohli here: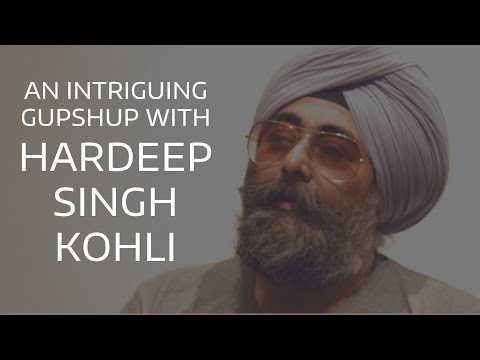 Hardeep was one of three brothers born in London but brought up in Scotland in the late 60s and early 70s. His mother was a social worker and his father was a teacher, before becoming a property landlord.
Kohli admits that it was his father who ignited a spark for comedy production, having bought him a video camera when Hardeep was young.
From an early age, Hardeep and his brothers would spend hours creating and recording comedy sketches, taking inspiration from classic British comedy, but also the Punjabi women of his household, from whom he essentially learned how to be funny:
"Urdu is the language of love, Hindi is the language of commerce, Punjabi is the language of jokes," Kohli quips.
However, professional comedy did not arrive until much later: "I went to university, I did a law degree and then I joined the BBC as a production trainee, and I made radio and television for about 15 years," Kohli tells us.
Hardeep found success at a relatively early stage in his media career. His first directing job was at the age of 24 for a children's television programme, It'll Never Work. The show went onto win a BAFTA and Royal Television Society award.
Hardeep admits he was a lucky to find critical success so early, particularly as it was so difficult for Asians to carve themselves a prominent position in media.
He used to his advantage, promoting the 'brown experience', and presenting a documentary called In Search of the Tartan Turban which explored issues of cultural identity in the UK.
In 2008, Kohli branched out, writing a book on food and travel in India, called Indian Takeaway:
"I think the food for me is absolutely integral. For White British people, the first time they experience brown people was in restaurants."
Having grown up in the 70s and 80s, Hardeep wasn't immune to the racist attitudes of non-Asians. But this did not deter his ambition, and instead drove him further to achieve success in the mainstream:
"I always remember I was adamant about putting the 'Singh' part of my name in my credits. Because I though if there is some little Sikh girl or boy watching, they might think, 'Well there's a fat lad who's a Sikh, who's managed to make it'."
But Hardeep believes that things are now changing, despite the restricted visibility of Asians in the world of media that still exists:
"I think what Adil Ray had achieved for Citizen Khan is just astonishing and I'm very proud of what he's done in that regard.
"We are more prevalent in the world of media, but it's still quite rare to see us in a context other than the obvious, because I don't own a shop, I'm not a doctor or an accountant so it's tough for them to find a position for me."
Hardeep adds that there are other battles to be fought than just the visibility of ethnicities on TV:
"It's a difficult and hugely subjective business anyway," Hardeep says.
"We talk about the brown experience, speak to women, 52 per cent of the population, where do you see them over the age of 50 on television?"
Interestingly, Kohli tells us that it is not only non-Asians that may be resistant, but he has also faced a lot of criticism from his own Sikh Punjabi community, particularly because of his unreserved views on anything and everything.
But Hardeep believes his life is his own to live, and he does not need to justify his actions to anyone:
"I'm pretty much what I am, what you see is what you get, there is no hidden shallows or depths with me. I believe we need to be authentic, we need to be honest and truthful, that isn't always easy to be."
Known for his controversial statements, and refuses to shy away from them, whatever the cost.
Whether it is talking openly about sex, his own personal experiences with romance and dating. Even his friends and family are presented as anecdotal stories for his audiences to hear:
"Comfort is as much about discomfort as it is about laughter. And people don't know if they're meant to laugh or not. I love that," Hardeep insists.
And it is this brutal honesty which is what makes Kohli such a successful comedian, one that his audience can trust, and whom Hardeep enjoys chatting with, so that they want to visit his shows time and time again.
Some of his favourite comedians include the likes of Ricky Gervais, Miranda, Sania Mirza and I am Not Malala, who similarly are not afraid to talk about subjects that touch the border of social propriety.
His advice to young Asians wanting to go into comedy or media?
"You have to feel it burning passionately within you to do it. It can be a tough job. The toughness of the job is that there is always something easier to do.
"So, if you want to do this, you've got to have a skin like rhino hide. You've got to believe in yourself."
Hardeep Singh Kohli is currently touring the UK with his latest stand-up, Big Mouth Strikes Again, on the following dates:
Wednesday 25th November – Glasgow – The Stand
Thursday 26th November – Maidenhead – Norden Farm
Friday 27th November – Oxford – Old Fire Station
For more details, and for tickets, please visit the So Comedy website.