"As soon as I drank it, I realised the mistake"
In a bizarre incident, an Indian official drank hand sanitiser after mistaking it for a bottle of water.
Ramesh Pawar took a large gulp from the bottle during a public budget committee meeting in Maharashtra.
Pawar is the Brihanmumbai Municipal Corporation (BMC)'s Deputy Commissioner.
The incident took place on Wednesday, February 3, 2021.
Pawar sat down after a presentation and grabbed a clear bottle in front of him for a drink.
However, the Indian official inadvertently picked up a bottle of hand sanitiser instead.
Footage has been released showing the incident. It also shows an onlooker warning Pawar of the hand gel, and the official quickly spits out the sanitiser while others rush to help him.
A colleague then handed Pawar an actual bottle of water to drink, before the official left the chamber.
Ramesh Pawar was just about to present the civic body's annual budget before accidentally drinking the hand sanitiser, which he realised within seconds was not water.
Explaining the incident, Pawar says that he mistakenly drank the sanitiser as the two bottles looked similar.
The Indian official said:
"I thought that I should drink water before starting my speech so I lifted the bottle and drank.
"Bottles of water and sanitiser kept there were similar. So it happened.
"As soon as I drank it, I realised the mistake and didn't gulp it all the way down."
Following the incident, Ramesh Pawar quickly made his way out of the chamber and rinsed his mouth.
The official made a quick return, and went forward with his speech presenting the civic body's education budget.
The budget has an outlay of over £292,000 for the 2021-2022 year.
Watch the Incident involving the Indian official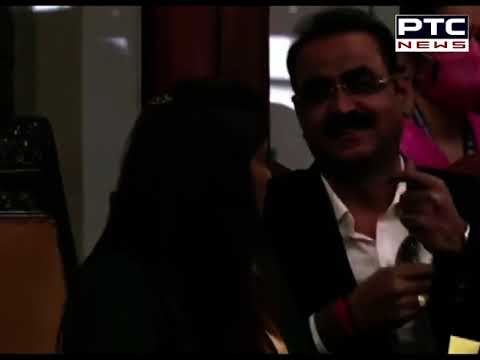 Also during the meeting, Municipal Commissioner Iqbal Singh Chahal announced that citizens will have to endure more fees and charges.
However, no increased taxes or any new taxes will be implemented.
The BMC will soon begin collecting scrutiny fees to provide fire and life safety measures in buildings, as well as a fire service fee.
A Fee Revision Authority will also be set up, in order to decide the increase in rates of BMC services.
As a result of a shortage in earnings, the BMC is now beginning to explore other avenues of income.
Chahal also claimed that the BMC will raise money from these new sources, despite the BMC looking to recover its outstanding property tax dues.