"I had taken a backseat. Salman [Khan] convinced me to do this movie."
The famous erotic thriller franchise, Hate Story spices up the silver screen with a third instalment.
Hate Story 3 stars Zarine Khan, Daisy Shah, Sharman Joshi and Karan Singh Grover and is directed by Vishal Pandya.
The sensual story revolves around Aditya Singh (played by Sharman Joshi) and Siya Singh (played by Zarine Khan), a happy married couple who now control the family business after the sad demise of Aditya's elder brother, Vikram.
However just as the couple were going through their honeymoon phase, their lives take a drastic turn when an unknown businessman, Saurav Singhania (played by Karan Singh Grover) arrives.
Saurav who shows an interest in merging with Aditya's company makes an absurd offer, which puts Aditya in a fix. However, unaware of Saurav's wrong doings Kavya (played by Daisy Shah), Aditya's secretary, falls madly in love with him.
But realising she is being used to destroy Aditya, what follows is a mix of revenge and sexual tension. Will Aditya accept Saurav's offer, and will Kavya deceive Saurav?
Ever since the trailer of Hate Story 3 was released, there has been a lot of controversy surrounding its numerous intimate scenes.
Watch the trailer for Hate Story 3 here: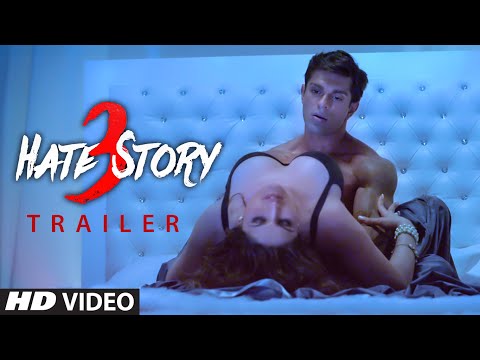 Many speculated how the censor board would react to the content.
However, recently Sharman Joshi clarified the situation, saying: "The censorship for Hate Story 3 has already been done. We've received an adult (A) certification and the erotic aspect of the film has been retained.
"We're happy with the censors and the audience will also be happy with the film," added Sharman.
Furthermore usually seeing Sharman part of 'family friendly' movies, it's interesting to see him in a very different avatar. Describing how people around him have been reacting, he said:
"My role looks interesting. The response has been very encouraging. Even our colleagues from the industry are encouraging us through phone calls and whenever we meet personally.
"They're all happy for us because they know the kind of hard work that goes in," Sharman adds.
Another USP to the film are the two leading ladies, Zarine and Daisy, who both debuted into Bollywood with Salman Khan.
However, they are playing very different roles from their first films, and it's a pleasant surprise for the audiences to see them in such bold avatars.
Speaking about why she did the movie, Daisy mentions that it was a certain B-town Bhai who convinced her to take the role.
She said: "I had taken a backseat. Salman convinced me to do this movie. He said the role is different from Jai Ho. This is something I have ousted myself further. It's not a safe zone but I wanted to do it."
On the other hand, it seemed as Zarine single handily took the decision to do Hate Story 3, with an aim to change her image. She explained why she took the role up, stating:
"When I came in this industry, I was a newcomer. I did what I was told to do. When that wasn't accepted well, people didn't want to give me a second chance.
"It was very difficult. Since I don't have any Godfather or someone influential, each of my decisions has to be my own and they have to be calculated. Hate Story 3 is one such decision."
One factor that has always stood out in the erotic thriller series has been the great music.
With music composed by Amaal Mallik, Baman and Meet Bros., the four track album, has a song for each feeling that represents Hate Story 3 perfectly.
'Tumhe Apna Banane Ka', a remake of the famous 90's song the sensual remix to it, literally turns up the heat on the album.
The Desi beat of 'Tu Isaq Mera' compliments the rap portions well and has Neha Kakkar's edgy voice to bring the track together.
'Wajah Tum Ho' is a slow and melodious song with a jazz like chorus. With a combination of sexy and romantic, the track hits all the right spots.
'Neendein Khul Jaati Hain', the final track of the album is a fun party song and a quintessential Meet Bros. track, that will definitely get you in the mood to dance.
Always known to push the boundaries of the censor board, Hate Story 3 is a film everyone has high expectations of.
The film is already turning into one of the surprise hits of the year, with Rs. 26.8 Crores during its opening weekend at the Box Office.
So, will you be part of this hate story? Hate Story 3 released from December 4, 2015.