Akshay Kumar shared the song Tay Hai from the upcoming thriller Rustom, which has already become a personal favourite of those in love.
Tay Hai, composed and sang by Ankit Tiwari is a romantic song depicting the romance between Akshay Kumar and Ileana D'cruz.
The song is filled with emotion and passion bringing back the 'old-school' romance. It is a melodious and soothing track, with heart-wrenching lyrics penned by Manoj Muntashir.
Described by Akshay as a love ballad, the song has had already over one million views on YouTube.
Watch the beautiful song lilting with love and romance here:
Akshay Kumar stars as the naval commander Rustom Pavri, the fictionalised character of KM Nanavati. Ileana D'Cruz features as Rustom's wife Sylvia Navnati.
The serene song indeed, portrays the palpable romance between the married couple. Scenes shot for the song with different settings show the immense love Rustom Pavri (Akshay Kumar) displays for his wife, Prem Ahuja ( Ileana D'cruz).
The film Rustom, is inspired from the famous 1959 legal case of Kawas Manekshaw Nanavati, a Naval Commander, that eventually changed the face of Indian Judicial system.
Nanavati was tried for the murder of Prem Ahuja, his wife's lover.
Sylvia did express her desire to divorce Nanavati and marry Prem, but she was not sure if Prem had the same intentions.
KM Nanavati was tried and acquitted for shooting Prem Ahuja.
The case caused an uproar with newspaper headlines stating "Three Shots That Shook The Nation".
Tay Hai is the song that stands out in the official trailer of Rustom.
The trailer of the movie has already created a lot of excitement among many Bollywood cinema-loving fans.
Watch the trailer here: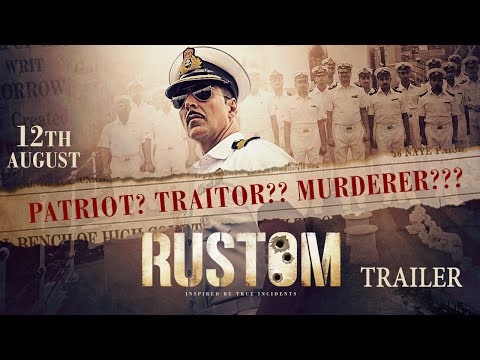 With the success Akshay Kumar has had with military oriented films like Holiday and Airlife, it is likely this naval film featuring Akshay depicted as an officer will not doubt please Akki fans everywhere.
Directed by Tinu Desai and produced by Neeraj Pandey, Rustom which also stars Esha Gupta, is scheduled to release from August 12, 2016.