"I don't want someone who is a mummy's boy and won't stick up for me."
We were first introduced to Farha Rai, a bubbly and blonde-haired bombshell, on ITV's Take Me Out.
Farha became known as the ditzy contestant, whose classic one-liners frequently made the audience howl with laughter.
Now Farha is bringing that sassiness to Sky 1's Desi Rascals.
DESIblitz speaks exclusively to feisty Farha about Take Me Out, heartbreaks and finding 'the one' on Desi Rascals!
For those who did not see you on Take Me Out, what would you like everyone to know about Farha Rai?
"So I was the Indian girl with the blonde hair who came across as quite funny. I wear my heart on my sleeve, so what you see is what you get.
"I'm a fun person who is enjoying life and trying to better myself in terms of my career and working out."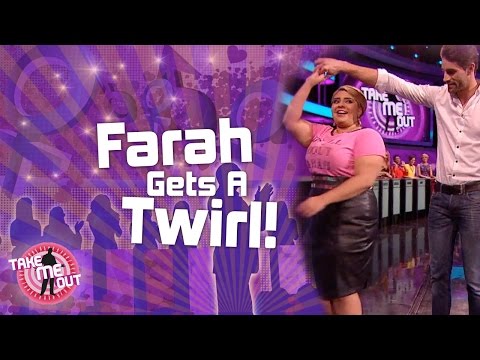 What do you like to do for fun?
"I like to socialise with my friends.
"I'm not into the club scene like I used to be when I was younger.
"I like restaurants, bars, golf, karaoke and just fun things that enable me to interact and catch up with my friends."
What do you do for a living?
"At the moment I work for a media company, but I want to start my own dress line because I am quite creative.
"I studied Art and Design for my A Levels."
What was your experience like on Take Me Out?
"It was a fun experience! I didn't even expect to get on the show. I applied and was surprised to be accepted!
"Our reactions on the show are the real reactions. We see the men for the first time when they come down, and it carries on from there.
"Some of the things I said were so 'blonde'. When I've watched them back, I can't believe what I'm saying!"
Are there any instances that really showed off your 'blonde' moments?
"I think it was on show three. I was wearing a green dress and a guy came out with a brown top.
"So I said, 'I'm wearing green, you're wearing brown, we've got a little tree thing going on'. Something really stupid!'
"But now that I'm on Desi Rascals, it's a chance for people to see the real me. I'm not a blonde bimbo. There is more to me."
So what are you looking forward to most on Desi Rascals?
"I'm looking forward to meeting everyone, seeing what friendships I will build. And seeing what the show can bring, such as love interests and drama.
"I want to get on with everyone and bring something different to the show!
"I do feel that I am a bit different to the girls already on Desi Rascals."
Who do you see yourself getting on with the most?
"I absolutely adore Jo and Nat, and I think Rita is a sweet girl. The guys are also really funny.
"Everyone has unique qualities to them, and I think the banter will be so funny, especially with Moses.
"But I'll have to wait and see what unfolds."
Who do you think you might clash with?
"Maybe Owais because he's just as outspoken as I am. But I think he's really funny and a cool guy.
"I think that we are both passionate and we both stick to our guns. I can come across as quite fiery and defensive.
"I also may clash with Shreena. She's quite confrontational as well.
"We both have strong opinions."
You've said that you've had your heart broken previously. What do you look for in a man?
"I have been heartbroken in the past and recently.
"I'm not desperately looking for a guy. But if there is someone on Desi Rascals that ticks all the boxes, of course, I would pursue it.
"I want someone who is strong-minded like me, career-driven, and has strong family values.
"I don't want someone who is a mummy's boy and won't stick up for me.
"In the past, I have had boyfriends who have not fought for me.
"I've been brought up to believe that you need to fight for what you want and follow your heart. I believe guys should be like that as well."
What kind of look do you go for?
"I like tall guys, so 5'11" or taller, light complexion, nice eyes, nice features and quite well-built with broad shoulders.
"I like a rugby player physique."
With your blonde hair, do people realise that you are Indian?
"When people meet me for the first time, they tell me that I look Iranian, Lebanese, or Greek.
"I never get told that I look Indian. I am very fair-skinned."
What's the most Desi thing about you?
"I think that it's my love for Asian food and my guilty pleasure of listening to Bhangra songs."
What will we see from you in Desi Rascals 2?
"I wear my heart on my sleeve, so I'm going to bring emotion.
"I'm also going to bring fun, and maybe drama. I'm just going to go with the flow and not hold back."
Will Farha be causing drama and rifts within the cast? She's notably getting very friendly with Moses, so could she find her true love in Desi Rascals?
Watch Desi Rascals 2 on Wednesdays at 8pm on Sky1.