"Diljit Dosanjh has got such a good screen presence."
Indian singer-actor Diljit Dosanjh once again gives his best for the Bollywood film Arjun Patiala. The crime backdrop film is set in Ferozepur, Punjab.
Releasing on July 26, 2019, the movie is of a comedy genre, which at times feels uneven.
Diljit Dosanjh portrays the lead role of a handsome small-time cop, ACP Arjun Patiala who has a keen interest in women and alcohol.
Kriti Sanon plays the character of a crime journalist, Ritu Randhawa.
Playing the important role of Head Constable Onida Singh is Varun Sharma. Singh who is the sidekick or Arjun accepts a buffalo as the love of his life.
Diljt who has previously played a cop in the film Jatt and Juliet 2 (2013), does justice to his role.
Sanon looks stunning, especially in the track 'Main Tera Deewan'  sung by Guru Randhawa and features in some excellent emotional scenes. However, she does lock when it comes to comic timing.
Other credible efforts in the film include IPS Amarjeet Singh (Ronit Roy), playing the top cop, MLA Prapti Makkad (Seem Pahwa) who is a real-estate goon on the side and Sakool (Mohammed Zeeshan Ayub) who acts a good gangster in the film.
In addition, Sunny Leone takes the part of Baby Narula in the film, featuring also in the song 'Crazy Habibi vs Decent Munda' also sung by Randhawa.
The humorous film has quite a few hilarious moments in the first half – be it with some predictable dialogues.
Some of the funny lines keep the attention of the audience going prior to the interval. Garang Chauhan reviewing for Zoom writes:
"Diljit Dosanjh has got such a good screen presence. He is easy on the eyes and is adorable as the "Thanedaar".
"It is his funny act that makes the first half-interesting. His comic timing is fantastic."
Watch the Trailer of Arjun Patiala here: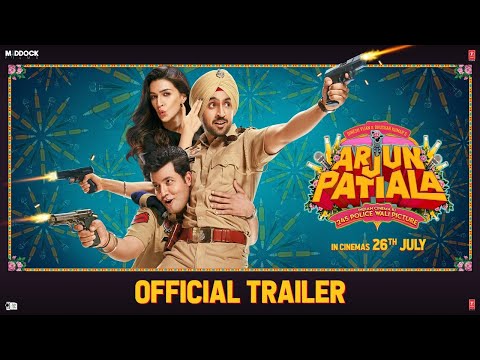 It is in the second half that the writing, direction and execution of the film fall underwhelming short, leaving the viewers in a state of confusion.
The film had an average opening at the box office collecting Rs. 1.25 crores (£148,115) on day one. There was a slight improvement on day 2, rising to Rs. 1.50 crore (£177,802) accumulation a total collection of Rs. 2.75 (£325,850).
Arjun Patiala, a direction of Rohit Jugraj Chauhan is a police comedy film that had potential with its humour.
But, in the end, while the film is good to an extent, along with Diljit's acting, it does not quite live up to the expectations.