"The movie is 75 per cent reality and 25 per cent fiction."
Realist director Madhur Bhandarkar brings out the dark side of the entertainment industry with Calendar Girls.
Having taken a short gap from his 2012 film, Heroine starring Kareena Kapoor, Bhandarkar is all set to entertain and shock audiences with Calendar Girls.
The film sees a bundle of fresh talent, with five new girls debuting in Bollywood: Akanksha Puri, Avani Modi, Kyra Dutt, Ruhi Singh and Satarupa Pyne.
Just like his previous national awarding winning films Page 3 (2005) and Fashion (2008), we anticipate something special from this drama that is based on 'true events'.
Calendar Girls claims to be a mix of truth with fiction, and follows the story of five upcoming models who are willing to do anything to get to the top.
These five girls hail from different regions of India, Nandita Menon (played by Akanksha Puri) from Hyderabad, Nazneen Malik (played by Avani Modi) from Lahore, Sharon Pinto (played by Kyra Dutt) from Goa, Mayuri Chauhan (played by Ruhi Singh) from Rohtak and finally, Paroma Ghosh (played by Satarupa Pyne) from Kolkata.
These five girls have all been selected to pose for India's most prestigious annual calendar, which is a joint effort between business tycoon Rishabh Kukreja and his photographer friend Timmy Sen.
But on the road to success the girls end up sacrificing their integrity, love and family.
Famous for being a filmmaker who unearths the ugly side of beauty and entertainment, director Madhur Bhandarkar is confident Calendar Girls will deliver a shocking and realistic portrayal not known to many:
"The movie is 75 per cent reality and 25 per cent fiction. There will be a lot of revelations made and things shown that will shock you.
"Finally, it is an emotional story that will find a connect with viewers. It's a story about hope."
The story has also been inspired by the famous Kingfisher Calendar, which is owned by Indian businessman Vijay Mallya of Kingfisher Airlines.
As Bhandarkar explains:
"We have taken inspiration from a lot of people like Vijay Mallya… Who launches calendar every year. I share good relationship with him. Deepika [Padukone] who herself was a calendar girl."
Interestingly, one of the five girls in the film has already had experience of being a calendar girl. Beauty Kyra Dutt, a Bengali from Kolkata shot for Vijay Mallya in 2013 for the Kingfisher Calendar.
Speaking about the experience, Kyra says: "I was modelling in Mumbai and was at Arjun Khanna's party when Atul Kasbekar walked up to me and asked me to come and audition for the Kingfisher calendar.
"I had never done a swimsuit shoot before, but was excited as it involved going to exotic locations and shooting."
Of course, with the obvious sexual exposure that young and hot bikini girls offer, not all were going to be pleased with the release of Calendar Girls.
Across the border, Pakistan has banned the film, most noticeably because of on the five models is a girl who originates from Lahore.
Having Avani Modi play a Pakistani girl in the film has distressed many locals who claim that the film shows Pakistani women in a negative light. Rumours are also spreading that a 'fatwa' has also been issued against the girls.
Actress Avani Modi has defended the film, saying that it is not anti-Pakistan, saying:
"In fact, Pakistan and its people should watch the film because the character narrates the story of Pakistani artistes who suffers emotional pain in India due to political rivalry both countries are entangled in."
Hoping for some good news, the makers of the film are still attempting to get the film to release in Pakistan soon.
More controversy surrounding the film has developed due to censor boards, but Madhur has since clarified saying:
"The censor board members were very supportive and during the Revision Committee screening they told me they didn't want to butcher the film with many cuts. There are absolutely no cuts except for an abuse that has been beeped."
Seeing how understanding the censor board has been, this definitely gives film makers more confidence to be more experimental with their content.
Watch the trailer for Calendar Girls here: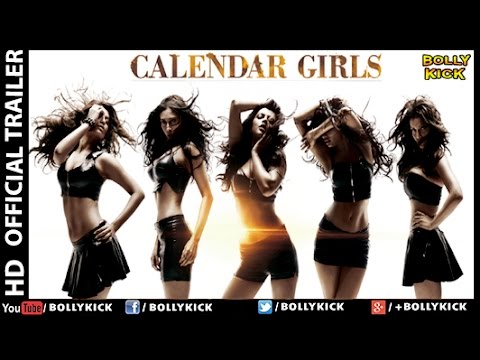 Making sure that the film has a young and vivacious flavour, music directors Meet Bros Anjjan and Amaal Malik have created an interesting five-track album.
'Awesome Mora Mahiya' is a fun party song depicting the high of the girl's careers.
'We Will Rock The World' is a hard-hitting rock song that reflects the independent woman ready to take on the world, while 'Shaadi Wali Night', is a full on Bollywood track, full of fun Desi beats.
'Khwaishein' is the most emotional track of the album, reminding us of Heroine's 'Khwahishein track'. The song reflects what a person can lose on the road to fame and fortune, because as they say it's lonely at the top.
With the director taking a break of nearly three years, the expectations for Calendar Girls are sky high.
Madhur's talent for Creating movies that have not only won the critic's appreciation but also the audience's appreciation is second to none.
Here's hoping that he can create history once again with this little window into the beauty and modelling world.
Calendar Girls releases from September 25, 2015.