"It just makes you move! I've never gone so mad for a track before in my life!"
Swami have released their latest single from their Upgrade album, 'Do It Again', which was officially launched on Saturday 13th December 2014 at Electric Club in Birmingham.
The Birmingham band was founded by Diamond 'DJ Swami' Duggal in 1998, and has gained particular notoriety for their 2004 album, DesiRock, and singles 'Electro Jugni', 'Sugarless', and 'Back It up'.
Their diverse range of sounds has evolved and mutated over the years, but has included Bhangra, Asian Underground, desi beats, rock, rap, and electronic dance music.
The band has a massive following in India and North America, and are regulars on the festival circuit.
Producer, songwriter, guitarist, and keyboard player, DJ Swami is backed up by Sur, lead vocalist and songwriter; Liana, vocalist, songwriter, and pianist; and S-Endz, vocalist, songwriter, and synth player.
DESIblitz sat down with the quartet of to discuss their new single, 'Do It Again'.
What is the meaning behind 'Do It Again'?
DJ Swami: "To repeat that success. Tenfold. It's great to be British and fuse our Punjabi Indian culture with our English culture, and show how our sound is progressive but accessible."
Sur: "In an emotional sense, each of us has had an experience somewhere in our life where [we feel], 'I really wish I could go back to that time.'
"So this song 'Do It Again' is about that feeling, that something was so good once, I could give away everything just to have that moment one more time.
"We've always had Punjabi and English. But for 'Do It Again', we wanted to spread our wings a little, and to try finding that sentiment in Hindi."
If we were to analyse 'Do It Again', what makes it technically so good?
Liana: "Diamond produced it." [Everybody laughs].
DJ Swami: "Even if you do not understand the lyrics, the sentiment of the song, should hit you first. That's the most important thing.
"Usually that will come from the vocal performance or the emotion in the vocals, or it might come from the top melody line. Beneath that there should be a bed of groove which carries you along on this journey."
Liana: "When I first heard the track, stripped down, no vocals! I remember going into the studio and I went mental! I loved it so much! It just makes you move! I've never gone so mad for a track before in my life!
"And then you add really melodic vocals, especially Punjabi and Hindi, which are very melodic. So even for English people, they will listen to a melodic tune and hum along with it, even though they don't know what's being said."
Sur: "We really feel that we have bridged the gap between what gets people from India moving and England moving. It ticks all the boxes.
"If you are looking for heavy EDM (electronic dance music), that's the heaviest EDM you will find. But at the same time, heavy dholak, heavy dhol, heavy tumbi."
S-Endz: "I think for our fans who really dissect what we do, they'll really like the extended mix that we've got coming out because it's got breakdowns of each individual part, like the bass, the guitar, and the synths. And they'll listen and say, 'Yeah, that's funky!'"
How would you describe your sound?
DJ Swami: "It would be easy to label what we do as World Music. We always get confused with that label, because, world music to who?
"But pop music with electronics and Indian and English lyrics in them, in India, is not world music! So we would call our music, just 'international popular music'."
Who influences you?
Sur: "Michael Jackson and Nusrat Fateh Ali Khan."
Liana: "Tracy Chapman and Alicia Keys."
Diamond: "I'm a guitar player so obviously I'm influenced by [Jimmy] Hendrix. Ravi Shankar. I love Daft Punk."
S-Endz: "Prince and Michael Jackson. And Tupac, Nirvana, Nine Inch Nails."
Is it a conscious effort on your part to bring back live music?
Sur: "We all really love live music. Without live music, we wouldn't have this electronic side to us."
DJ Swami: "All of our songs are written on acoustic guitars first of all. You might hear an electronic version at the end.
"We sit there with an acoustic guitar and listen to the sounds within the chord of the guitar, resonating with your voice. That's how we write."
What motivates and drives you? 
Sur: "I'm tired of the misconceptions people have of Indians, all around the world. That's what drives me. To change the way that we are looked at.
"We are very deep people. We have the ability to be cool when want to be. We can make some great music and we can influence culture."
Liana: "A deep passion for music. And most importantly, this is who I am. I can't change it. I am a person who drives and powers forward anyway and I have to do music. It's just in me. It's me."
S-Endz: "Music saved me when I was in some very dark places in my life when I was younger. People that are going through struggles and troubles and don't have many outlets to express themselves, I want to be able to influence those kids the same way that people influenced me."
DJ Swami: "Progress drives me more than anything. New boundaries with music. Experimentation. Trying to find new ways of communicating with a different crowd of people. Which is always a challenge, and we love that."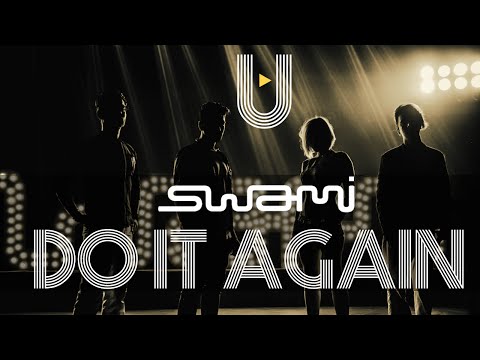 What can fans next expect to see from Swami?
Liana: "Lots of touring. We're going back to India at the start of next year."
S-Endz: "We're also launching a new YouTube series called 'Swami Sunday'. So every week we're going to be uploading something brand new to YouTube. Whether it's behind the scenes stuff, new songs, new remixes."
Brit-Asian band Swami are clearly ones to watch out for with their fusive electronic pop sound. You can download their single, 'Do It Again' from iTunes.